September 10, 2020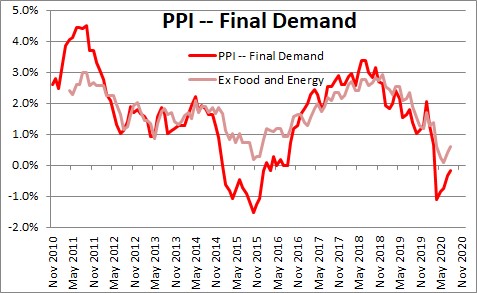 The Producer Price Index for final demand – intermediate demand  includes producer prices for goods, as well as prices for construction, services, government purchases, and exports and covers over 75% of domestic production.
Producer prices for final demand rose 0.3% in August after having risen  0.6% in July.  Prices at the producer level continue to rebound following the big recession-triggered drop in the February-April period.
Excluding food and energy producer final demand rose 0.4% in August after 0.5% in July.  Over the past 12 months this index has risen 0.6%.  It peaked at 2.9% in December 2018 and has been gradually slowing.  However the increases in July and August suggest that this series has probably hit bottom.
This overall index can be split apart between goods prices and prices for services.
The PPI for final demand of goods rose 0.1% in August after having jumped 0.8% in July.  Excluding the volatile food and energy categories the PPI for goods rose 0.3% in both July and August.  This core rate of inflation has risen 0.8% in the past year.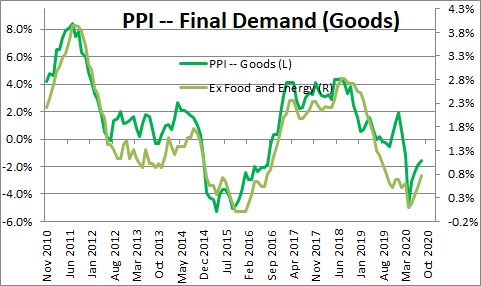 Food prices fell 0.4% in August after having declined 0.5% in July.  This is always a volatile series.  It increases sharply for a few months and then drops back a few months later.  In the past year food prices have risen 0.2%.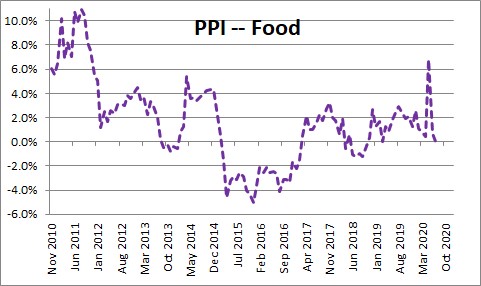 Energy prices prices edged lower by 0.1% in August after having climbed 5.3% in July,  7.7% in June, and 4.5% in May.  But energy prices plunged 19.0% in April, 6.7% in March, and 3.6% in February.  For the most part the drop in energy prices is the result of extreme measures taken around the globe to halt the spread of the corona virus.  As a consequence, the global economy stopped dead in its tracks and, along with the drop in global demand, the demand for oil products has plunged.  However, as the U.S. and global economies begin to re-open oil prices have recovered most of what they lost during the recession.  In the past year energy prices have fallen 12.3%.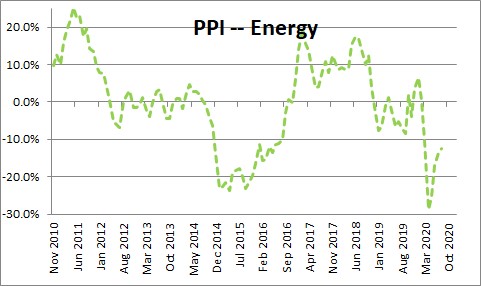 The PPI for final demand of services rose 0.5% in both July and August after having declined 0.3% in June and 0.2% in both April and May.  In August, two-thirds of the advance can be traced to a 1.2-percent increase in margins for final demand trade services which measure changes in margins received by wholesalers and retailers.     In the past year prices of services have risen 0.5%.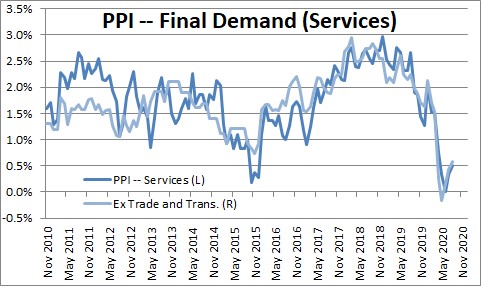 Because the PPI measures the cost of materials for manufacturers, it is frequently believed to be a leading indicator of what might happen to consumer prices at a somewhat later date.   However, that connection is very loose.  It is important to remember that labor costs represent about two-thirds of the price of a product while materials account for the remaining one-third.  Those labor costs are better captured in the CPI.
Given what we know about the CPI, we expect it to rise just 1.1% in 2020 versus a 2.3% increase in 2019  The core CPI increased 2.2% in 2019.  We expect it to increase 1.8% in 2020.  However, as we look ahead into 2021 and the economy gets back to a more normal pace, we should see a steady– but still moderate — increase in the CPI of 2.7% and an increase in the core CPI of 2.3%.
Stephen Slifer
NumberNomics
Charleston, SC