September 14, 2022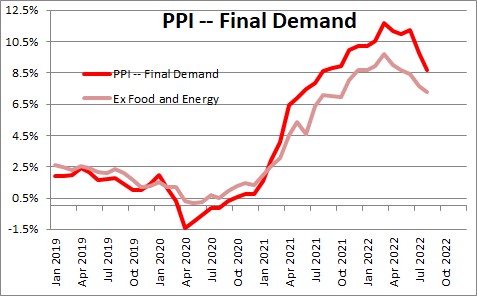 The Producer Price Index for final demand  includes producer prices for goods, as well as prices for construction, services, government purchases, and exports and covers over 75% of domestic production.
Producer prices for final demand fell 0.1% in August after declining 0.5% in July after having risen 1.0% in June and 0.8% in May.  In the past twelve months the PPI has risen 8.7%.
Excluding food and energy prices, however,  final demand prices rose 0.4% in August after rising 0.3% in July after having climbed 0.4% in June and 0.5% in May.   Over the past 12 months this index has risen 7.3%.  The recent data provide a hint that these prices are beginning to slow. But it is likely to be a slow gradual process and is not going to get anywhere close to the Fed's 2.0% target rate any time soon..
We expect to see high inflation as we  move forward in time given the very rapid rate of growth in the money supply.  Its current 5.3% growth is roughly in  line with its average growth during the past decade or so of 6.0%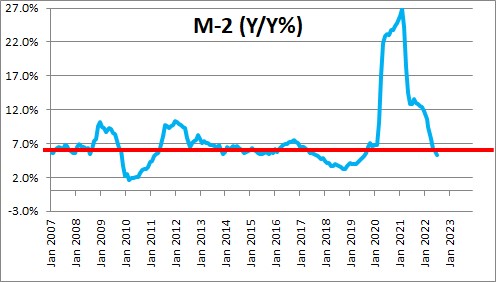 But, the  problem with money growth is the cumulative effect of monthly gains which have consistently been in excess of the 6.0% target.  As a result, M-2 currently stands $3.6 trillion above where it should be.  That represents $3.6 trillion of excess liquidity in the system which essentially guarantees that inflation will remain elevated for the foreseeable future.  Even if the Fed shrinks its balance sheet at the pace it has indicated, there will still be surplus liquidity at the end of next year.  That is not a recipe for a significant slowing rate of inflation.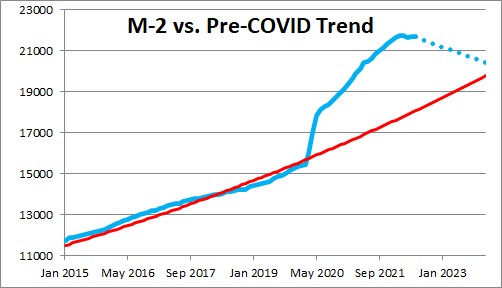 This overall PPI index can be split apart between goods prices and prices for services.
The PPI for final demand of goods fell 1.2% in August after falling 1.7% in July after having jumped 2.3% in June and 1.5% in May.  Excluding the volatile food and energy categories the PPI for goods rose 0.2% in both July and August after gaining 0.5% in June after climbing 0.7% in May.  This core goods sector inflation index has risen 8.1% in the past year.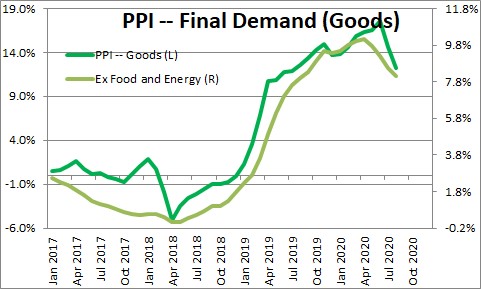 Within the goods sector, food prices were unchanged after having jumped 1.3% in July. Typically, this is a volatile series.  It increases sharply for a few months and then drops back a few months later.  However, in the past year food prices have risen 13.0%.  It is likely that fires combined with extreme or exceptional drought conditions in the West is damaging crops and pushing food prices higher, and the war between Russia and Ukraine has interrupted much of the supply of wheat and corn.   This is not going to end any time soon.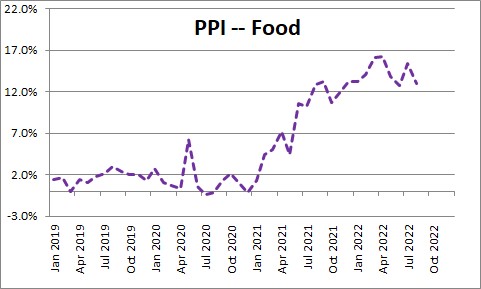 Energy prices prices fell by 6.0% in August after declining 9.0% in July after having surged by 9.4% in June and 4.8% in May.  The war between Russia and Ukraine continues to threaten the supply of natural gas and oil to Europe.  At the same time the Biden administration is doing everything in its power to curtail the production of fossil fuels.  In the past year energy prices have risen 26.0%.  They, too, are not going to decline any time soon.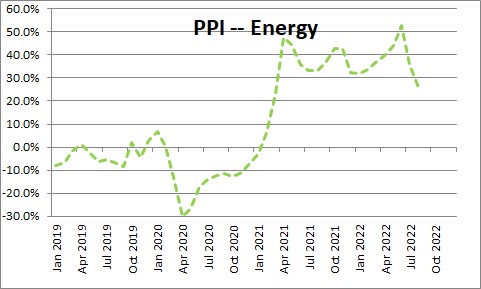 Prices of services rose0.4% in August after rising  0.2% in July after gaining 0.5% in June and 0.7% in May.   In the past year prices of services have risen 6.6%.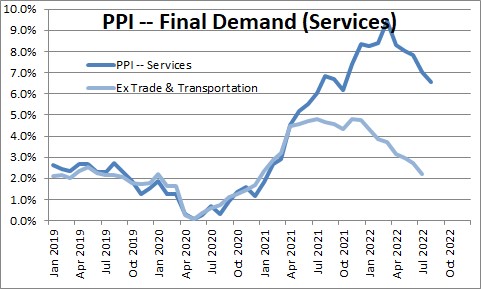 The runup in service sector prices is being driven by the transportation category which has risen 17.8%.  Within transportation the largest gains have come from deep water shipping (38.6%) and truck shipping (18.3%) as rising diesel prices are boosting the cost of shipping goods via truck.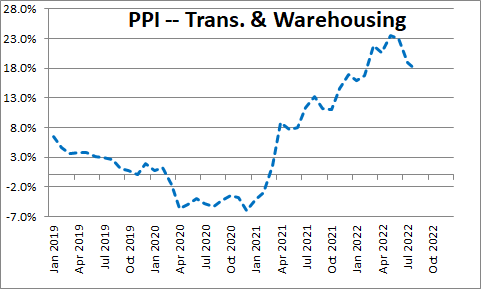 Because the PPI measures the cost of materials for manufacturers, it is frequently believed to be a leading indicator of what might happen to consumer prices at a somewhat later date.   However, that connection is very loose.  It is important to remember that labor costs represent about two-thirds of the price of a product while materials account for the remaining one-third.  Those labor costs are better captured in the CPI.  And right now labor costs are surging as firms scramble to find an adequate supply of labor and are paying higher wages, signing bonuses, and better benefits.
The core CPI  rose 5.5% in 2021.  In 2022 we look for an increase in the core CPI of 6.0% and 4.4% in 2022.
Stephen Slifer
NumberNomics
Charleston, SC