November 3, 2023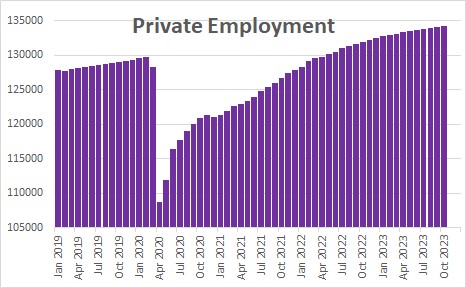 Private sector employment climbed by 99 thousand in October after gaining 246 thousand in September.  In the past three months the average increase has been 153 thousand.  At the beginning of this year we were routinely seeing employment gains of  300 thousand per month.  Thus, the labor market has clearly softened from where it was at that time, but the reality is that it has held up well in the face of sharp increases in interest rates.  It is  important to remember that the employment gain in October was held down by the loss of  33 thousand workers in the automobile sector caused by the UAW strike.  Employment will increase by that amount when these workers return to work in November.
In addition to hiring workers employers can also alter the length of the workweek for their existing workers.  The nonfarm workweek fell 0.1 hour in October to 34.3 hours after having been unchanged in September at 34.4 hours.  The workweek is still just a shade below where it was at the beginning of the recession so it is still at a level that portrays steady growth.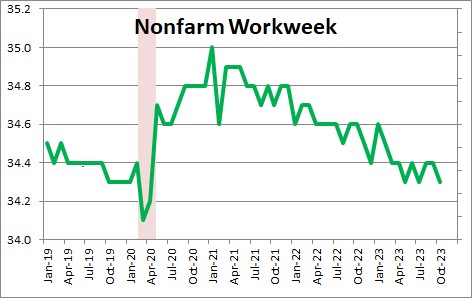 Job openings have fallen from a record high level of 11.7 million in early 2021 to 9.5 million, but firms continue to be unable to fill open positions.  In fact, there are currently 1.5 job openings for every unemployed worker.  The demand for labor continues to outpace supply.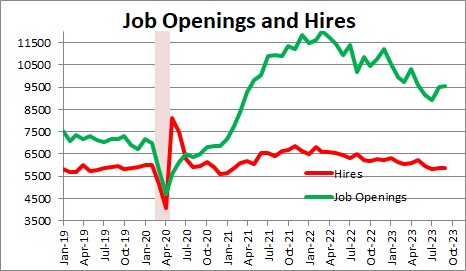 The changes in  employment and hours worked are reflected in the aggregate hours index which fell 0.3% in October to 115.4 after rising 0.3% in September.  This index appears to be on track to increase 1.1% in the fourth quarter which.is reasonably consistent with our projected fourth quarter GDP growth rate of 1.5%.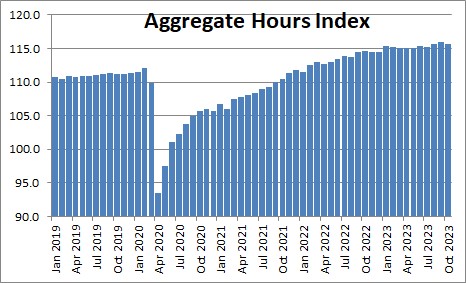 The demand side of the economy has softened slightly but not enough to cause workers to start laying off bodies.
Manufacturing employment fell 36 thousand almost all of which was in the automobile industry as a result of the UAW strike.  Those workers will once again be included in payroll employment when they return to work in November.  Construction employment rose by 23 thousand.   Retail trade jobs rose by 1 thousand.  Health care jobs gained 58 thousand.   Social assistance climbed by 19 thousand.  Info tech jobs fell 9 thousand.  Trade, transportation and warehousing fell by 12 thousand.  Leisure and hospitality jobs climbed by 19 thousand.  Professional and business services rose by 15 thousand.   Financial sector jobs fell 2 thousand.  Government jobs rose by 51 thousand almost exclusively at the state and local level.
Given these steady employment gains we expect GDP growth of 1.5% in the fourth quarter but slowing to 0.6% in each of the first two quarters of next year.
Stephen Slifer
NumberNomics
Charleston, S.C.