August 2, 2019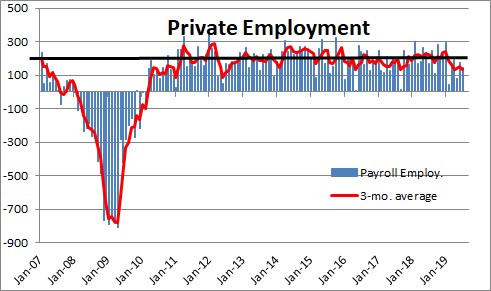 Private employment for July rose 148 thousand after having climbed by 179 thousand in June.   A better reading of what is truly going on is typically represented by the  3-month moving average of private employment which is now 136 thousand.  To us, the pace of hiring has slowed from 215 thousand per month last year, to about 150.  That is exactly what one would expect if the economy is truly at full employment.  There are simply not enough adequately trained workers available to hire.  Labor force growth rose 100 thousand in the past year.  With employment gains continuing to exceed growth in the labor force, the unemployment rate should continue to decline slowly.
Amongst the various employment categories construction employment rose 4 thousand in July after having risen 18 thousand in June.  The trend increase in construction employment appears to be about 20 thousand per month.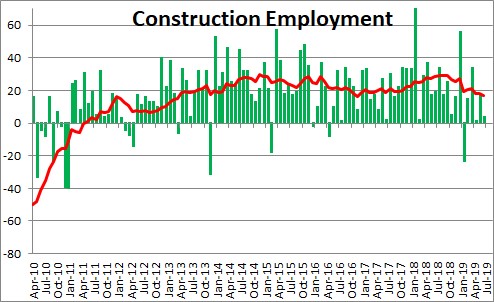 Manufacturing employment rose by 16 thousand in July after having climbed by 12 thousand in June.    Factory employment is now rising by about 15 thousand per month.  It is struggling as the recently imposed tariffs take a toll on growth in the goods sector.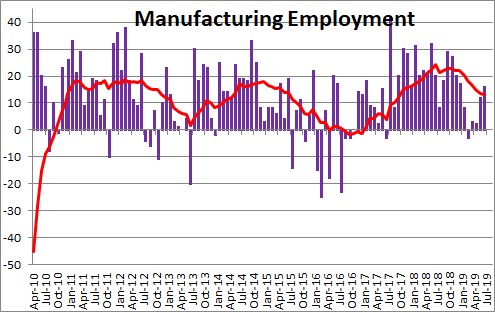 Elsewhere, health care  climbed by 30 thousand.  Social assistance added another 20 thousand jobs in July.  Education rose 16 thousand.  Professional and business services increased 38 thousand in July.   Employment in leisure and hospitality establishments climbed 10 thousand.  Financial services gained 18 thousand workers.  Retail jobs declined 4 thousand.   Government jobs increased by 16 thousand.
In any given month employers can boost output by either additional hiring or by lengthening the number of  hours that their employees work.  The nonfarm workweek fell 0.1 hour in July to 34.3 after having been unchanged in both May and June at 34.4 hours.  It has been bouncing around between 34.4 and 34.5 hours for the past year.  This is the shortest workweek we have seen since September 2017 so the situation bears watching.  It seems to largely reflect considerable softening in the manufacturing sector caused by the tariffs.  Nevertheless, the  elevated level of the workweek  in most industries implies that employers are in need of workers and will continue to hire at a meaningful pace in the months ahead.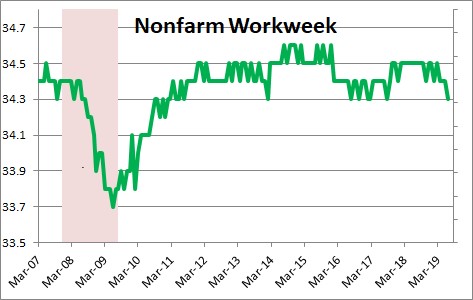 The increases in  employment and hours worked are reflected in the aggregate hours index which fell 0.2% in July to 111.0 after having risen 0.2% in June.  This index climbed by 1.8% in the first quarter and now 0.6% in the second quarter,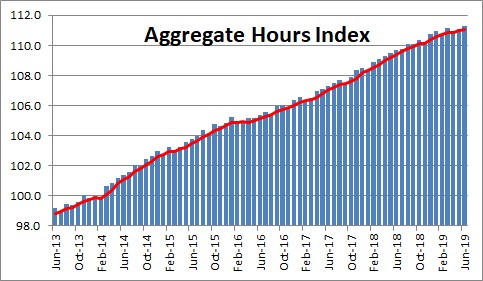 There is no doubt that the consumer sector of the economy is expanding at roughly a 2.5% pace.   The stock market had a tough couple of months late last year but has completely recovered and is currently very close to a record  high level.    Consumer confidence fell in the fourth quarter but it, too, has recovered and now stands at a 15-year high.
The sectors of the economy that remains under pressure are the various production industries.  They are climbing but very slowly.  As noted earlier, factory employment is barely increasing.  Construction employment has been rising slowly but steadily.  Mining employment is essentially unchanged.  The service sector, however, is booming.
Looking ahead, steady consumer spending and continued rapid growth rate in investment should cause  GDP to grow 2.6% this year.
Stephen Slifer
NumberNomics