September 3, 2021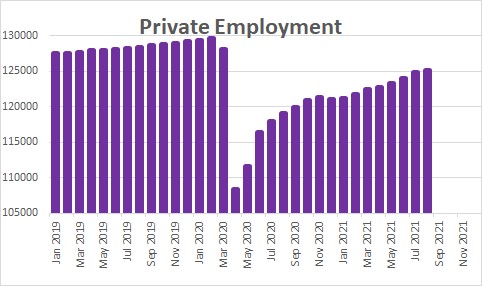 Private sector employment rose by a much-smaller-than-expected 243 thousand in August after having risen 798 thousand in July, after climbing 808 thousand in June.  Some economists suggest that the relatively small gain in August shows that the upswing in COVID cases has slowed the economy dramatically.  The evidence seems to be based on no change in leisure and hospitality jobs in August so clearly, in their mind, people are choosing to dine out less frequently or get on an airplane for fear of contracting the virus. There may be some of that but, as we see it, the impact is minimal.  We would suggest that no change in the leisure and hospitality sector reflects the difficulty for employers in that sector to find bodies.
In addition to hiring people, businesses can also lengthen the hours of existing employees.  The nonfarm workweek was unchanged in August at 34.7 hours which is where it has been for the past three months.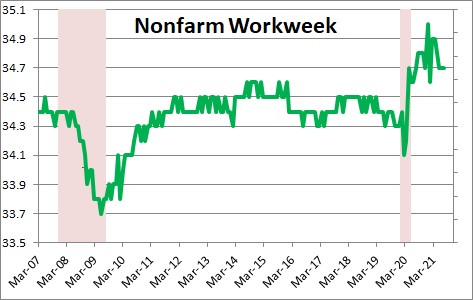 In our view the 235 thousand increase in payroll employment in August reflects the difficulty that employers are having in finding workers.  Virtually every participants in the monthly purchasing managers indexes for both the manufacturing and service sectors for August point to an inability to hire as many as people as they need.  So while payroll employment rose a meager 235 thousand in August it is clear that the demand for workers was far greater. The shortfall in hiring seems to be attributable to employers inability to find workers who have the appropriate skills, can pass the drug test, and who are willing to work.  At the same time,. generous unemployment benefits have apparently created a significant disincentive for many workers to get back on the  job until their federal benefits expire in September.
The changes in  employment and hours worked are reflected in the aggregate hours index which rose0.2% in  August to 109.0 after climbing 0.6% in July.  This index is on track to increase 5.4% in the third quarter which, combined with an expected 2.6% increase in productivity should produce GDP growth of 8.0% or so in Q3.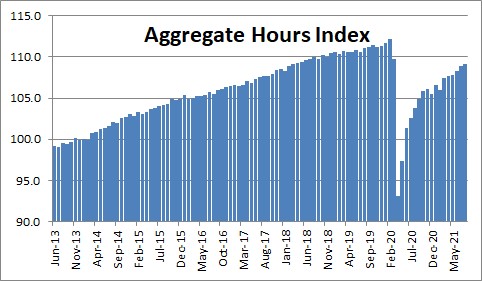 The demand side of the economy is clearly gathering momentum despite the virus spreading rapidly.   While a hot topic of conversation neither consumers nor business people are showing any sign of fear of COVID.  On the contrary, they seem anxious to get back to business as usual.  While the demand side of the economy is particularly robust the production side of the economy is struggling to find enough workers to satisfy demand and work around significant delays in getting the materials necessary for production.
The small ncrease in employment in August was led by led by the leisure and hospitality industries where employment was unchanged after having increased 415 thousand in July and 397 thousand in June..  Employment in this sector is still 1.7mullion below the February 2020 pre-recession level.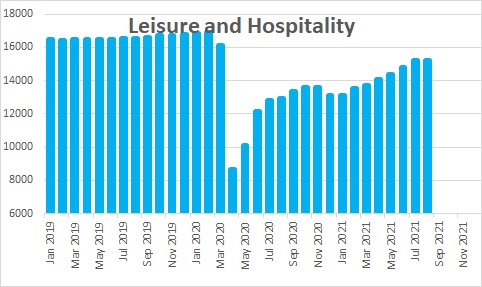 Elsewhere, jobs in the retail sector fell 28 thousand .  Manufacturing employment rose by 37 thousand.  Construction employment fell 3 thousand.   Health care and social services employment declined 5 thousand.  Info tech jobs rose 17 thousand.  Transportation and warehousing gained 53 thousand.  Professional and business services climbed by 74 thousand.   Financial sector jobs increase 16 thousand.  Private sector education employment  fell by 25 thousand.
Given these employment gains we expect GDP growth of 8.0% growth in Q3 and 10.5% in Q4  .  For the year as a whole we expect GDP to climb by 7.8%.
Stephen Slifer
NumberNomics
Charleston, S.C.