May 6, 2022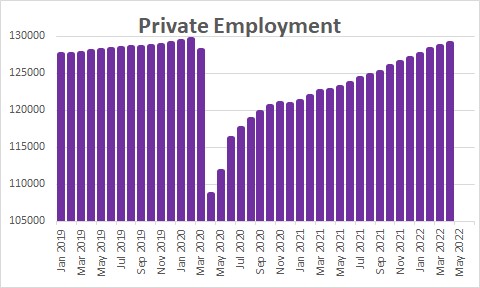 Private sector employment rose by 406 thousand in April after climbing by 424 thousand in March after climbing 704 thousand in February and 492 thousand in January.
.In addition to hiring people, businesses can also alter the hours of existing employees.  The nonfarm workweek was unchanged in April at 34.6 hours after having fallen 0.1 hour in March.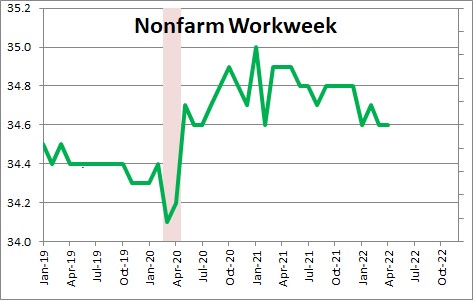 While employment continues to climb, jobs are still not getting filled.  Job openings are at a record high level.  Many people are choosing to work for themselves rather than somebody else.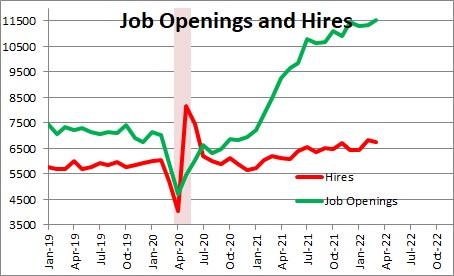 The changes in  employment and hours worked are reflected in the aggregate hours index rose 0.4% in April to 112.2 after having been unchanged in March.  This index is on track to increase 4.1% in the first quarter which suggests that GDP growth in that quarter could be of roughly comparable magnitude.  We are currently expecting a Q2 GDP increase of 2.0%.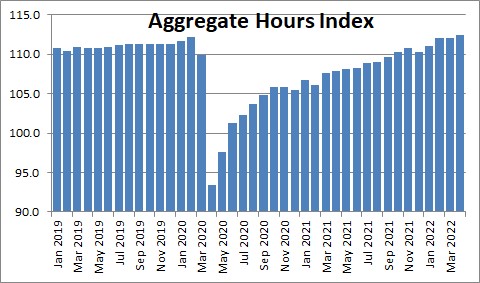 The demand side of the economy remains robust while the production side of the economy is struggling to find enough workers to satisfy demand and work around significant delays in getting the materials necessary for production.
Jobs in the leisure and hospitality industries increased  78 thousand in April after having risen 100 thousand in March and 124 thousand in February.  Employment in this sector is still 1.4 million below the February 2020 pre-recession level.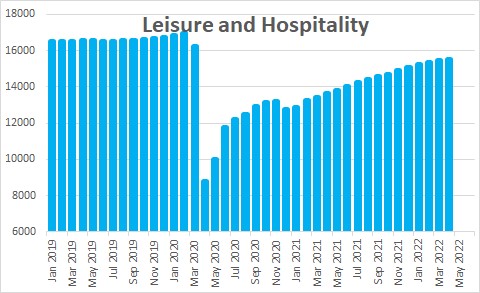 Elsewhere, jobs in the retail sector increased 29 thousand .  Manufacturing employment rose by 55 thousand.  Construction employment rose by 2 thousand.   Health care and social assistance employment gained 41 thousand.   Info tech jobs rose 12 thousand.  Transportation and warehousing climbed by 52 thousand.  And leisure and hospitality jobs rose 78 thousand.  Professional and business services climbed by 41 thousand.   Financial sector jobs increased 35 thousand.
Given these steady employment gains we expect GDP growth of  2.0% in 2022.
Stephen Slifer
NumberNomics
Charleston, S.C.