September 4, 2020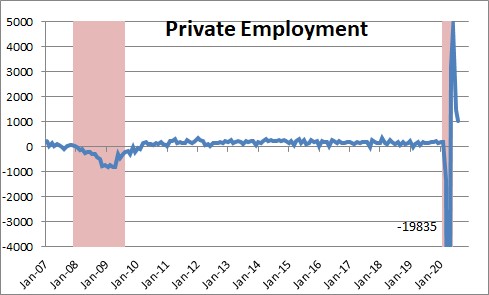 Private sector employment rose 1,027 thousand in August after increasing 1,481 thousand in July, 4,729 thousand  in June, and 3,236  thousand in May, after having plunged by 19,835 thousand jobs in April and 1,335 thousand in March.
Given the sharp drop in employment beginning in March and continuing into April, the National Bureau of Economic Research has concluded that the expansion ended in February 2020 and the recession began in March 2020.    Given that employment rose sharply in both May and June, the NBER will likely mark the end date of the recession in April  If that happens the recession will have lasted just two months, far shorter than the average length of 8 months.
The August increases were widespread.  Leisure and hospitality industry jobs rose 174 thousand.   Retail gained 249 thousand jobs.  In health care jobs climbed by 75 thousand.  Education employment rose 57 thousand.  Social assistance service sector jobs rose 15 thousand.   Admin and support services rose 151 thousand.  Construction increased 16 thousand.  Factory employment rose by 29 thousand.  Government jobs rose 344 thousand.  Employment in transportation and warehousing climbed by 78 thousand.
In addition to laying off people, businesses can also shorten the hours of existing employees.  The nonfarm workweeks rose 0.1 hour to 34.6 hours in August.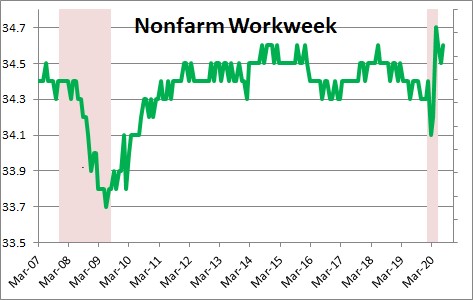 The changes in  employment and hours worked are reflected in the aggregate hours index which rose 1.0% in August to 103.4 after climbing 1.3% in July and 3.6% in June.  The drop in the aggregate hours index in the second quarter (blue lines below) explains why Q2 GDP declined by 31.7%.  However, the index has been rebounding and should climb farther in September.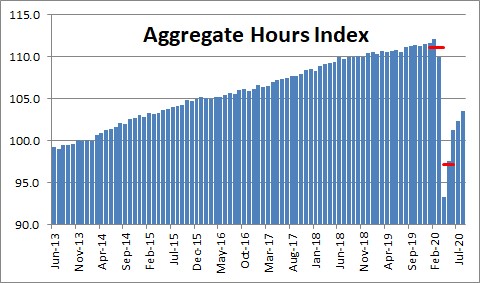 However, the government's $3.0 billion in fiscal stimulus has quickly spread into the economy.  As a result we anticipate an increase in GDP of 28% or so in Q3 and 7.0% growth in the fourth quarter.
Stephen Slifer
NumberNomics
Charleston, S.C.