April 3, 2020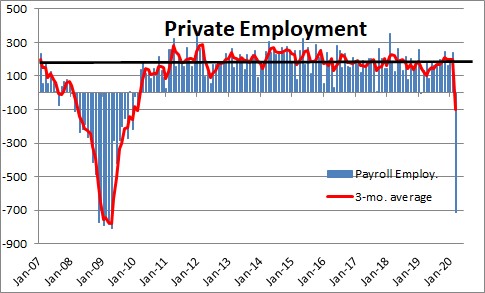 Private employment declined 713 thousand in March after having risen 242 thousand in March.  Given the sharp drop in employment in that month, the National Bureau of Economic Research will probably conclude that the expansion ended in February 2020 and the recession began in March 2020.  But that determination will not happen until months from now, probably some time towards the end of the year.  The jobs drop was much larger than expected in March, but given the dramatic increase in initial unemployment claims in the last two weeks of March it is clear that jobs are going to fall more quickly this time than in any other recession.  But rather than being attributable to a drop in demand, this time the recession has been caused by the measures imposed by Trump to halt the spread of the corona virus which has basically forced all restaurants, bars, retail shops and other non-essential businesses to close.  That, in turn, has forced them to lay off — hopefully temporarily — millions of workers.  For what it is worth, we expect to see a drop in private sector employment in April of 6 million workers.  The unemployment rate climbed from 3.5% to 4.4% in March, but it should jump again to perhaps 7.5% in April.
Not surprisingly the job losses in March were widespread but the losses in the leisure and hospitality industry of 459 thousand were particularly acute.  Of those 417 thousand were in the food and beverage category with an additional 29 thousand in the accommodations category.   Health care jobs fell 42 thousand as doctors and dentist offices closed.  Temp help jobs fell 40 thousand, Child care jobs fell 19 thousand.  Various types of repair, and laundry services fell 24 thousand.  Retail trade jobs declined 46 thousand.  Construction declined 29 thousand.  Factory employment fell 18 thousand.
In addition to laying off people, businesses can also shorten the hours of existing employees.  The nonfarm workweek fell 0.2 hour to 34.2 hours in March.  That is the shortest workweek in almost a decade.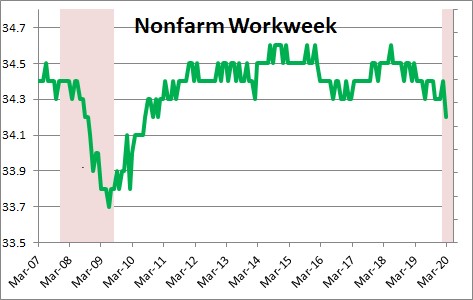 0
The changes in  employment and hours worked are reflected in the aggregate hours index which fell 1.1% in March to 110.8 but that will just be the tip of the iceberg with much larger declines in store for the next several months.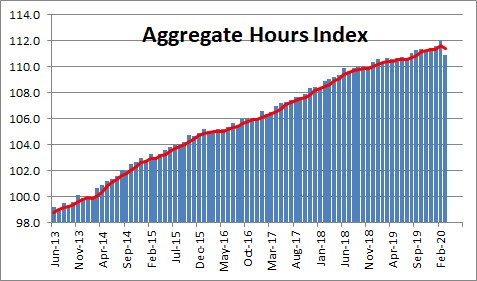 .For what it is worth, we now expect a 20% drop in second quarter GDP.  Estimates currently range from a drop of 10% to a decline of 35%.  Any of those estimates are possible.  Remember, we still have not seen any second quarter data.  The estimates will converge as those data become available.  But right now we all know Q2 GDP will fall by a record amount.  But going forward the issue is how quickly the virus will show signs of slowing its rate of spread and how soon businesses will be able to reopen.  Based on the Chinese experience we are expecting to see early signs of improvement by mid-April and more clear-cut evidence by the end of the month.  If that is the case, consumer and business confidence would climb quickly, the stock market would surge upwards after having lost nearly 30% of its value in the past couple of months, and businesses could gradually re-open.  Following the 20% drop in Q2 GDP we anticipate an 8.7% snap-back in Q3 and 7.0% growth in the fourth quarter.
Stephen Slifer
NumberNomics
Charleston, S.C.