June 4, 2021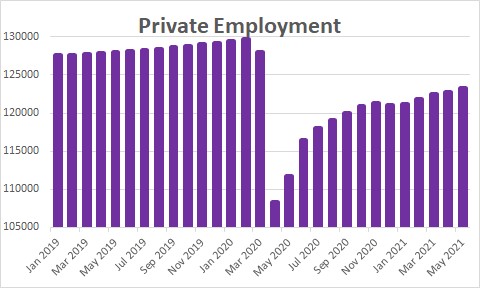 Private employment rose 492 thousand in May after having risen 219 thousand in April and 724 thousand in March.
In addition to hiring people, businesses can also lengthen the hours of existing employees.  The nonfarm workweek rebounded was unchanged in May at 34.9 hours after having been unchanged in April.   The May level of 34.9 hours is just a shade below the record long 35.0 hour workweek reported for January.  It appears that employers are having a difficult time finding workers.  Numerous firms in manufacturing, construction, leisure and hospitality, amongst other industries are trying hard to find workers.  Comments from numerous participants in the monthly purchasing managers indexes for both the manufacturing and service sectors point to an inability to hire as many as people as they need.  So while payroll employment rose 559 thousand in May, it is quite clear that the demand for workers was much higher, perhaps 900 thousand to 1 million. While the current workweek is near a record long level, it is poised to rise even higher in the months ahead.  The shortfall in hiring seems to be attributable to employers inability to find workers who have the appropriate skills, can pass the drug test, and who are willing to work.  At the same time,. generous unemployment benefits have apparently created a significant disincentive for many workers to get back on the  job until their federal benefits expire in September.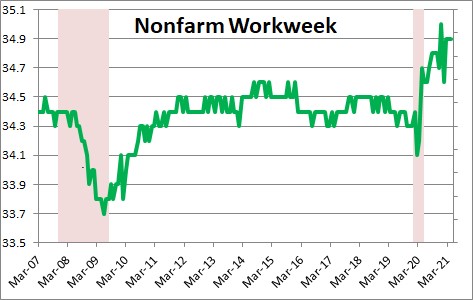 The changes in  employment and hours worked are reflected in the aggregate hours index which rose 0.5% in May to 108.0 after having risen 0.2% in April and 1.4% in March.  We project this index will rise 5.4% in the second quarter which seems consistent with our projected GDP growth rate of 10.0% (the forecast implicitly assumes an increase in productivity in the second quarter of 4.6%.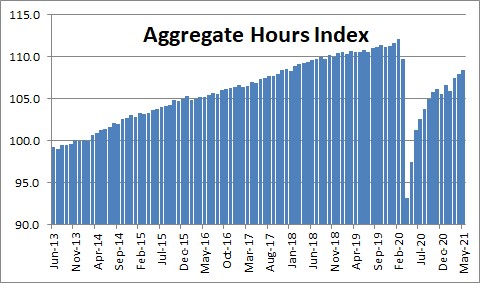 The demand side of the economy is clearly gathering momentum which was widely expected as the virus is showing clear signs of slowing its pace of spread.    Three vaccines are now being distributed rapidly and some epidemiologists expect something approaching herd immunity by the end of May.  The number of new cases daily and the number of daily deaths have fallen back to where they were in the very early stages of the pandemic last March.  In addition, the impact on the economy from the $1.9 trillion fiscal stimulus package will boost growth in the second quarter.  But the production side of the economy is struggling to find enough workers to satisfy demand.
The increase in employment in May was primarily in the leisure and hospitality industries where employment increased 292 thousand after having risen 328 thousand in April..  Employment in this sector is still 2.5 mullion below the February 2020 pre-recession level.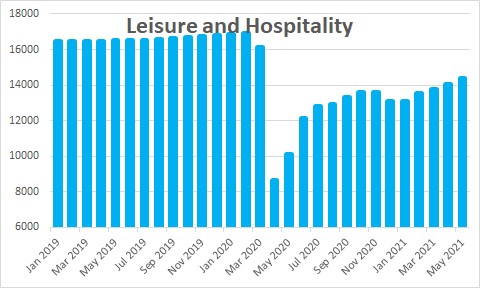 Elsewhere, jobs in the retail sector fell by 6 thousand .  Manufacturing employment rose by 28 thousand.  Construction employment declined 20 thousand.   Health care  employment climbed by 23 thousand.  Info tech jobs rose 29 thousand.  Transportation and warehousing gained 23 thousand, wholesale trade increased 20 thousand and professional and business services climbed by 35 thousand.   Employment in public and private education rose across the board — 53 thousand in local government education, 50 thousand in state government, and 41 thousand in private education.
Given these employment gains we continue to expect GDP growth of 10.0% growth in Q2.  For the year as a whole we expect GDP to climb by 8.0%.
Given the sharp drop in employment beginning in March 2020 and continuing into April, the National Bureau of Economic Research has concluded that the expansion ended in February 2020 and the recession began in March 2020.    Given that employment rose sharply in both May and June, the NBER will likely mark the end date of the recession in April  If that happens the recession will have lasted just two months, far shorter than the average length of 8 months.
Stephen Slifer
NumberNomics
Charleston, S.C.