June 2, 2023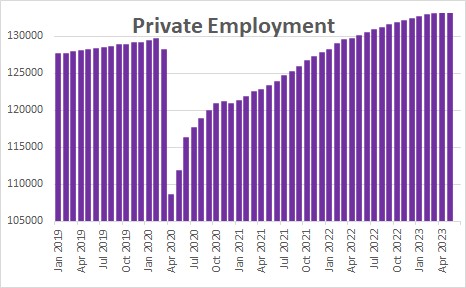 Private sector employment jumped by 283 thousand in May after climbing by 253 thousand in April and 157 thousand in March.  In the past three months the average increase has been 231 thousand.  At the beginning of last year we were routinely seeing employment gains of  550-600 thousand per month.  Thus, the labor market has clearly softened from where it was at that time, but the reality is that it has held up well in the face of sharp increases in interest rates and a significant drop-off in stock prices.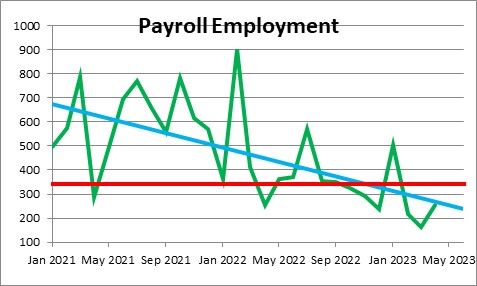 In addition to hiring people, businesses can also alter the hours of existing employees.  The nonfarm workweek fell 0.1 hour in May to 34.3 hours after having been unchanged in April  after declining 0.1 hour in March.  It has been declining slowly from where it was at the beginning of last year.  Prior to the recession the workweek was 34.4 hours so at 34.3 hours it is currently showing a moderate amount of  economic weakness.  Employers seem more inclined to shorten hours worked by their existing employees than to reduce headcount.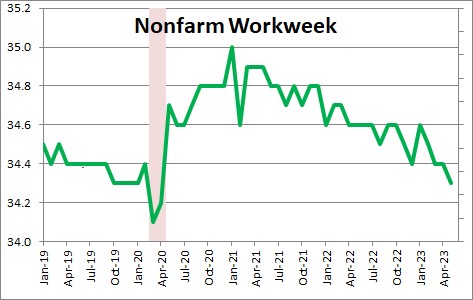 While employment continues to climb, jobs are still not getting filled.  Job openings have fallen slightly from a record high level of 11.7 million to 10.1 million, but firms continue to be unable to fill open positions.  In fact, there are currently 1.8 job openings for every unemployed worker.  The demand for labor continues to outpace supply.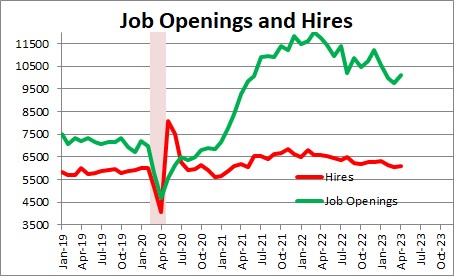 The changes in  employment and hours worked are reflected in the aggregate hours index which fell 0.1% in May to 114.9 after rising 0.2% in April and declining 0.3% in March.  This index  appears on track to be essentially unchanged in the second quarter.  However, we still anticipate GDP growth of 2.0% in that quarter because the demand side components were quite strong early in the quarter.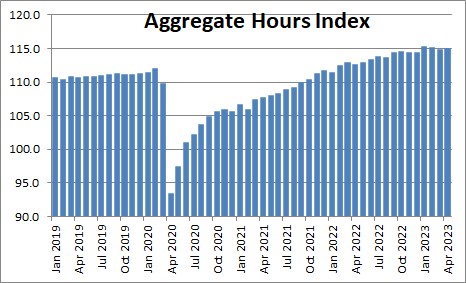 The demand side of the economy has softened slightly but not enough to cause workers to start laying off bodies.
Manufacturing employment fell by 2 thousand.  Construction employment rose by 25 thousand.   Retail trade jobs rose by 12 thousand.  Health care jobs gained 52 thousand.   Social assistance climbed by 22 thousand.  Info tech jobs fell by 9 thousand.  Trade, transportation and utilities rose by 24 housand.  Leisure and hospitality jobs rose 48 thousand.  Professional and business services climbed by 64 thousand.   Financial sector jobs gained 10 thousand.  Government jobs rose by 56 thousand.
Given these steady employment gains we expect GDP growth of 2.0% in the secoond quarter and 1.3% in 2023.
Stephen Slifer
NumberNomics
Charleston, S.C