November 6, 2020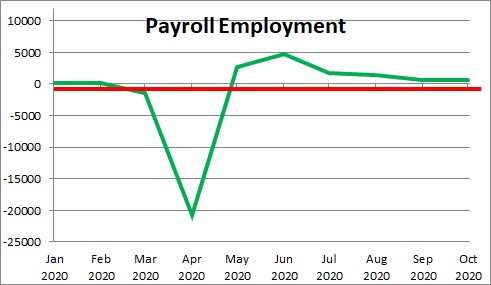 Private employment rose 906 thousand in October after having risen 892 thousand in September and 1,028 thousand in August.  Payroll employ rose by 638 thousand in October but that includes a decline of 147 Federal government workers who were temporary employees hired to process the Census.
The October increases were widespread.  Leisure and hospitality industry jobs rose 271 thousand.   Retail gained 104 thousand jobs.  In health care jobs climbed by 58 thousand.  Education employment fell 21 thousand.  Social assistance service sector jobs rose 22 thousand.   Admin and support services rose 147 thousand.  Construction increased 84 thousand.  Factory employment rose by 38 thousand.  Government jobs fell 268 thousand (mostly state and local).  Employment in transportation and warehousing climbed by 63 thousand.
In addition to hiring people, businesses can also lengthen the hours of existing employees.  The nonfarm workweek was unchanged at an extremely long 34.8 hours in October.  Unable to find the workers they need, some employers chose to work their employees longer hours.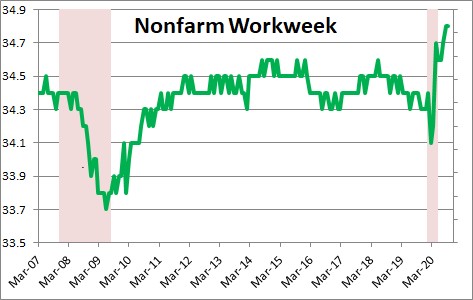 The changes in  employment and hours worked are reflected in the aggregate hours index which rose 0.5% in October to 105.6 after rising 0.5% in September and 1.1% in August.  The index has been rebounding every month since April.  Given its current level and likely further increases in November and December, we estimate GDP growth in Q4 rose 10.0%.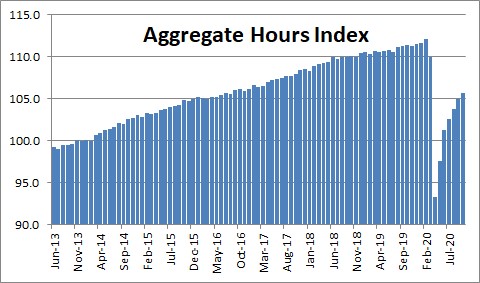 Given the sharp drop in employment beginning in March and continuing into April, the National Bureau of Economic Research has concluded that the expansion ended in February 2020 and the recession began in March 2020.    Given that employment rose sharply in both May and June, the NBER will likely mark the end date of the recession in April  If that happens the recession will have lasted just two months, far shorter than the average length of 8 months.
Stephen Slifer
NumberNomics
Charleston, S.C.