October 1, 2021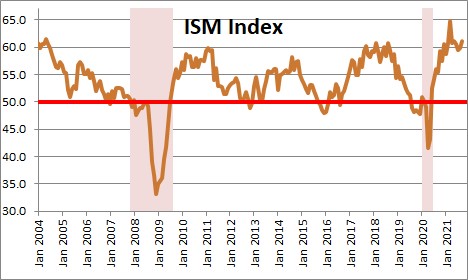 The Institute for Supply Management's index of conditions in the manufacturing sector rose 1.2 points in September to 61.1 after having risen 0.4 point in August.  The March level of 64.7 was the highest level for this index since December 1983 so the September level remains close to that record.  And, as it turns out, the demand components were  strong and the only reason the index is not higher is because of supply constraints.  A level of 61.1 is associated with GDP growth of 5.1%.
The Institute for Supply Management Chair for the Survey Committee Timothy Fiore said, "Business Survey Committee panelists reported that their companies and suppliers continue to deal with an unprecedented number of hurdles to meet increasing demand. All segments of the manufacturing economy are impacted by record-long raw materials lead times, continued shortages of critical materials, rising commodities prices and difficulties in transporting products. Global pandemic-related issues — worker absenteeism, short-term shutdowns due to parts shortages, difficulties in filling open positions and overseas supply chain problems — continue to limit manufacturing growth potential."
Comments from survey respondents include the following:
"Many electronic components and assemblies shortages showing up (due to) port issues, lack of containers and other issues. Problematic, but nothing completely shut down yet. Watching COVID-19 restrictions country by country." [Computer & Electronic Products]
"The impacts from Hurricane Ida on the petrochemical industry has put additional stress on an already fragile supply chain. Logistics with intermodal containers and motor carriers continues to be a challenge for planning deliveries of materials." [Chemical Products]
"In the U.S., labor availability is the most significant supply challenge for our company, with raw materials just behind. Plastic resin, polyurethanes, small-volume steel purchases and electronics are the biggest material challenges." [Transportation Equipment]
"Lack of labor and escalating costs from every direction are very concerning." [Food, Beverage & Tobacco Products]
"Delivery and availability of raw materials, primarily carbon steel, are becoming more and more difficult to source. This has resulted in delaying order deliveries. Computer numerical control (CNC) machining services are at a premium; it's difficult to get the deliveries needed to complete jobs. Traditional in-house machining now has to be outsourced due to a lack of experienced machinists. All this has had a negative impact on production throughput." [Fabricated Metal Products]
"Customer demand continues to swell as we prepare for the fourth quarter, and overall growth has been extremely good for the year. Supply chain concerns are growing beyond electronics and chips into most other commodities. Lead times are extending, shipping lanes are slowing, and we will not see an end to this in 2021." [Electrical Equipment, Appliances & Components]
"We are still amazed by the labor market. We used to have 100 applicants for an opening; we are now seeing about 10 — and often, the applicant does not show for the interview." [Paper Products]
"Our company's entire supply chain continues to have significant challenges getting manpower, which is impacting production of parts and ability to meet daily build schedules. Additionally, the logistics problems — especially port delays and a shortage of shipping containers — are significantly impacting inbound and outbound shipments. Raw materials costs still are at record highs, and we have raised customer pricing, with additional increases in the near future due to labor costs going up. Huge customer orders are nine months out (due to) backorders. Seeing this domestically and internationally." [Machinery]
The purchasing managers index consists of a number of different components.  Typically big changes in the overall index are triggered by changes in the orders component.
The orders component was unchanged in September at 66.7 after having risen 1.8 points in August.    The March level of 68.0 was the highest reading for orders since January 2004.  Thirteen of 18 industries reported growth in orders in September  A reading of 52.8 is generally consistent with an increase in the Census Bureau's series on manufacturing orders.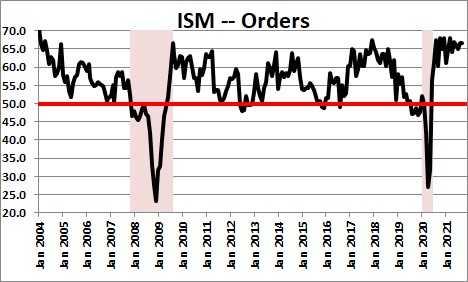 The production component declined 0.6 point in September to 59.4 after having risen 1.6 points in August  The March level of 68.1 was the highest reading for this component since January 2004 when it was 69.3.  Raw materials continued to be a constraint to production growth, as manufacturing inventories reached their highest levels in this cycle. Staffing levels on the factory floor remain an obstacle, with direct labor turnover and retirements becoming more prevalent.  An index above 52.1 is generally associated with an increase in the Fed's index of industrial production.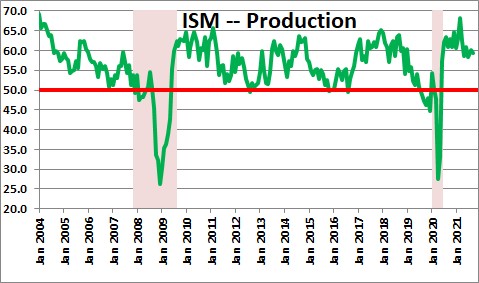 The delivery performance of suppliers to manufacturing organizations jumped 3.9 points in September to 73.4 after having declined 3.0 points in August.  This means that supplier deliveries are slowing and slowed at a faster pace in September than in August.  Suppliers are having a very tough time keeping up with demand.  This is the only component of the ISM report that is reversed, meaning that a reading above 50 indicates slower deliveries. Raw materials continued to be a constraint to production growth, as manufacturing inventories reached their highest levels in this cycle. Staffing levels on the factory floor remain an obstacle, with direct labor turnover and retirements becoming more prevalent.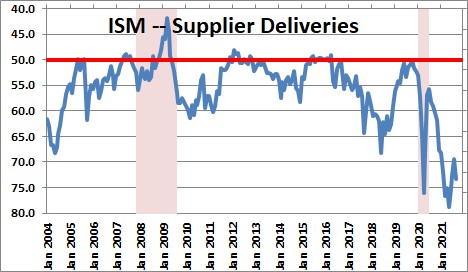 The employment index rose 1.2 points in September to 50.2 aafter having declined  3.9 points in August/  The March reading of 59.6 was the highest reading for this category since February 2018 when it was 59.8.. Survey panelists' companies are still struggling to meet labor-management plans, but there were modest signs of progress compared to previous months: Less than 5 percent of comments noted improvements regarding employment, compared to none in August. An overwhelming majority of panelists indicate their companies are hiring or attempting to hire — 85 percent of Employment Index comments were about seeking additional staffing. Nearly half (47 percent) of those respondents expressed difficulty in filling positions, an increase from August.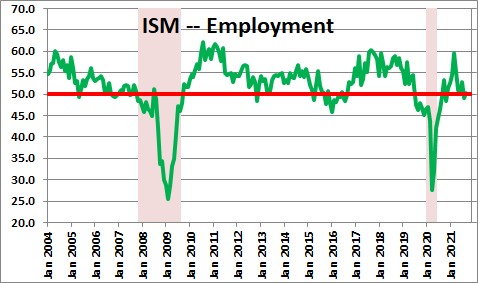 The backlog of orders fell 3.4 points in September to 64.8 after having risen 3.2 points in August.  A rising backlog is a positive for the future. The May level of 70.6 was the highest reading since collection of data for this category began in January 1993. Backlogs expanded at a lower rate in September compared to August, indicating production was able to keep up with continuing strong new order levels. However, backlogs remain at historically high levels. Other than the current run above 60 percent which began this past February, the last time the Backlog of Orders Index was at this level was April 2004 (66.5 percent).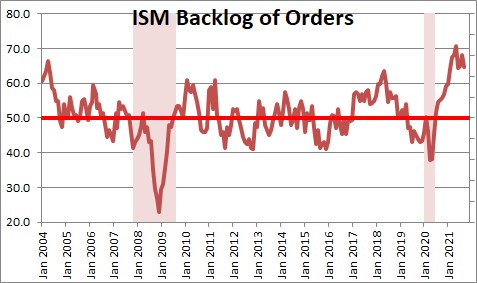 At the same time customer inventory levels continued to fall rapidly.  The index rose 1.5 points in September to 31.7 after climbing 5.2 points in August.  Fiore said that, "Customers' inventories are too low for the 60th consecutive month, a positive for future production growth. The July reading of 25.0 was the lowest since the index was established in January 1997.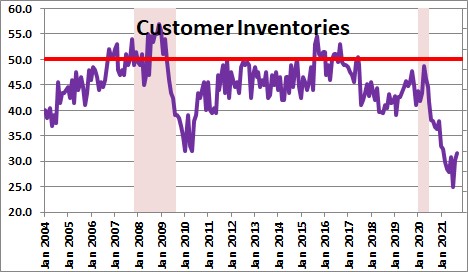 As orders  and inventories rose somewhat faster, the ratio or orders to inventories declined in September to 2.1 after having fallen 0.4 point in August to 2.2 from 2.6 in July which was the highest on record.  Somehow manufacturers need to step up the pace to keep up with customer demand.  The problem is getting the labor force back on the job and still satisfying COVID requirements, as well as getting an adequate supply of needed materials at a reasonable price.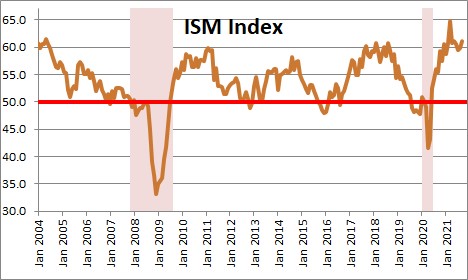 The prices paid component rose 1.8 points in September to 81.2 after having fallen 6.3 points in August. The April  reading was the highest reading for prices since July 1979 (93.3)).  In September 17 of 18 industries reported paying increased prices for raw materials.  A prices index above 52.7 is generally consistent with the Bureau of Labor Statistics PPI index for Intermediate Materials.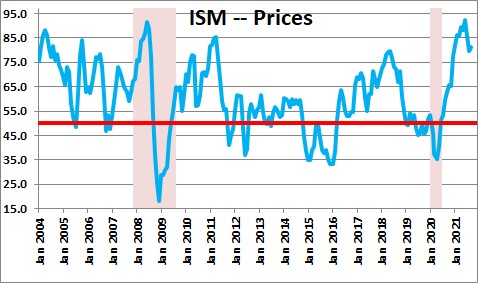 We expect GDP to climb by 8.0% in Q3 and 10.1% in Q4.  For the year as a whole we expect GDP growth of 7.8% followed by 5.1% GDP growth in 2022.
Stephen Slifer
NumberNomics
Charleston, S.C.