November 1, 2019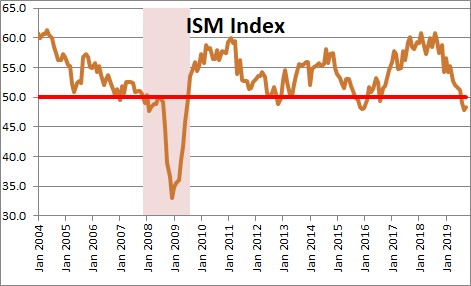 The Institute for Supply Management's index of conditions in the manufacturing sector surprisingly rose 0.5 point in October to 48.3 after having fallen 1.3 points in September.  Clearly, the escalating trade trade war between the U.S. and China is taking its toll on manufacturers but the  modest increase in this index in October suggests that the worst may be over.  The PMI has fallen fairly steadily since reaching a peak of 60.8 in August of last year.    The PMI for October at 48.3 , if sustained, corresponds to a 1.6% increase in GDP growth.  The earlier numbers were consistent with GDP growth between 4.0-4.5%.  This is clearly indicative of significant softness in the manufacturing sector.  However, a couple of things.  First this index has fallen below 50 on a couple of occasions in recent years — two months in late 2012, and then five months in late 2015-early 2016 — and the economy kept plodding along.  Make no mistake, this softness in the manufacturing sector is a brake on the pace of economic activity, but it is not even remotely close to a level that would point towards an impending recession.  Second, keep in mind that the manufacturing sector is only 11% of the economy.  Factory employment makes up 8.5% of payroll employment, and in the first quarter made up 11.3% of GDP.  Service sector employment, by contrast, is almost 2/3 of the economy and it is expanding at about a 2.5% pace.  Compare the ISM index for manufacturing vs. non-manufacturing.  They are going in entirely different directions.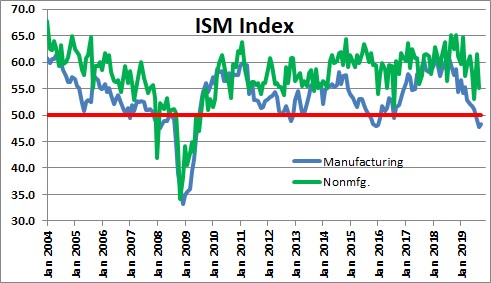 Timothy R. Fiore,  Chair of the ISM's Manufacturing Business Survey Committee indicated that "Comments from the panel reflect an improvement from the prior month, but sentiment remains more cautious than optimistic".  He added that,  "Global trade remains the most significant issue,"
It is important to recognize that the overall index is the compilation of a number of different components — production, orders, employment, supplier deliveries, inventories, prices, the backlog of orders, exports, and imports.
The orders component rose 1.8 points in October to 49.1 after having fallen 0.1 point in September to 47.3 and having declined 3.6 points in August.  "The Transportation Equipment sector had the biggest drag on the New Orders Index in October. Three of the top six industry sectors expanded, and three contracted,"  This clearly reflects the impact of the G.M. strike on the data.   An orders index above 52.4  is, over time, consistent with an  increase in the Census Bureau's series on factory orders.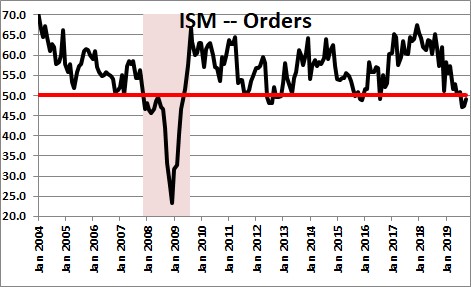 .
The weakness in orders overall is, to a large extent, the result of slower growth overseas.  Export orders jumped 9.4 points in October to 50.4 after having declined 2.3 points in September to 41.0 and 4.8 points in August. "The index is back in positive territory, which contributed to the improvement in new orders in October. Two of the six big industry sectors expanded, and four contracted during the period. Transportation Equipment contracted strongly,"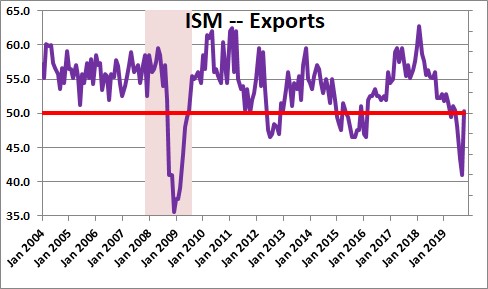 The production component fell 1.1 points in October to 46.2 after having declined 2.2 points in September and 1.3 points in August.   "Two of the big six industry sectors expanded, and three contracted."  A level above 51.7 is consistent with an increase in the Federal Reserve's industrial production figure.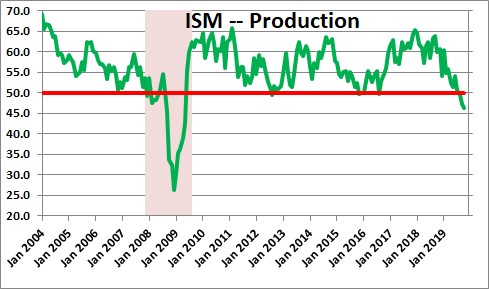 The employment index rose 1.4 points in October to 47.7 after having fallen 1.1 points in September to 46.3 and having declined 4.3 points in August.  "One of the six big industry sectors expanded, and four contracted during the period. Labor force-reduction concerns increased, indicated in 40 percent of employment comments." .   While the economy is currently cranking out about 170 thousand jobs per month, the factory sector accounts for only about 5 thousand of them.  Most of the jobs are coming from services and construction.  An ISM employment index above 50.8 is consistent with an increase in the Bureau of Labor Statistics data on manufacturing employment.".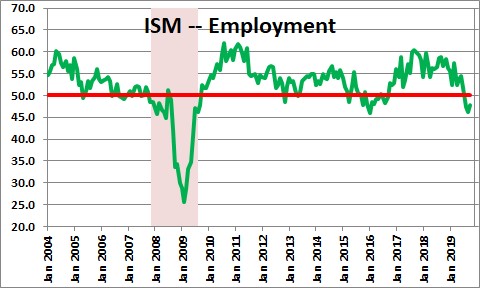 The backlog of orders declined 1.0 point in October to 44.1 after having fallen 1.2 points in September to 47.8 after having risen 3.2 points in August."Backlogs continued to contract moderately, despite new order contraction slowing compared to September. Five of the six big industry sectors' backlogs contracted during the period," says Fiore.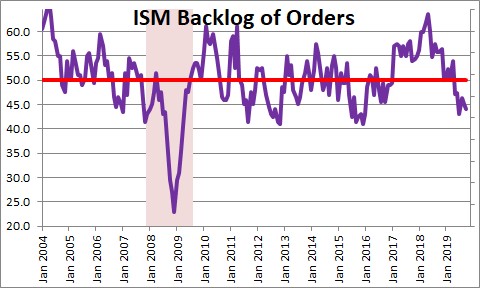 The prices paid component fell 1.2 points in October to 45.5 after having risen 3.7 points in September. "Prices contracted in October, at a faster rate compared to September. Respondents reported decreases in prices for aluminum, copper, basic chemicals, steel, steel scrap and freight expenses. The panel also reported price growth in ethylene, propylene, corn and nickel. Price stability remains elusive,""   A price index level above 52.5 is consistent with an increase in the BLS producer prices index for intermediate materials.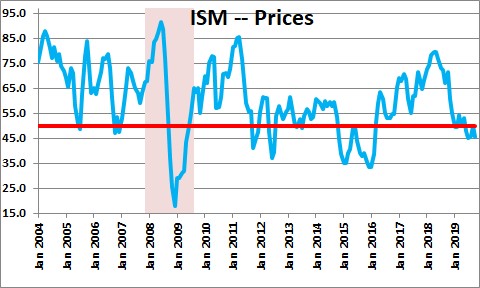 We believe that the economy is  expanding at a relatively robust pace.  We expect GDP growth of 2.4% in both 2019 and n 2020.  During that period of time the manufacturing sector will continue to be relatively flat.
Stephen Slifer
NumberNomics