March 1, 2021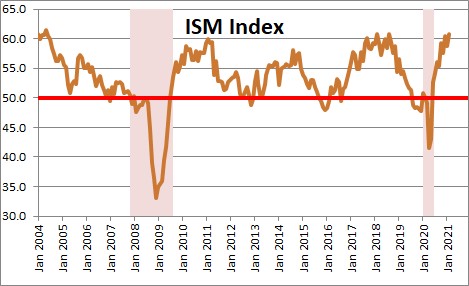 The Institute for Supply Management's index of conditions in the manufacturing sector rose 2.1 points in February to 60.8 after having declined 1.8 points in January.  The February level was the highest level for this index since February 2018.  And, as it turns out the demand components were extremely strong and the only reason the index is not higher is because of supply constraints.  A level of 60.8 is associated with GDP growth of 5.0%.
The Institute for Supply Management Chair for the Survey Committee Timothy Fiore said, "The manufacturing economy continued its recovery in February. Survey Committee members reported that their companies and suppliers continue to operate in reconfigured factories. Issues with absenteeism, short-term shutdowns to sanitize facilities, and difficulties in hiring workers remain challenges and continue to cause strains that limit manufacturing-growth potential. Optimistic panel sentiment increased, with five positive comments for every cautious comment, compared to a 3-to-1 ratio in January."  Fiore added that, "Manufacturing performed well for the ninth straight month.  Labor-market difficulties at panelists' companies and their suppliers continued to restrict manufacturing-economy expansion and will remain the primary headwind to production growth until employment levels and factory operations can return to normal across the entire supply chain,"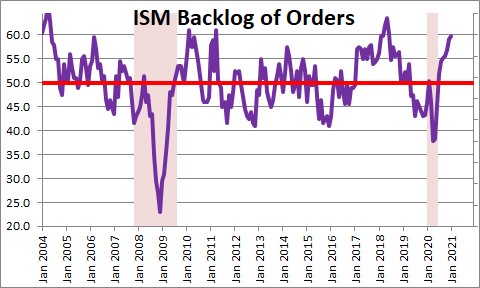 Comments from respondents included the following:
"The coronavirus [COVID-19] pandemic is affecting us in terms of getting material to build from local and our overseas third- and fourth-tier suppliers. Suppliers are complaining of [a lack of] available resources [people] for manufacturing, creating major delivery issues." (Computer & Electronic Products)
"Supply chains are depleted; inventories up and down the supply chain are empty. Lead times increasing, prices increasing, [and] demand increasing. Deep freeze in the Gulf Coast expected to extend duration of shortages." (Chemical Products)
"Steel prices have increased significantly in recent months, driving costs up from our suppliers and on proposals for new work that we are bidding. In addition, the tariffs and anti-dumping fees/penalties incurred by international mills/suppliers are being passed on to us." (Transportation Equipment)
"We have experienced a higher rate of delinquent shipments from our ingredient suppliers in the last month. We are still struggling keeping our production lines fully manned. We anticipate a fast and large order surge in the food-service sector as restaurants open back up." (Food, Beverage & Tobacco Products)
"Overall capacities are full across our industry. Logistics times are at record times. Continuing to fight through shipping and increased lead times on both raw materials and finished goods due to the pandemic." (Fabricated Metal Products)
"Prices are going up, and lead times are growing longer by the day. While business and backlog remain strong, the supply chain is going to be stretched very [thin] to keep up." (Machinery)
"Business is very good. Customer inventories are low, with a significant order backlog through April. Supply base is struggling to keep up with demand, disrupting our production here and there. Raw material lead times have been extended. COVID-19 continues to cause challenges throughout the supply chain. Huge logistics challenges, especially in getting product through ports and in getting containers. We are seeing significant cost increases in logistics and raw materials." (Machinery)
It is important to recognize that the overall index is the compilation of a number of different components — production, orders, employment, supplier deliveries, inventories, prices, the backlog of orders, exports, and imports.  In October 16 of the 18 manufacturing industries reported growth.
The orders component rose 3.7 points in February to 64.8 after having declined 6.8 points in January to 61.1,  The December level of 67.0 was the highest reading since January 2004.  A reading of 52.8 is generally consistent with an increase in the Census Bureau's series on manufacturing orders.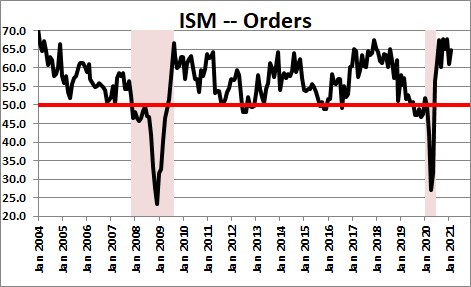 The production component rose 2.5 points in February to 63.2 after having fallen 4.0 points in January to 60.7.  Its December level of 64.7 was the highest reading for this component since January 2011 when it was 65.3.   An index of 52.1 is consistent with an increase in the Fed's index of industrial production.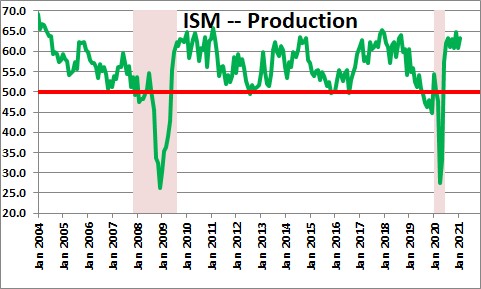 The delivery performance of suppliers to manufacturing organizations was slower in February than in January  than in December.  This means that supplier deliveries are slowing, and they slowed at a faster pace  in February than in January, which is a sign that suppliers are having a very tough time keeping up with demand.  This is the only component of the ISM report that is reversed, meaning that a reading above 50 indicates slower deliveries.  The supplier deliveries Index continues to reflect supplier difficulties in maintaining delivery rates due to factory labor safety issues and transportation challenges.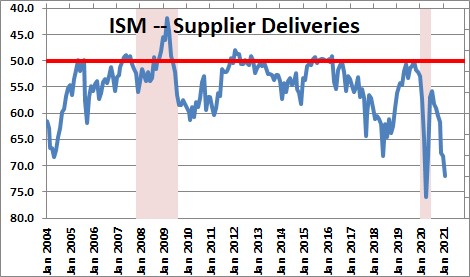 The employment index rose 1.8 points in February to 54.4 after having risen 1.1 points in January and 3.1 points in December which means that employers were in hiring mode in Febuary.  "For the sixth straight month, survey panelists' comments indicate that significantly more companies are hiring or attempting to hire than those reducing labor forces," says Fiore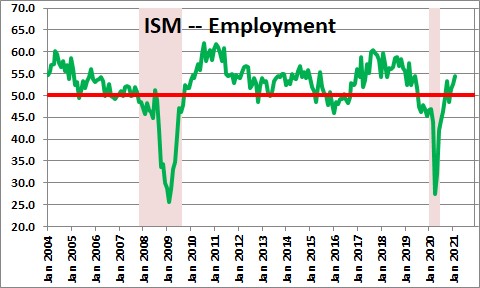 The backlog of orders jumped 4.3 points in February to 64.0 after having risen 0.6 point in January and 2.2 points in December.  A rising backlog is a positive for the future. "Backlogs expanded at faster rates in February than in January, indicating that new-order intakes were sufficient to fully offset production outputs and maintain an acceptable level of backlog.  February's reading is the second-highest since January 1993, when reporting for this sub-index began, exceeded only by April 2004 (66.5 percent)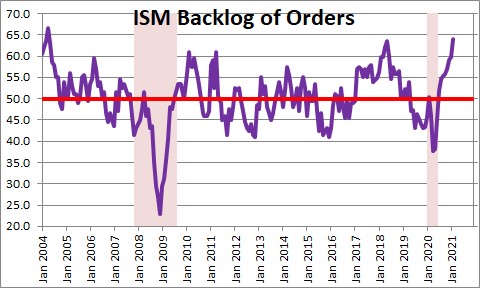 .At the same time customer inventory levels continued to fall rapidly.  The index fell 0.6 point in February to 32.5 after having fallen 4.8 points in January.  Fiore said that, "Customers' inventories are too low for the 55th consecutive month, a positive for future production growth. This reading is tied with December 2009 as the lowest reported since the sub-index was established in January 1997.  Somehow manufacturers need to step up the pace to keep up with customer demand.  The problem is getting the labor force back on the job and still satisfying COVID requirements.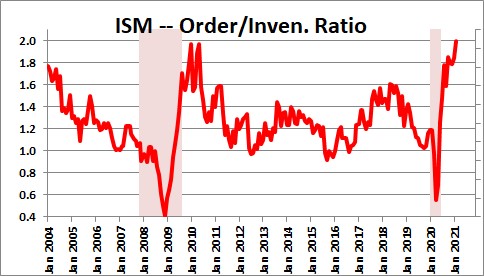 The prices paid component climbed 3.9 points in January to 86.0 after having risen 4.5 points in January and having jumped 12.2 points in December  . That is the highest reading for prices since May 2008 (88.1).  All 18 industries reported paying increased prices for raw materials in February. Price growth reflects a power shift toward sellers, as increased costs to produce input materials are being passed on to panelists' companies.  A prices index above 52.7 is generally consistent with the Bureau of Labor Statistics PPI index for Intermediate Materials.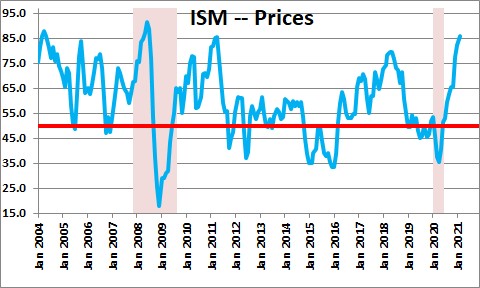 Super restrictive measures to halt of the spread of the corona virus caused second quarter GDP to decline 31.4%.  However, the economy rebounded by 33.1% in the third quarter followed by  a 4.1% increase in Q4.  We expect GDP growth of 7.5% in 2021.
Stephen Slifer
NumberNomics
Charleston, S.C.