July 1, 2020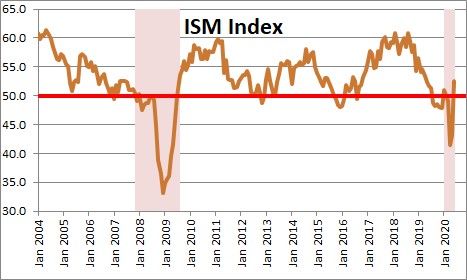 The Institute for Supply Management's index of conditions in the manufacturing sector rose 9.5 points in June to 52.6 after having climbed by 1.6 points in May, after having fallen 7.6 points in April.  A level of 52.6 is associated with GDP growth of 2.9%.
The Institute for Supply Management' Chair for the Survey Committee Timothy Fiore said, "June signifies manufacturing entering an expected expansion cycle after the disruption caused by the coronavirus (COVID-19) pandemic. Comments from the panel were positive (1.3 positive comments for every one cautious comment), reversing the cautious trend which began in March. The manufacturing sector is reversing the heavy contraction of April, with the PMI® increasing month-over-month at a rate not seen since August 1980, with several other indexes also posting gains not seen in modern times."  He added that "As predicted, the growth cycle has returned after three straight months of COVID-19 disruptions. Demand, consumption and inputs are reaching parity and are positioned for a demand-driven expansion cycle as we enter the second half of the year."
Comments from respondents included the following:
"While we are seeing signs of an uptick in business activity, it is a slow recovery at this point."
"Orders have picked up and are trending toward normal production requirements [volume similar to 2019 production]."
"Looks like May was the bottom in terms of orders. June is stronger, and our order books are rebuilding."
"The building industry continues to defy expectations, as we continue to rebound stronger from the previous month. Being an essential business across most states and a surge in DIY projects has fueled the industry forward. While the industry will follow the greater economy, we do believe it will be more resilient than most due to potential migration from larger cities and an undersupplied housing market."
It is important to recognize that the overall index is the compilation of a number of different components — production, orders, employment, supplier deliveries, inventories, prices, the backlog of orders, exports, and imports.  Among the six big industry sectors only Food, Beverage & Tobacco Products expanded.  All of the components showed a strong negative impact caused by the ongoing corona virus pandemic.
The orders component jumped 24.6 points in June to 56.4 after having risen 4.7 points in May.  This is the biggest month-over-month increase since records began in January 1948.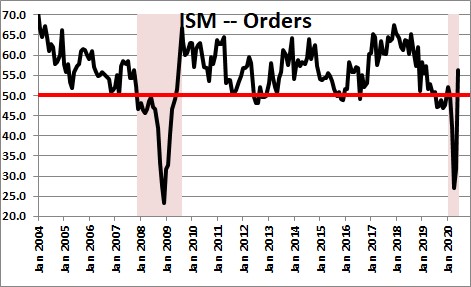 The production component rose 21.4 points in June to 57.3 after having risen 4.7 points in May.  This is the largest increase since August 1952.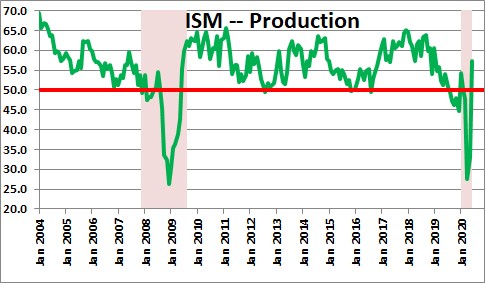 The supplier delivery component fell 11.1 points in June to 56.9 after having declined 8.0 points in May  This is the only component of the ISM report that is reversed, meaning that a reading above 50 indicates slower deliveries.  That is typical in the early stages of a recovery as the economy improves and customer demand increases, However, the high readings for March, April, May, and June were a product of corona virus related supply interruptions with suppliers impacted by plant shutdowns, transportation challenges, and the continuing difficulty of importing parts and components.  Suppliers continue to struggle to deliver, although at a slower rate compared to in earlier months. Plant shutdowns, transportation challenges and continuing difficulties in importing parts and components continue to be factors, but to lesser degrees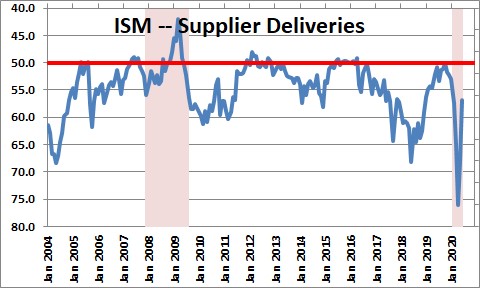 The employment index rose 10.0 points in June to 42.1 after having risen 4.6 points in May.   All six big industry sectors experienced employment contraction as a result of furloughs and layoffs due to a lack of new orders and/or social-distancing mandates,  While employment contracted sharply in both April and May the rate of decline was slower in May than in April.  This is the 11th consecutive month of employment contraction, but at a slower rate than in May.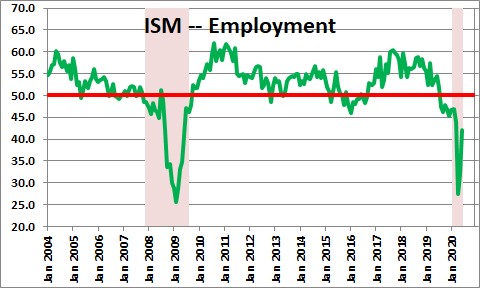 The backlog of orders climbed by 7.1 points in June to 45.3. A slowing of backlog contraction is a positive for the future. It indicates that production satisfied most new-order intake and consumed a lower amount of backlog while customer inventories declined.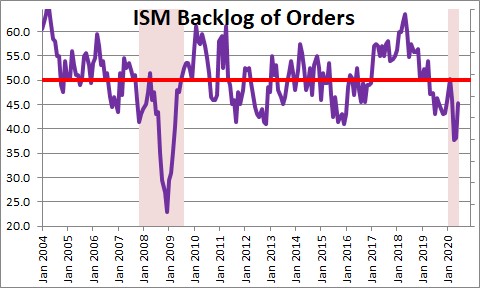 The prices paid component rose 10.5 points in June to 51.3 after having risen  risen 5.5 points in May.  Raw materials prices rose in June after four consecutive months of declines.  A return to prices growth indicates that supplier/buyer pricing power is close to parity.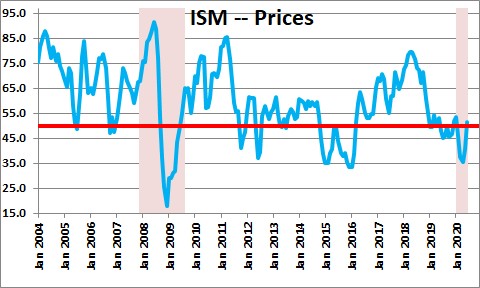 We expect the super restrictive measures to halt of the spread of the corona virus to cause second quarter GDP to decline 50.0%.  However, most states are gradually beginning to  re-open their businesses.  And the two fiscal stimulus packages are already being distributed to consumers and businesses.  As a result, we expect third GDP growth rate of 51.0% followed by a 7.0% increase in Q4.
Stephen Slifer
NumberNomics