September 1, 2020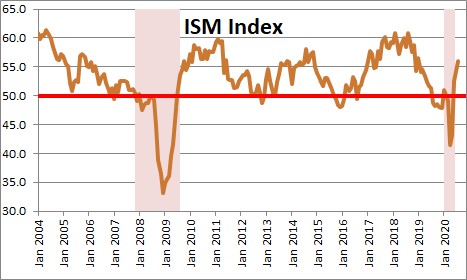 The Institute for Supply Management's index of conditions in the manufacturing sector rose 1.8 points in August to 56.0 after climbing 1.6 points in July, 9.5 points in June and 1.6 points in May.  This is the highest level for this index since November 2018.  And, as it turns out the demand components were extremely strong and the only reason the index is not higher is because of supply constraints.  A level of 56.0 is associated with GDP growth of 3.9%.
The Institute for Supply Management Chair for the Survey Committee Timothy Fiore said, "Manufacturing grew in August as the PMI registered 56 percent, 1.8 percentage points higher than the July reading of 54.2 percent. The PMI signaled a continued rebuilding of economic activity in August and reached its highest level of expansion since November 2018, when the index registered 58.8 percent. Five of the big six industry sectors expanded. The New Orders and Production indexes continued at strong expansion levels. The Supplier Deliveries Index now better reflects supplier's difficulty in maintaining delivery rates due to factory labor safety issues and transportation difficulties."
Comments from respondents included the following:
"Current sales to domestic markets are substantially stronger than forecasted. We expected a recession, but it did not turn out that way. Retail and trade customer markets are very strong and driving shortages in raw material suppliers, increasing supplier orders." (Fabricated Metal Products)
"We are seeing solid month-over-month order improvement in all manufacturing sectors such as electrical, auto and industrial goods. Looking to add a few factory operators." (Plastics & Rubber Products)
"Rolling production forecasts are increasing each week compared to prior forecast." (Primary Metals)
"Production ramp-up] has been a struggle. We have started and stopped lines numerous times at all 18 of our manufacturing plants due to COVID-19 issues. Surprisingly, our direct suppliers have done an excellent job on shipping ingredients and packaging on time." (Food, Beverage & Tobacco Products)
It is important to recognize that the overall index is the compilation of a number of different components — production, orders, employment, supplier deliveries, inventories, prices, the backlog of orders, exports, and imports.  In August 15 of the 18 manufacturing industries reported growth..
The orders component jumped 6.1 points in August to 67.6.  After reaching a bottom of 27.1 in April the index has risen 40.5 points in the past four months.  This is the highest reading since January 2004.  Demand improved in August as 15 industry sectors improved, and only one contracted.  A reading of 52.5 is generally consistent with an increase in the Census Bureau's series on manufacturing orders.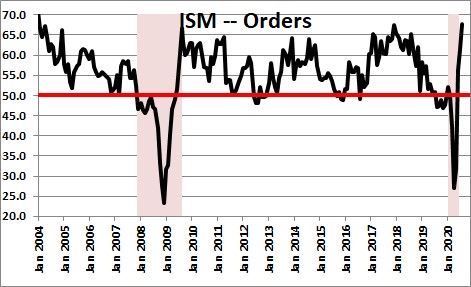 The production component rose 1.2 points in August to 63.3.  It reached a low of 27.5 in April and has risen quickly in the  past four months.   An index of 51.7 is consistent with an increase in the Fed's index of industrial production.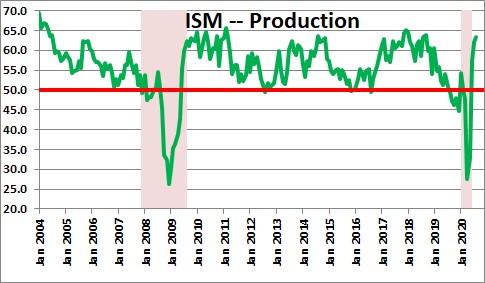 The supplier delivery component rose 2.4 points in August to 58.2.  This means that supplier deliveries were slower in August than in July which is a sign that suppliers are having a tough time keeping up with demand.  This is the only component of the ISM report that is reversed, meaning that a reading above 50 indicates slower deliveries.  That is typical in the early stages of a recovery as the economy improves and customer demand increases, The high readings for March, April, and May were a product of corona virus related supply interruptions with suppliers impacted by plant shutdowns, transportation challenges, and the continuing difficulty of importing parts and components. The supplier delivery Index continues to reflect a healthier supply/demand balance compared to spring and early summer,"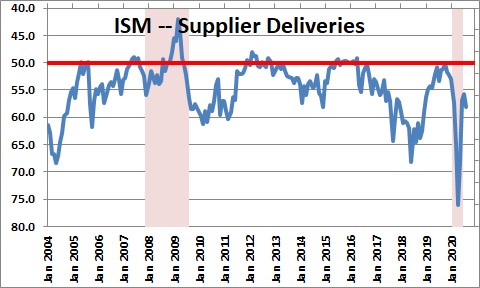 The employment index rose 2.1 points in August to 46.4 after having increased steadily from a low of 27.5 in April.   This is the 13th consecutive month of employment contraction, although at a slower rate than in other recent months.  Strong new-order levels and an expanding backlog signify potential strength for the rest of the third quarter. Survey comments indicate that more panelists' companies are hiring or attempting to hire compared to actively and passively reducing their labor forces,"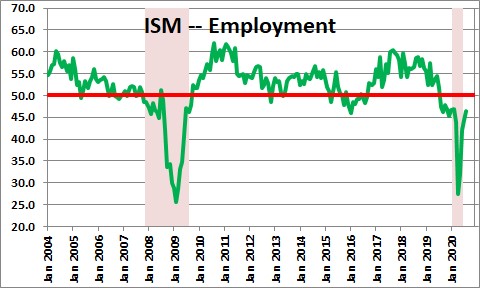 The backlog of orders rose 2.8 points in August to 54.6.  This series reached a low of 37.8 in April.  A rising backlog is a positive for the future. Backlog expansion indicates that new-order intake was sufficient to offset production output and grow backlog during the period.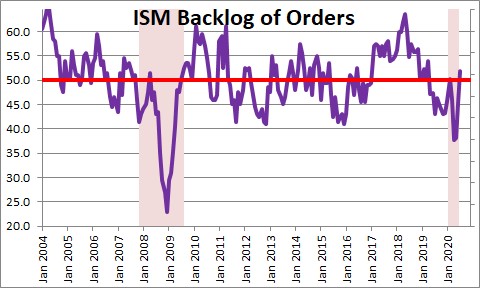 At the same time customer inventory levels fell further.  The index fall 3.5 points in august to 38.1.  This is the lowest reading for this index since January 2014.  If we take the ratio of orders to customer inventories, it climbed to 1.8 which is the highest it has been in a decade.  Somehow manufacturers need to step up the pace to keep up with customer demand.  The problem is getting the labor force back on the job and still satisfy COVID requirements.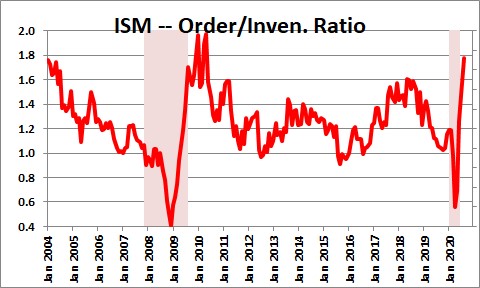 The prices paid component jumped 6.3 points in August to 59.5.  After reaching a low of 35.3 in April this index has been rising sharply each month since. "Price increases were driven primarily by plastics, lumber, aluminum, copper, some steel products, transportation expenses, precious metals and petroleum products. Price growth reflects a power shift toward sellers, as increased costs to produce input materials are being passed on to panelists' companies,"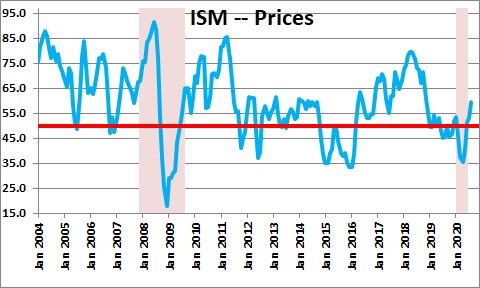 Super restrictive measures to halt of the spread of the corona virus caused second quarter GDP to decline 31.7%.  However, most states are gradually beginning to  re-open their businesses.  There have been two fiscal stimulus packages already and a third seems likely to pass soon.  As a result, we expect third GDP growth of 28.0% followed by a 7.0% increase in Q4.
Stephen Slifer
NumberNomics