February 1, 2023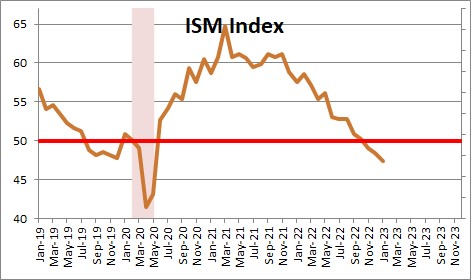 The Institute for Supply Management's index of conditions in the manufacturing sector declined 1.0 point in January to 47.4 after declining  0.6 point in December and 1.2 points in November.  This series has been falling steadily since the end of last year and its current level is the lowest since May 2020.  A level of 50.0 is the breakeven point for expansion in the manufacturing sector so in December the manufacturing sector edged lower.  While 50.0 is the breakeven point for the manufacturing sector, a level below 48.7 is generally associated with a recession for the economy as a whole.   A level of 47.4 is associated with a GDP decline of 0.5%.
Right now the service sector — which is 2/3 of the economy is expanding at a 3.2% pace.  The ISM index of conditions in the service sector for January will be released on Friday, February 3.
So while the economy is slowing, it is not yet in danger of slipping into recession despite the results from this ISM report for the manufacturing sector.
The Institute for Supply Management Chair for the Survey Committee Timothy Fiore said, "The January Manufacturing PMI® registered 47.4 percent, 1 percentage point lower than the seasonally adjusted 48.4 percent recorded in December. Regarding the overall economy, this figure indicates a second month of contraction after a 30-month period of expansion. The Manufacturing PMI® figure is the lowest since May 2020, when it registered a seasonally adjusted 43.5 percent."
Comments from survey respondents include the following:
"Business is still strong, but we have begun to see softening in some pricing, and lead times seem to be improving." [Computer & Electronic Products]
"Conditions are reasonable. Sales are a little better than planned. Cost pressures are easing for most products. There have been a lot fewer supply disruptions so far this year, and few expected in the short term. The crystal ball remains a little blurry for the rest of 2023." [Chemical Products]
"Sales have dropped (as expected) at the beginning of the year. Forecast from the sales department is showing even lower sales then we expected. If this holds true, inventory levels will rise slightly over next month and a half." [Food, Beverage & Tobacco Products]
"Supply chain issues continue to plague our production schedules. Transportation from our overseas suppliers is also contributing to delays. Lead times have doubled for critical electronics, gaskets, sealants, and specialized steel." [Transportation Equipment]
"Strong big ag demand continues to drive heightened demand for parts. Large construction/off highway original equipment manufacturers have strong demand as well. Creating continued capacity constraints with the supply base." [Machinery]
"Some business segments showing demand softening globally. Many materials showing improved lead times as well as cost deflation." [Electrical Equipment, Appliances & Components]
"Thus far, the outlook for the first half of 2023 looks very soft. Demand for our products has taken a sharp downward turn. Our inventories are high, as well as our customers'. It seems everyone is bracing for a recession." [Fabricated Metal Products]
"Customers are being quite aggressive in pursuing price decreases, far beyond the price relief we are actually receiving from our suppliers." [Miscellaneous Manufacturing]
"Industrial construction is strong. Commercial construction is slower." [Nonmetallic Mineral Products]
"In the past two weeks, we are seeing a slowing of new orders." [Primary Metals]
The orders component fell 2.6 points in January to 42.5 after declining 2.1 points in December and 2.0 points in November .  None of the 18 manufacturing industries reported growth in new orders in January…  Fiore noted that, "Uncertainty regarding future demand, buyer/supplier disagreements on prices and lead times, and hangover from overordering in 2021 and 2022 continue to weigh heavily on the index."   A reading of 52.9 is generally consistent with an increase in the Census Bureau's series on manufacturing orders thus durable goods orders is likely to decline in January.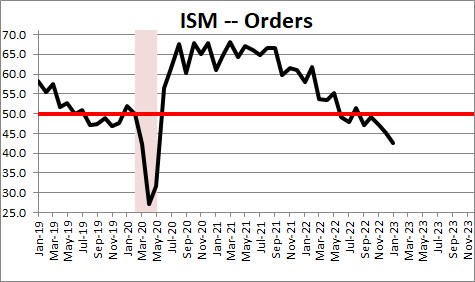 The production component fell 0.6 point in January to 48.0 after declining 2.9 points in December and 0.8 point in November  Fiore noted that, ""Of the top six industries, only one —  Computer and Electronic Products — expanded in January. The Production Index contraction is a strong indicator that backlog reduction is not sufficient to maintain production growth. Also, weak contraction in the Production Index supports manufacturing executives' strategy to stretch out output during the first half of 2023, as panelists' companies attempt to retain workers to prepare for better second-half performance," An index level of 52.5 is generally consistent with an increase in industrial production.  Thus, industrial production is likely to decline in December.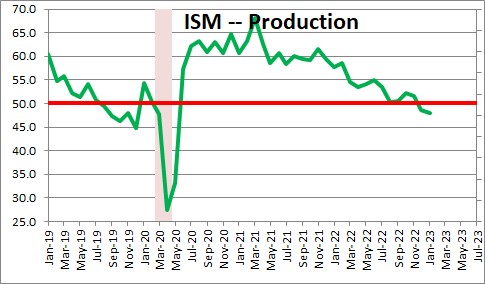 The delivery performance of suppliers to manufacturing organizations rose 0.5 point in January to 45.6 after having fallen 2.1 points in December and having risen 0.4 point in November,  This means that supplier deliveries were actually faster for a fourth straight month in January  The last time that survey participants registered faster delivery times since March 2009.  Fiore noted that panelist comments indicate early signs of sellers' eagerness to fill up order books after nine months of softening new order levels.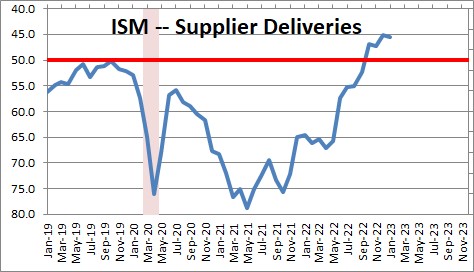 The employment index fell 0.2 point in January to 50.6 after having risen rose 2,4 points in December after having fallen 1.6 points in November.   Fiore noted that,  "Labor management sentiment reversed in the month, with a strong majority of panelists' companies attempting to hire compared to reducing their employment levels. Although layoffs are occurring, there is a 4-to-1 hiring to reduction ratio (2-to-1 in the previous four months) as companies make decisions to retain workforces to support projected second-half growth. Turnover rates remained stable. For those companies increasing their head counts, comments continue to support an improving hiring environment." An index reading above 50.5 is generally consistent with an increase in the BLS data on manufacturing employment.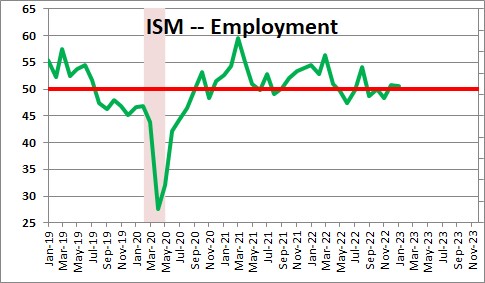 The backlog of orders rose 2.0 points in January to 43.4 after rising 1.4 points in December to 41.4 after having fallen 5.3 points in November. "Backlogs contracted again at notable rates, as weak new order levels negatively impacted manufacturing planning, resulting in fewer new orders to suppliers. Panelists continue to work off backlog (overdue orders) as new order rates continue to soften."  The index in November recorded its lowest level since May 2020, when it registered 38.2 percent."" said Fiore.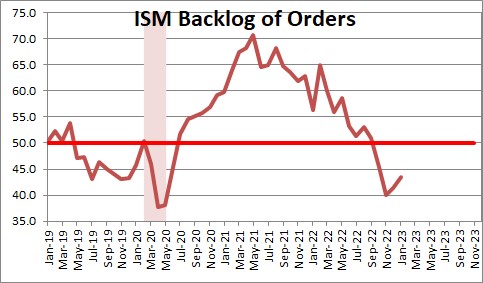 At the same time customer inventory levels 0.8 point in January to 47.4 after  having fallen 0.5 point in December and having rose 7.1 points in November.  Fiore said that,  "Customers' inventory levels remain 'just right.' January's performance indicates that panelists' companies sellers and buyers are finding a fair balance regarding inventory transfers," The current index level is no longer providing positive support to future manufacturing expansion,"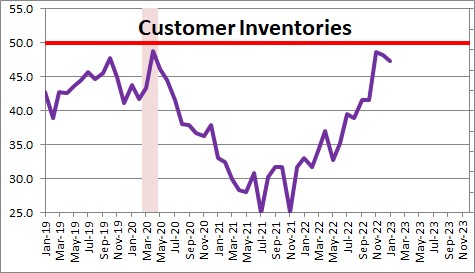 As the orders index fell 2.6 points while the customer inventories index declined slightly, the ratio or orders to inventories was unchanged at 0.9 after having fallen 0.1 in December.  Orders and inventories are roughly in line with where they were prior to the recession.  .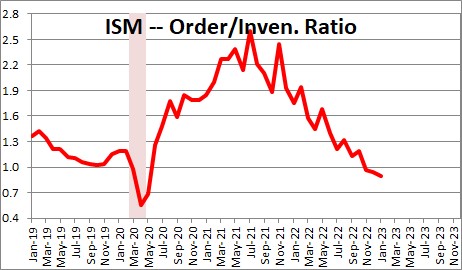 The prices paid component rose 5.1 points in January to 44.5 after having declined 3.6 points in December and 3.6 points in November. Raw materials prices fell In October, November, and December fand January for the first time since May 2020.  Fiore noted that,  "This ties the longest streak of declining Prices Index readings since the onset of the pandemic, from February through May 2020. Between April and December 2022, the index decreased 47.7 percentage points, including a combined 26-percentage point plunge in July and August. Only two of the top six manufacturing industries (Computer & Electronic Products; and Machinery) reported price increases in January. Panelist companies reporting 'same' or 'lower' prices continues to be the result of inventory dynamics preventing buyers and sellers from reaching agreements, which would unleash more new orders,"  A prices index above 52.6 is generally consistent with the Bureau of Labor Statistics PPI index for Intermediate Materials.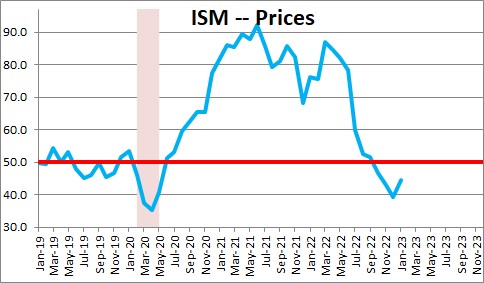 We expect GDP to climb at a 1.2% pace in 2023.  We do not look for a recession until early in 2024.
Stephen Slifer
NumberNomics
Charleston, S.C.