May 1, 2022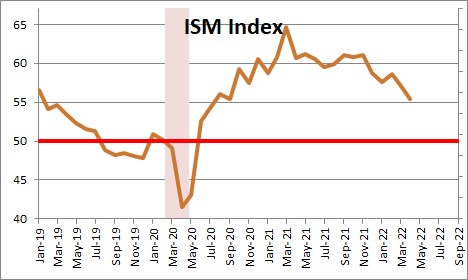 The Institute for Supply Management's index of conditions in the manufacturing sector fell 1.7 points in April to 55.4 after declining 1.5 points in March.  The demand components were  strong.  The only reason the index is not higher is because of supply constraints.  A level of 55.4 is associated with GDP growth of 2.3%.
The Institute for Supply Management Chair for the Survey Committee Timothy Fiore said, "The U.S. manufacturing sector remains in a demand-driven, supply chain-constrained environment. In April, progress slowed in solving labor shortage problems at all tiers of the supply chain. Panelists reported higher rates of quits compared to previous months, with fewer panelists reporting improvement in meeting head-count targets. April saw a slight easing of prices expansion, but instability in global energy markets continues. Surcharge increase activity across all industry sectors continues. Panel sentiment remained strongly optimistic regarding demand, though the three positive growth comments for every cautious comment was down from March's ratio of 6-to-1, Panelists continue to note supply chain and pricing issues as their biggest concerns
Comments from survey respondents include the following:
"No letup yet in supply chain challenges, especially electronic components. Relying more and more on the broker market." [Computer & Electronic Products]
"Tier-2 supplier shutdowns in Shanghai are causing a ripple effect for our suppliers in other parts of China. Long delays at ports, including in the U.S., are still providing supply challenges. Inflation is out of control. Fuel costs, and therefore freight costs, are leading the upward cycle. At some point, the economy must give way; it will be tough to have real growth with such pressure on costs. Despite the issues and poor outlook, business remains brisk." [Chemical Products]
"Continued strong demand with improvements in the supply chain. Delays still exist, but supply issues are slowly improving. Cost increases in multiple categories." [Transportation Equipment]
Supply chain is still constrained, and prices continue to rise. We are focusing on ways to stay profitable while continuing to fill customer orders. Relationship management and strong negotiation skills are extremely important right now." [Food, Beverage & Tobacco Products]
"New order entries are still very strong. Unfortunately, logistics issues have (not) yet improved, so lead times remain extended." [Machinery]
"Due to electronic component supply chain issues, production output has been lower than normal. Backlog is growing due to the supply chain issues. New order sales are steady, except international orders are lower." [Fabricated Metal Products]
"Business is strong. Backlog continues to grow due to new orders and inconsistent supply chain conditions. Shortages of components are the main factor limiting our production." [Electrical Equipment, Appliances & Components]
"The shutdowns in China due to a new COVID-19 wave are causing supply concerns for late second quarter and early third quarter. We have extended lead times to customers and are ordering product from China to cover demand through Q4 and early 1Q 2023." [Miscellaneous Manufacturing]
"Overall, improvements in supply chain are occurring on larger scale items, but we see suppliers that sell us low-volume items struggling in some cases with getting feed stocks and raw materials they need. Freight continues to plague things as well." [Nonmetallic Mineral Products]
The orders component declined 0.3 point in April to 53.5 after having declined 7.9 points in March.  "Price elevation, near-record lead times and panelists' full order books resulted in a continuing pause in new order rates across the supply chain. Backlog and customer inventories remain at strong levels, indicating that demand remains strong in spite of this month's slowing of new order expansion.,"   A reading of 52.8 is generally consistent with an increase in the Census Bureau's series on manufacturing orders.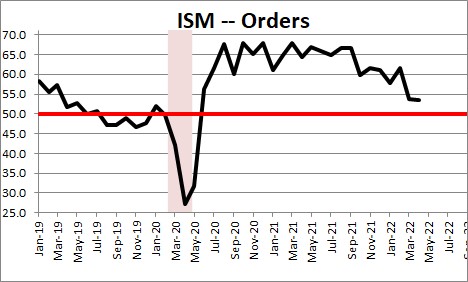 The production component declined 0.9 point in April to 53.6 after having fallen 4.0 points in March.  Fiore noted that, "Of the top six industries, five — Food, Beverage & Tobacco Products; Transportation Equipment; Machinery; Computer & Electronic Products; and Chemical Products — expanded in April. Demand remains strong: Hiring and material availability continue to show signs of improvement, but factories are still struggling to hit optimum output rates — primarily due to high levels of employee turnover, which is causing productivity loss on the factory floor,"   An index above 52.4 is generally associated with an increase in the Fed's index of industrial production.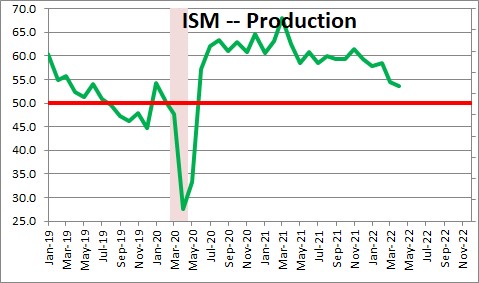 The delivery performance of suppliers to manufacturing organizations rose 1.8 points in April to 67.2 after having fallen 0.7 point in March.  This means that supplier deliveries continue to slow in April, and slowed at a slower pace than in  March.  "Deliveries slowed at a faster rate compared to the previous month. The index continues to reflect suppliers' difficulties in meeting demand from panelists' companies. April saw suppliers reentering a labor-constrained environment, according to panelists' comments, and transportation networks are again demonstrating less flexibility. Among supplier delivery comments, 7 percent noted stable month-over-month improvement, compared to March. Improvement in the index will be tepid for the rest of the second quarter due to continuing labor issues and the expected impact of recent China lockdowns," says Fiore.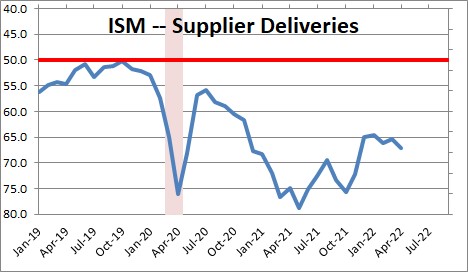 The employment index fell 5.4 points in April to 50.9 after having jumped 3.4 points in March.  This index has risen steadily for the past six months.  That improvement began just as federal unemployment benefits expired which suggests that the federal benefits were, in fact, creating a disincentive to work.   Fiore noted that, "Survey panelists' companies are still struggling to meet labor management plans, with fewer signs of improvement compared to March: A smaller share of comments (1 percent in April, down from 12 percent in March) noted greater hiring ease. An overwhelming majority of panelists again indicate their companies are hiring, as 89 percent of Employment Index comments were hiring focused. Among those respondents, 34 percent expressed difficulty in filling positions, up from 28 percent in March. Turnover rates remain elevated (39 percent of comments cited backfills and retirements, an increase from 30 percent in March), and there were fewer indications of hiring improvement. Employment levels, driven primarily by turnover and a smaller labor pool, remain the top issue affecting further output growth."   An index reading above 50.5 is generally consistent with an increase in the BLS data on manufacturing employment.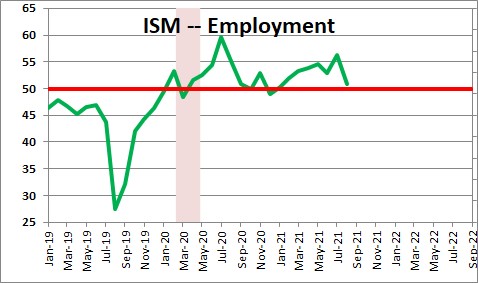 The backlog of orders fell 4.0 points in April to 56.0 after having declined 5.0 points in March to 60.0.  A rising backlog is a positive for the future. ""Backlogs expanded in April, albeit at a slower rate, as output remains constrained and new orders continue at moderate levels," says Fiore.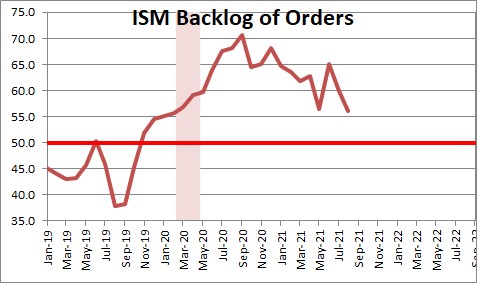 At the same time customer inventory levels continued to fall but they declined at a slightly slower rate in April than in March.  The index rose 3.0 points in April to 37.1 after climbing 2.3 points in March.  Fiore said that, "Customers' inventories are too low for the 67th consecutive month, a positive for future production growth."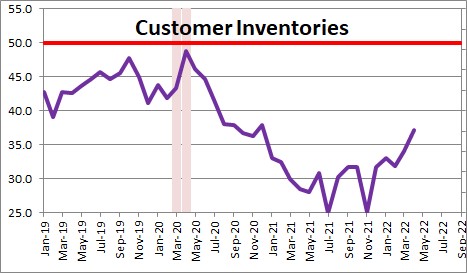 As the orders index fell and the customer inventories index rose, the ratio or orders to inventories fell 0.2 in April to 1.4 after having declined 0.3 point in March.  Manufacturers  need to step up the pace to keep up with customer demand.  The problem is getting the labor force back on the job as well as getting an adequate supply of needed materials at a reasonable price.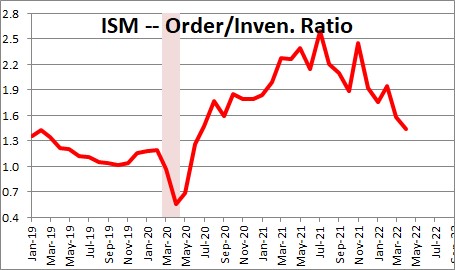 The prices paid component edged lower by 2.5 points in April to 84.6 after having jumped 11.5 points in March to 87.1 after having fallen 0.5 points in February and having jumped 7.9 points in January. After slowing somewhat in the second half of last year, prices have once again began to surge as the war between Ukraine and Russia has created shortages and higher prices for a wide range of goods. The June  2021 reading of 92.1 was the highest reading for prices since July 1979 (93.3)).  In April 17 of  18 industries reported paying increased prices for raw materials.  Fiore noted that, "Oil and fuel price increases (manifesting in higher transportation expenses), food ingredients, commodity materials (copper, steel and aluminum) and petroleum-derived products (chemicals and plastics) were the primary causes of prices growth. Notably, 4.4 percent of respondents reported lower prices in April, a positive for the future,"  A prices index above 52.6 is generally consistent with the Bureau of Labor Statistics PPI index for Intermediate Materials.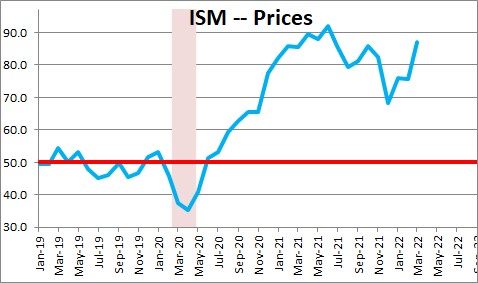 We expect GDP to climb by 2.0% in the second quarter after the surprising 1.4% decline in GDP in the first quarter.  We expect GDP growth of 2.0% in 2022.
Stephen Slifer
NumberNomics
Charleston, S.C.