July 1, 2021
The Institute for Supply Management's index of conditions in the manufacturing sector fell 0.6 point in June to 60.6 after having risen 0.5 point in May.  The March level of 64.7 was the highest level for this index since December 1983 so the June level remains close to that record.  And, as it turns out, the demand components were  strong and the only reason the index is not higher is because of supply constraints.  A level of 60.6 is associated with GDP growth of 5.0%.
The Institute for Supply Management Chair for the Survey Committee Timothy Fiore said, "Business Survey Committee panelists reported that their companies and suppliers continue to struggle to meet increasing levels of demand. Record-long raw-material lead times, wide-scale shortages of critical basic materials, rising commodities prices and difficulties in transporting products are continuing to affect all segments of the manufacturing economy. Worker absenteeism, short-term shutdowns due to parts shortages, and difficulties in filling open positions continue to be issues that limit manufacturing-growth potent."
Comments from survey respondents include the following:
"Supply chain constraints, from mechanical to electronics (products) continue to be challenging, from both availability and logistics perspectives. Inflationary pressure on materials due to supply and demand imbalance. Electronic components by far the biggest challenge, with lead times going from 16 weeks to 52-plus weeks. Processors are a critical shortage, leading to us working 24/7 to redesign printed circuit board assemblies to change components. We are extending our PO coverage over 12 months in many cases and committing to non-cancelable, non-returnable (NCNR) terms to assure supply." [Computer & Electronic Products]
"Continue to see very strong demand across all business units. In many cases, we are limited on our ability to supply by raw-materials availability. Still running at record volume but could be producing much more. Even if we were able to get all the raw materials needed, we would have capacity issues on many of our production units. Manpower has been a concern." [Chemical Products]
"Poultry markets are higher, as demand for chicken has been very strong. Higher costs are starting to be passed along to customers." [Food, Beverage & Tobacco Products]
"Demand continues to be strong, and customer-ordering patterns are shifting to include long-term demand. Customers are now placing orders for fourth quarter 2021 and first quarter 2022 due to global supply chain issues." [Fabricated Metal Products]
"Other than material availability/volatility and rising prices, the outlook for our company is good. We can't keep up with the increase in orders and have projects that may require a second shift to be added temporarily, but that might not be possible if material availability — for example, lumber products — remains an issue for us." [Furniture & Related Products]
"Customer demand remains strong. Supply chain issues continue to hamper materials availability and impact production scheduling. Supplier costs continue to rise due to increasing materials, labor and shipping costs." [Machinery]
"Supply disruptions continue, with no end in sight!" [Nonmetallic Mineral Products]
The purchasing managers index consists of a number of different components.  Typically big changes in the overall index are triggered by changes in the orders component.
The orders component fell 1.0 point in June to 66.0 are having risen 2.7 points in May.    The March level of 68.0 was the highest reading for orders since January 2004.  Seventeen of 18 industries reported growth in orders in June.  A reading of 52.8 is generally consistent with an increase in the Census Bureau's series on manufacturing orders.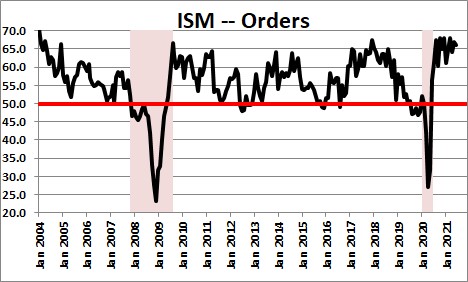 The production component rose 2.3 points to 60.8 after having fallen 4.0 points in May.  The March level of 68.1 was the highest reading for this component since January 2004 when it was 69.3. "Lack of direct labor and raw materials continued to be constraints to production growth," says Fiore.  An index above 52.1 is generally associated with an increase in the Fed's index of industrial production.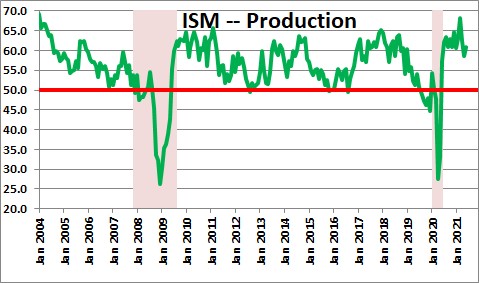 The delivery performance of suppliers to manufacturing organizations fell 3.7 points in June to 75.1 after having risen 3.8 points in May.  This means that supplier deliveries are slowing, but they slowed at a slower pace  in June than in May.  Suppliers are having a very tough time keeping up with demand.  This is the only component of the ISM report that is reversed, meaning that a reading above 50 indicates slower deliveries. The Supplier Deliveries Index reflects difficulties suppliers continue to experience in meeting customer demand, including (1) hiring challenges, (2) longer raw materials lead times and higher prices, as well as product shortages, and (3) limited transportation availability. Supplier labor, materials and transportation constraints are now expected to diminish into the third quarter and possibly the fourth, putting further strain on panelists' production plans and raw-materials inventory accounts. Production material lead times are at the highest level since January 1987 when we began recording lead times," says Fiore.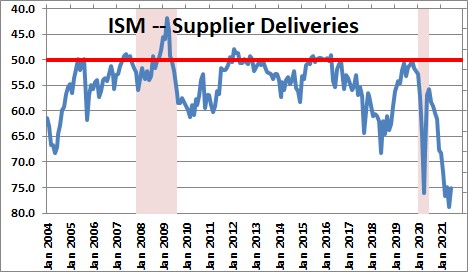 The employment index fell 1.0 point in June to 49.9 after having declined 4.2 points in May.  The March reading of 59.6 was the highest reading for this category since February 2018 when it was 59.8.. Continued strong new-order levels, low customer inventories and expanding backlogs continue to indicate employment strength; however, survey panelists' companies continue to struggle to meet labor-management plans. Panelists' comments indicate an overwhelming majority of their companies are hiring or attempting to hire, with more than 36 percent of them expressing difficulty in doing so," says Fiore.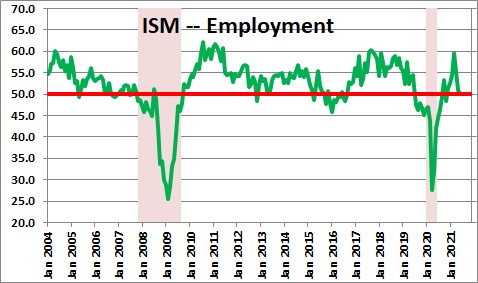 The backlog of orders fell 6.1 points in June to 64.5 after having risen 2.4 points in May.  A rising backlog is a positive for the future. The May level of 70.6 was the highest reading since collection of data for this category began in January 1993.  " Backlogs expanded at slower rates in June indicating production was able to slow the growth of backlog in spite of strong new order levels."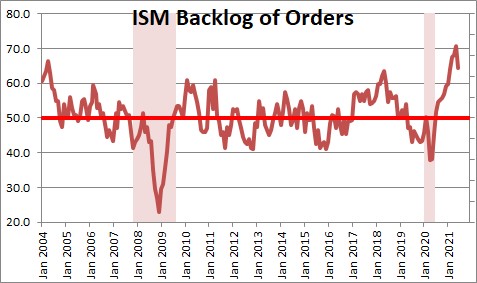 At the same time customer inventory levels continued to fall rapidly.  The index rose 2.8 points in June to 30.8 after having fallen 0.4 point in May.  Fiore said that, "Customers' inventories are too low for the 57th consecutive month, a positive for future production growth. The May reading was the lowest ever reported since the sub-index was established in January 1997. For 11 months in a row, the Customers' Inventories Index has been at historically low levels,"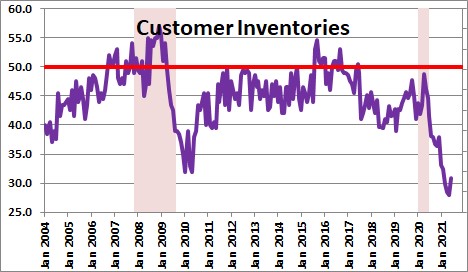 As order continue to climb and inventories rose in June, the ratio or orders to inventories actually declined slightly in June.  However the May level was the highest on record.  Somehow manufacturers need to step up the pace to keep up with customer demand.  The problem is getting the labor force back on the job and still satisfying COVID requirements, as well as getting an adequate supply of needed materials at a reasonable price.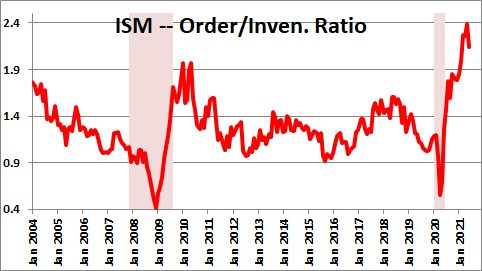 The prices paid component climbed 4.1 points in June to 92.1 after having backtracked by 1.6 points in May. The April  reading was the highest reading for prices since July 1979 (93.3)).  In June all18 industries reported paying increased prices for raw materials. Virtually all basic and intermediate manufacturing materials are experiencing price increases as a result of product scarcity and the dynamics of supply and demand.  Price growth reflects a power shift toward sellers, as increased costs to produce input materials are being passed on to panelists' companies.  A prices index above 52.7 is generally consistent with the Bureau of Labor Statistics PPI index for Intermediate Materials.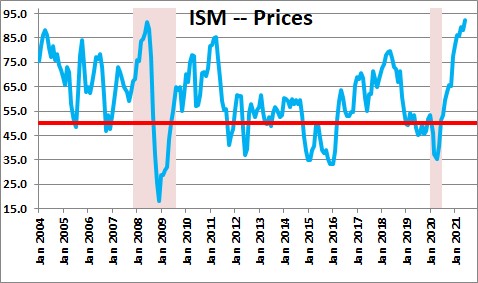 We expect GDP to climb by10.0% in Q2.  For the year as a whole we expect GDP growth of 8.0%.
Stephen Slifer
NumberNomics
Charleston, S.C.