March 5, 2021
Payroll employment jumped by 379 thousand workers in February which was a much larger increase than had been anticipated.  As impressive as the February jobs gain was, it was held in check by the severe winter weather which dampened both employment and hours worked in many areas of the country.  As a result we have shaved our projected first quarter GDP growth rate from 8.2% to 6.5%, but boosted second quarter growth to 8.5%.  That leaves growth for the year unchanged at 7.5%.  Growth of that magnitude should eliminate any remaining slack in the economy by yearend.  The unemployment rate should continue to fall quickly and approach its full employment threshold by December.  As a result of all this, the bond market has begun to fret about the possibility of the inflation rate rising more rapidly than the Fed expects.   But Fed Chair Powell seems unconcerned by the rapid increase in inflation expectations. He expects any increase in inflation to be temporary and is confident the Fed can keep inflation expectations in check.  But is he right?
Payroll employment climbed by an impressive 379 thousand in February.  But the weather was atrocious in that month with a serious of snowstorms and ice paralyzing much of the country – most notably in Texas.  As a result, construction employment contracted by 61 thousand in February.  But jobs in this category have been rising modestly for many months which suggests that construction employment could jump by 80 thousand or so in March.  At the same time, state and local government employment of teachers declined by 69 thousand in February as the teacher's unions prohibited many of them from returning to the classroom until they had been vaccinated.  Those jobs will soon return.   Most of the February gain in employment was in the leisure and hospitality category where employment rose 355 thousand as the economy began to re-open.  The re-opening process is gathering momentum in March.  Given that employment in this category is still 3.5 million workers below where it was prior to the pandemic, we could easily see a similar-sized (or even larger) increase in employment in this category in March.  Putting this all together suggests that payroll employment for March could climb by 600 thousand.  Keep in mind that all of this is occurring before the $1.9 trillion fiscal stimulus package has even been passed.
The economy seemed to have a full head of steam as it moves into the new year.  The number of new cases of the virus daily has dropped by two-thirds since early January, the number of people in hospitals, in ICU's and on respirators have all been declining.  There are now three vaccines being distributed and some epidemiologists are expecting herd immunity to be achieved by the end of April.  The economy still has not received all of the stimulus from the $900 billion virus relief package that was passed last December.  And now there is the $1.9 trillion fiscal stimulus package that should pass Congress and be signed by President Biden within the next couple of weeks.  Against this backdrop it is very easy to envision 7.5% GDP growth rate for 2021.
As a result, bond market participants have begun to anticipate a pickup in the inflation rate.  Inflation expectations have risen 0.5% in just the past two months to 2.25%.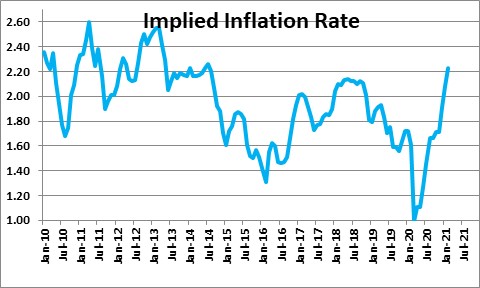 In addition to the expected rapid pace of GDP expansion this year, the pickup in inflation expectations has been driven by a number of additional factors.  Oil prices have climbed rapidly to $66 per barrel as GDP growth around the globe is on the rise and OPEC is keeping a tight rein on production.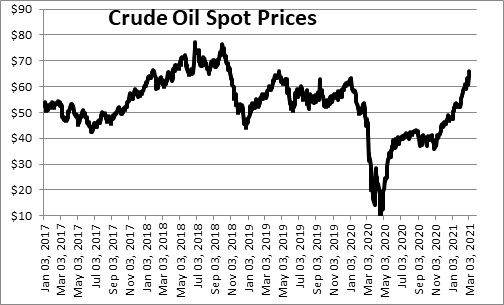 Both energy and non-energy commodity prices are surging.  The increase in the non-energy category is broad-based and includes base metals like copper, aluminum, and iron ore, as well as food and precious metals.  These prices are the highest they have been in eight years.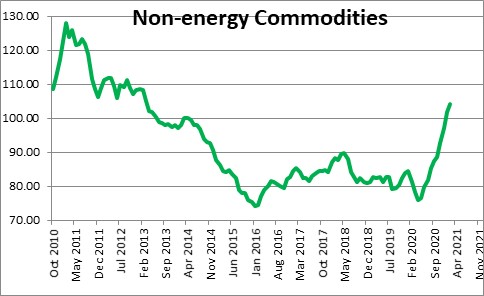 The savings rate is typically about 6.0%.  When the first round of stimulus checks were distributed about this time last year, the economy was largely closed down so much of that money went into savings.  Even today the savings rate remains high at 20.7% and yet another round of stimulus checks will be distributed shortly.  This money will almost certainly bolster consumer spending as the year progresses.
The money supply has surged by 26% in the past year.  Economists were taught early on that there is a link between growth in the money supply and the inflation rate.  The current rapid pace is disturbing.  Note how we did not get a similar-sized acceleration in money growth in the 2008-09 period.  The Fed provided banks with ample reserves, but they were concentrating more on repairing their balance sheets than making loans to businesses and consumers.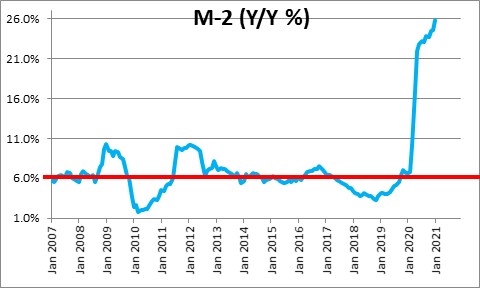 But Fed Chair Powell dismisses all this.  He firmly believes that any pickup in the inflation rate will be temporary.  Maybe.  But perhaps not.  Even more disturbing is that he completely dismisses the acceleration in money growth.  This relationship between money growth and inflation is a basic tenet of economic theory advanced by Nobel laureate Milton Friedman.  Powell said this past week that while there used to be a relationship between M-2 and economic growth, right now M-2 does not really have any important implications and, further, that it is something we have to unlearn.  Sorry, but that makes me nervous.  For the Chairman of the Federal Reserve to say that money does not matter is a sea change and completely at odds with conventional economic theory.
Between this statement and his full endorsement of the $1.9 trillion fiscal stimulus package, he clearly seems to embrace modern monetary policy where government spending, budget deficits, and debt do not matter, and all focus should be on achieving full employment for all sexes and all races.  That is a worthy goal, but the Fed can achieve it with conventional monetary policy.  Indeed, in February of last year – just prior to the recession – the Fed was very close to achieving that worthy goal.
Stephen Slifer
NumberNomics
Charleston, S.C.