April 15, 2021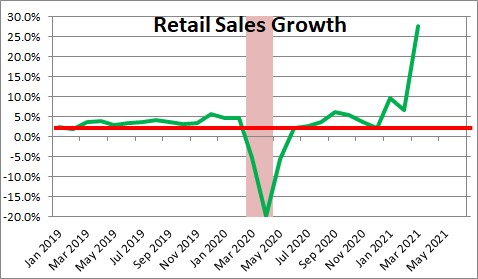 Retail sales surged by 9.8% in March after having declined 2.7% in February and having climbed 7,7% in January..   Part of the sales gain reflects a rebound from the depressed sales level for February caused by a series of snow and ice storms that paralyzed much of the country in that month (Texas in particular).  Perhaps even more important, consumers are beginning to spend the $1,400 tax refund checks that were distributed in March.  In the past year sales have risen 27.7% but that comparison is to March of last year when the recession and the pandemic got underway so the year-over-year increase is a bit misleading..
A better sense of what is going on can be seen from the level of sales which is far above the level of sales that existed prior to the recession.  A large part of the rebound is attributable to the series of three tax refund checks that have been distributed since this time last year.  The most recent burst has almost certainly been enhanced by renewed consumer confidence as the vaccine becomes more widely available and the pace of spread of the virus has slowed considerably.  Look for sales to continue climbing in the months ahead as the U.S. reaches herd immunity within the next month or two.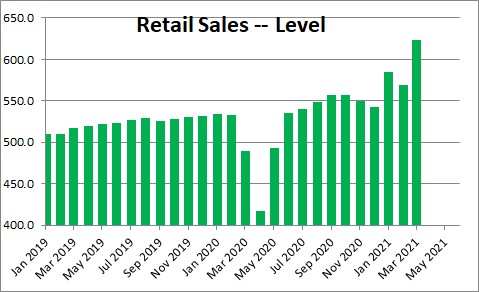 The vaccine distribution has gotten underway and 124 million Americans have already received at least one shot.  Each day 2.9 million more Americans get vaccinated.  With 46 days between now and the end of May, another 133 million Americans should have gotten their shots.  Thus, 257 mullion Americans should be vaccinated by Memorial Day.  That is 78% of our population of 330 million.  Herd immunity is achieved is somewhere between 60-80%.  The end of the pandemic is in sight and consumers are poised to get back in the game.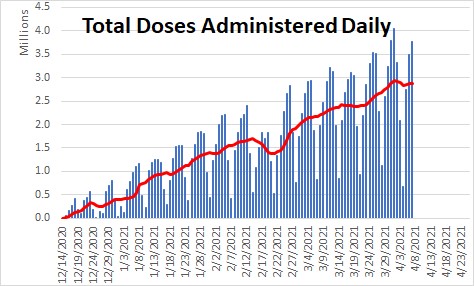 The one category of sales that has consistently fallen short of its year-ago level is restaurants and bars. However, with a 13.4% increase in March, restaurant sales are now just 5.0% below their pre-recession level.  As the re-opening process gathers momentum in the months ahead these sales should continue to climb and will soon surpass their year ago pace of sales.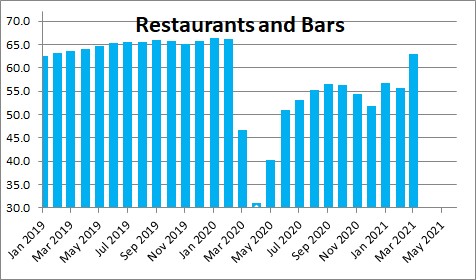 We expect GDP growth of 6.0% in the first quarter of this year, 9.0% growth in Q2, and 7.5% GDP growth in 2021.
Stephen Slifer
NumberNomics
Charleston, SC