September 14, 2023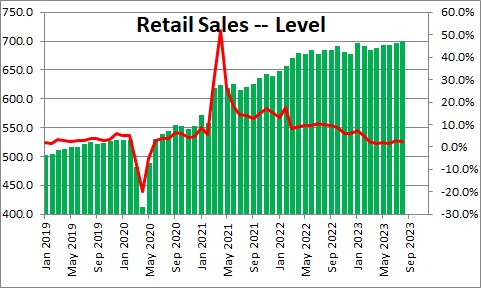 Retail sales rose 0.6% in August after climbing 0.5% in July.  In the past year retail sales have risen by 2.5%.
Motor vehicle sales rose 0.3% in August after declining 0.4% in July. In the past year car sales have climbed by 4.4% as inventory levels have been restocked..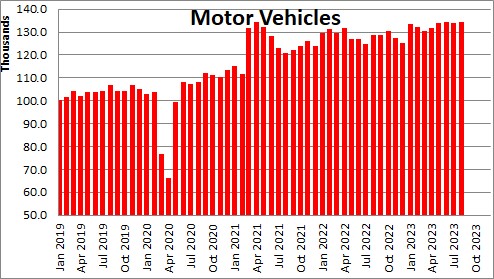 Retail sales ex autos and gas, which eliminates the two most volatile components and is a better gauge of the trend pace of sales, rose  0.2% in August after gaining 0.7% in July.  The consumers' pace of spending is remaining steady  In the past year this series has risen 3.7%. The object for the Fed is to reduce the pace of economic activity so that the unemployment rate actually rises slightly from its current level of 3.8% at least to the 4.0% mark (which is widely regarded as the full employment threshold) but preferably somewhat higher to about 4.5%.  Thus far it is not doing that.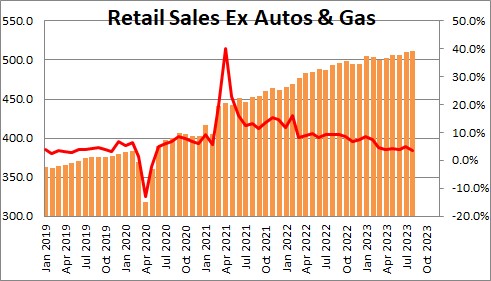 Restaurant sales increased 0.3% in August after jumping 0.8% in July..   In the past year restaurant sales have risen 8.5%.  Consumers still seem perfectly willing to go out to a restaurant.
Sales at nonstore retailers were unchanged in August after jumping 1.5% in July..  In the past year nonstore sales have risen 7.3%.  .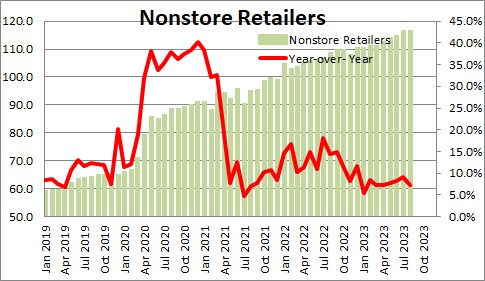 Until recently the problem was that inflation had been rising more quickly than sales and, as a result, real retail sales were declining in real terms.  Our income had been rising and we kept spending, but the amount of goods and services we were able to purchase with our fatter paycheck was somewhat less than it was a year ago.  But as inflation subsides sales in real terms sales seem to be flattening out.  In August real sales declined 0.1% after rising 0.3% in July.  In the past year real retail sales have fallen 1.2%.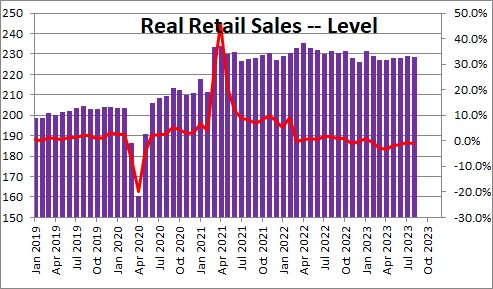 GDP seems on track to increase 3.0% in the third quarter.  We also anticipate GDP growth of 1.6% in the fourth quarter as real interest rates remain low, firms keep creating a sizeable number of jobs each month, and the unemployment rate remains near a 50-year low.  With no fear of losing their job, consumers are likely to just keep spending.
Stephen Slifer
NumberNomics
Charleston, SC