March 17, 2020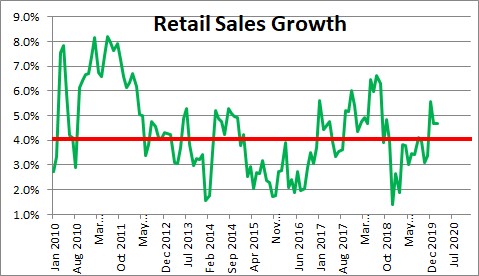 Retail sales fell 0.4% in February after having risen 0.6% in January and 0.5% in December.  During the past year retail sales have risen 4,4%.
Sometimes sales can be distorted by changes in autos and gasoline both of which can be quite volatile.  In this particular instance car sales fell 0.2% while gasoline sales fell 2.8%.  Changes in gas prices  impact the overall change in sales, but they typically do not reflect any significant change in the volume of gasoline sold.
Perhaps the best indicator of the trend in sales is retail sales excluding the volatile motor vehicles and gasoline categories.  Such sales fell 0,2% in February after having risen 0.7% in January.  In the last year retail sales excluding cars and gasoline have risen 4.6%.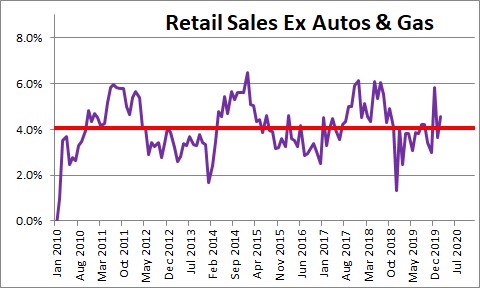 While there has been a lot of disappointment about earnings in the traditional brick and mortar establishments  the reality is that they need to develop a better business model.  The action these days is in non-store sales which have been growing rapidly. Consumers like the ease of purchasing items on line.  While sales at traditional brick and mortar general merchandise stores have risen 2.4% in the past year, on-line sales have risen 8.4%.  As a result, their share of total sales has been rising steadily and now stands at a near record 12.6% of all retail sales.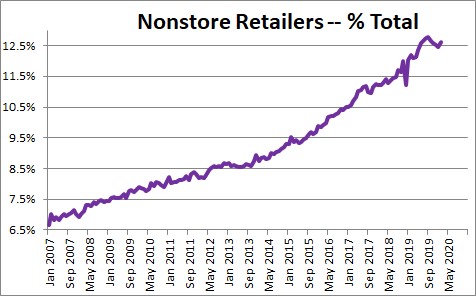 While retail sales continued to chug along in February, they will not fare so well in the months ahead as fears about the corona virus and the huge decline in stock prices are certain to shrink sales in the second quarter.  In addition, layoffs are bound to rise as the quarantines and closing of retail establishments through month-end (at least) will crush sales for a while.  .
Consumer sentiment fell 5.1 points in March to 95.9. Our sense is confidence will continue to decline for at least another month or two.  We will take a stab that it could dip to about 85.0 in April for the same reasons that it declined in March.  How sharply confidence drops and when it turns upward will be determined by how quickly the virus gets under control.  We are encouraged that in the epicenter of the crisis, China, the virus is now well under control. The virus became evident in China in late December.  China took draconian measures to corral the virus and it has worked.  It became clear that it was getting under control by mid-February when the number active cases peaked at 58,000.  This number is important because it measures the number of people that can transmit the virus.  People who have died or have gotten over the virus, cannot pass it to someone else.  From that mid-February peak of 58,000 the number of active cases has fallen to just 8,000 by mid-March..  Given that China-type draconian measures have now been adopted by the rest of the world, we are hopeful that we will see signs that the virus is getting under control by mid-April.  Once that happens and stock market investors recognize that the worst is not going to happen, the stock market will regain its footing and consumer confidence will once again begin to rise, and consumer spending will once again begin to climb.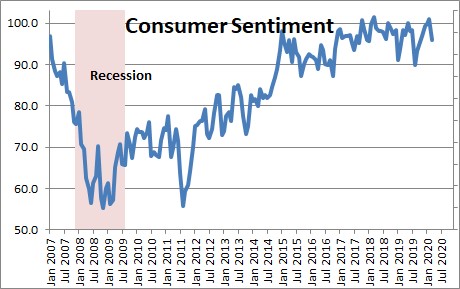 We are not exactly sure of the magnitude of the negative impact on GDP.  March is almost certain to have been a lousy month for the economy.  That means that one month in the first quarter will get hit pretty hard which will curtail growth.  We had been expecting GDP growth in that quarter of 2.4%, March data are not yet available for any economic indicator (except consumer confidence).  We will take a stab that the weakness in March will chop that estimate to perhaps 1.8%.  It is important to keep in mind that data for December through February were quite strong, so first quarter data might not be as weak as one might think.  But the real weakness will become apparent in the second quarter GDP data.  March was weak.  April will be even weaker.  Beyond that the path of the economy will depend on the virus and whether it is showing signs of getting under control.  We expect that to happen by about the middle of April.  If so, the stock market might turn upwards and we will begin the path toward expansion.  For now we expect Q2 GDP growth to fall by about 5.0%, but at this point that has to be regarded as largely a guesstimate.  However, the recovery should be evident in the second half of the year.  For now look for GDP growth of perhaps 2.5% in the third quarter, and 5.0% growth in Q4.  That quarterly pattern would reduce GDP growth for the year to 1.1%.
Stephen Slifer
NumberNomics
Charleston, SC