May 17, 2022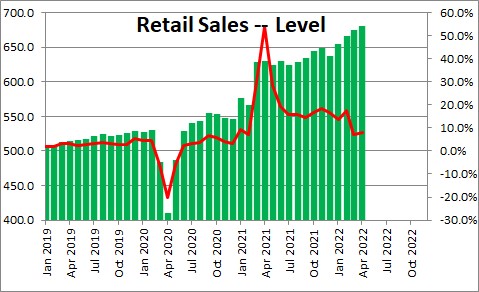 Retail sales rose 0.9% in April after having risen 1.4% in March and 1.7% in February.  In the past year retail sales have climbed by 16.1%.  .  Despite higher inflation and higher interest rates the consumer appears to be unfazed.
Motor vehicle sales rose 2.2% in April after having declined 1.6% in March.   Motor vehicle sales are now considerably higher than they were in February 2020 — just prior to the recession.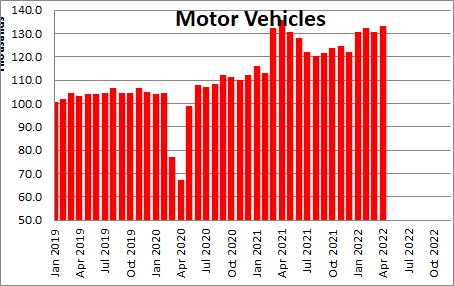 But, interestingly, new car sales at a 14.3 million pace remain well below their 16.8 million pre-recession pace. New cars are in short supply because of a shortage of semiconductors so consumers have been turning to the used car market to find the vehicle they need.  The motor vehicle component of retail sales, which includes sales of both new and used cars, is rather buoyant which shows that consumers still need to buy a car but they have shifted their purchases to used vehicles because they cannot find a new model.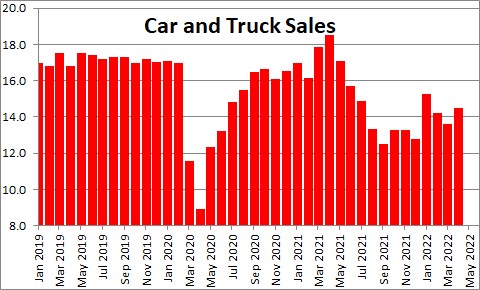 Retail sales ex autos and gas, which eliminates the two most volatile components, rose 1.0% in April after rising 1.2% in both February and March.  In the past year this series has risen 12.5%.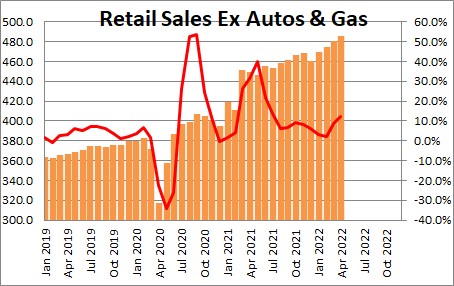 Restaurant sales rose  2.0% in April after climbing 1.9% in March.    It took a while, but restaurant sales are now far higher than their pre-recession level.  As the expansion process continues in the months ahead and the number of COVID cases remain subdued, these sales should continue to climb.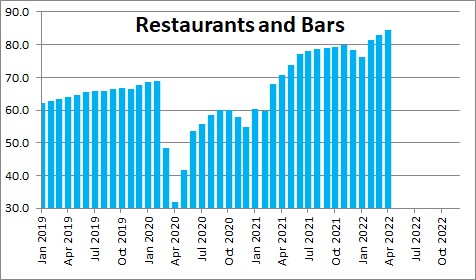 The problem is that inflation has been rising as quickly as sales and, as a result, real retail sales — sales adjusted for the increase in inflation — have been unchanged in the past year.  Our income has been rising and we keep spending, but the amount of goods and services we are able to purchase with our fatter paycheck is actually no bigger than it was a year ago. Having said all that real retail sales have risen in each of the first four months of this year.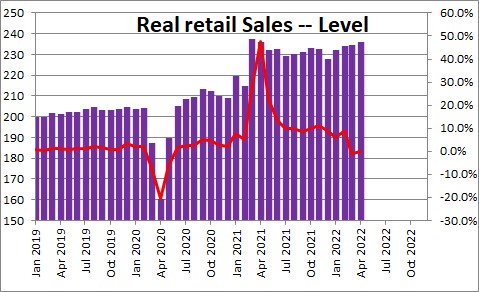 With consumers spending freely we expect GDP growth of  2.0% in Q2. We anticipate GDP growth of 2.0% in 2022.
Stephen Slifer
NumberNomics
Charleston, SC