February 17, 2021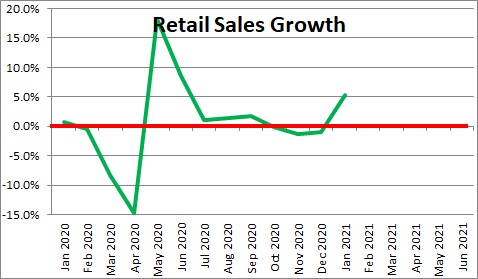 Retail sales surged by 5.3% in January after having declined 1.0% in December and 1.3% in November.   In the past year sales have risen 7.3%.  The drop in sales in November and December reflects smaller-than-normal Christmas sales as the virus began to spread more rapidly and some states responded by enhancing restrictions to, hopefully, prevent the spread of the virus.  The January gain appears to reflect the impact of the $600 checks that were mailed to most taxpayers in the second half of that month.  Given that some of those checks were not received until February it is likely that sales will continue to climb sharply in that month.  At the same time the vaccine distribution has gotten underway and is gathering momentum at the same time that the virus is showing clear signs of abating.  That, too, is going to bolster sales in the months ahead.
The increase in sales was widespread with an increase of 3.1% for motor vehicles, 14.7% for electronics, 4.6% for building materials, clothing 5.0%, sporting goods 8.0%, general merchandise 5.5%, nonstore retailers 11.0%, and restaurants and bars 6.9%.
The one category of sales that continues to lag its year-ago level is restaurants and bars. After strong gains from May through September, food services and drinking places fell 0.3% in October,  3.6% in November and 4.6% in December as indoor dining was curtailed..    But sales in January surged by 6.9% for the reasons described above.  Restaurant sales are now 16.7% below their year ago level.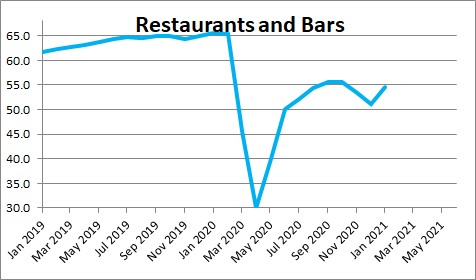 Following a 2.5% drop in GDP last year we expected an increase of 6.2% in 2021.
Stephen Slifer
NumberNomics
Charleston, SC