September 16, 2021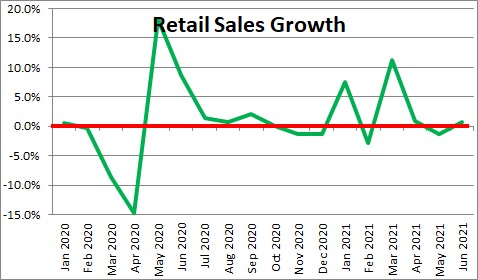 Retail sales rose 0.7% in August after having fallen 1.8% in July after having risen 0.9% in June  The 0.7% increase in August was in sharp contrast to the 0.7% decline that had been expected.  The increase would have been even larger except for a 3.6% drop in auto sales caused by an inability to get computer chips.    Ex autos and gas, which eliminates the two most volatile components jumped 2.0% after having fallen 1.4 in July.
A better sense of what is going on can be seen from the level of sales which is far above the level of sales that existed prior to the recession.  A large part of the rebound is attributable to the series of three tax refund checks that have been distributed since this time last year.  Keep in mind that car sales are $20 billion below the level that existed in March because of the severe shortage of computer chips.  As these parts shortages are eliminated the auto component and overall retail sales will get a significant boost.  Sales will be augmented in the months ahead by sizeable gains in employment as the federal unemployment benefits expire.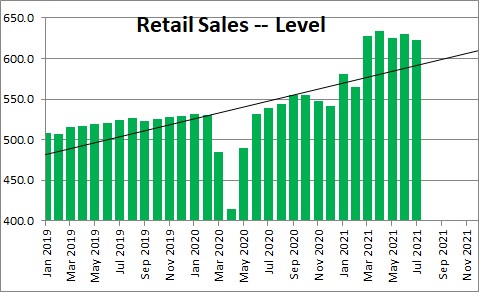 The one category of sales that has consistently fallen short of its year-ago level is restaurants and bars. However, with big increases in the past five months restaurant sales are now 8.7% higher than their pre-recession level.  As the re-opening process gathers momentum in the months ahead these sales should continue to climb.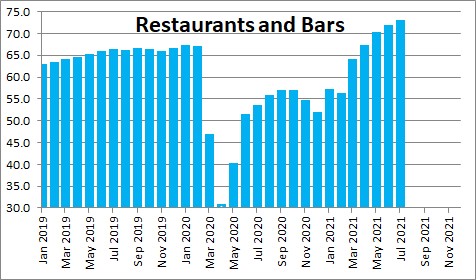 As of today 209 million Americans have already received at least one shot of the vaccine.     Another 41 million Americans have had the virus and should also have immunity.  That is 250 million people out of our population of 330 million which is 76%.  Herd immunity is deemed to be somewhere between 60-80%.  While the number of new cases have been rising, Americans have not been particularly concerned despite the press rhetoric  and continue to spend vigorously.
With consumers spending freely we expect GDP growth of 8.0% growth in Q2 and  10.5% growth in Q4.  That gets us 7.8% GDP growth in 2021 and we anticipate growth of 5.1% in 2022..
Stephen Slifer
NumberNomics
Charleston, SC