August 15, 2019
Retail sales rose 0.7 in July after having risen 0.3% in June and 0.5% in May..    While relatively soft late last year and in the first two months of 2019, sales are coming on strong.  During the past year retail sales have risen a solid 3.4%. but in the past three months sales have been climbing at a 6.2% pace.
Sometimes sales can be distorted by changes in autos and gasoline which tend to be quite volatile.  In this particular instance car sales fell 0.6% in July.  Gasoline sales rose 1.8%.  Changes in gas prices  impact the overall change in sales, but they typically do not reflect any significant change in the volume of gasoline sold.
Perhaps the best indicator of the trend in sales is retail sales excluding the volatile motor vehicles and gasoline categories.  Such sales jumped 0.9% in July after rising 0.6% in both May and June.   In the last year retail sales excluding cars and gasoline have risen a solid 4.0% but in the past three  months such sales have climbed at a steamy 8.9% pace.  The Fed and themarkets may think the economy is slowing down, but you sure do not see any evidence of that when looking at the pace of consumer spending.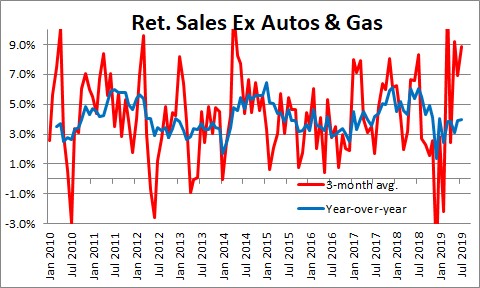 While there has been a lot of disappointment about earnings in the traditional brick and mortar establishments  the reality is that they need to develop a better business model.  The action these days is in non-store sales which have been growing rapidly. Consumers like the ease of purchasing items on line.  While sales at traditional brick and mortar general merchandise stores have risen 1.9% in the past year, on-line sales have risen 12.8%.  As a result, their share of total sales has been rising steadily and now stands at a record 12.8% of all retail sales.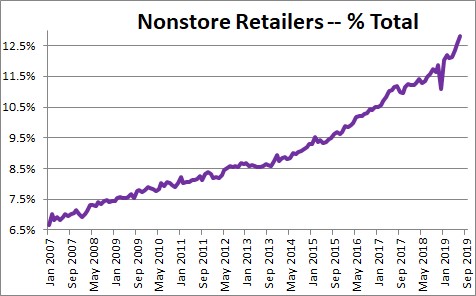 We expect retail sales to climb slowly in the months ahead.  First of all, he economy continues to crank out 170 thousand jobs a month,  Those job gains will produce growth in income.
Second, real disposable income (what is left after paying taxes and adjusting for inflation) has been growing at a respectable 3.3% pace.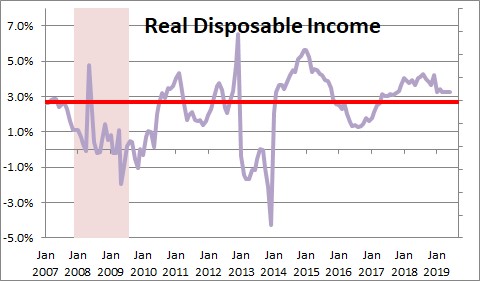 Third, as the Fed tightened steadily for the past couple of years mortgage rates rose to 4.9%, but since the beginning of the year the 30-year mortgage rate has fallen to 3.6%.  That should bolster both confidence and the housing market as we move into the second half of the yera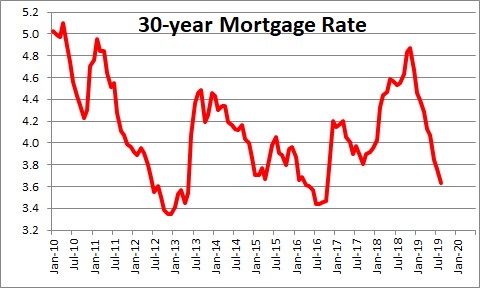 Finally, consumers have paid down a ton of debt and debt to income ratios are very low.  That means that consumers have the ability to spend more freely and boost their debt levels if they so choose.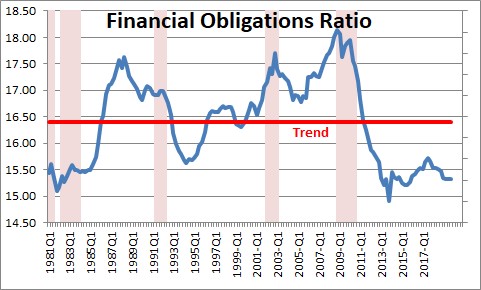 Thus, the pace of consumer spending should rebound in the months ahead.  We continue to expect GDP growth to rise 2.7% in 2019 after having climbed 2.5% last year.
Stephen Slifer
NumberNomics
Charleston, SC