July 16, 2021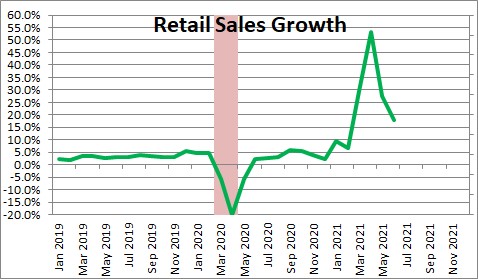 Retail sales rose 0.6% in June after having declined 1.7% in May, risen 0.9% in April and jumping 11.3% in March  The huge increase in sales in March partly reflects a rebound from the depressed sales level for February caused by a series of snow and ice storms that paralyzed much of the country in that month (Texas in particular).  But even more important, consumers began to spend the $1,400 tax refund checks that were distributed in March.   Given that the savings rate remains so high, consumers have the ammo to spend freely in the final six months of this year.
A better sense of what is going on can be seen from the level of sales which is far above the level of sales that existed prior to the recession.  A large part of the rebound is attributable to the series of three tax refund checks that have been distributed since this time last year.  The most recent burst has almost certainly been enhanced by renewed consumer confidence as the vaccine becomes more widely available.  Look for sales to continue climbing in the months ahead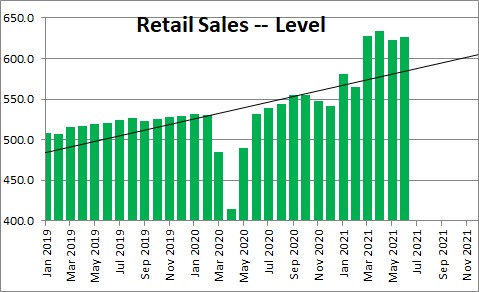 The one category of sales that has consistently fallen short of its year-ago level is restaurants and bars. However, with big increases in the past five months restaurant sales are now 6.6% higher than their pre-recession level.  As the re-opening process gathers momentum in the months ahead these sales should continue to climb.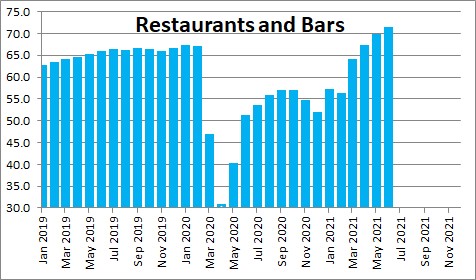 As of today 186 million Americans have already received at least one shot of the vaccine.     Another 34 million Americans have had the virus and should also have immunity.  That is 220 million out of our population of 330 million which is 67%.  Herd immunity is deemed to be somewhere between 60-80%.  Americans believe the worst is over and are back spending in a big way.
With consumers spending freely we expect GDP growth of 9.0% growth in Q2, and 8.0% GDP growth in 2021.
Stephen Slifer
NumberNomics
Charleston, SC