January 14,,2023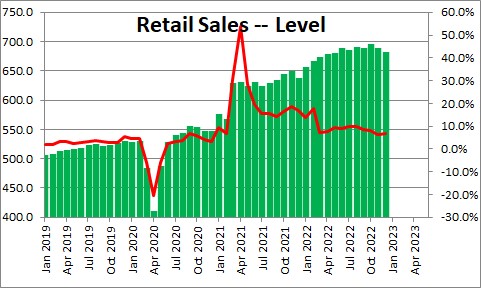 Retail sales fell 1.1% in December after declining 1.0% in November. In the past year retail sales have climbed by 6.7%.  Consumers had been spending at a moderate pace but inflation was eroding their purchasing power (see discussion of real retail sales below).  But in November and December that appears to have changed as consumer spending on goods declined sharply in each month.
Motor vehicle sales fell 1.2% in December after plunging 2.6% in November.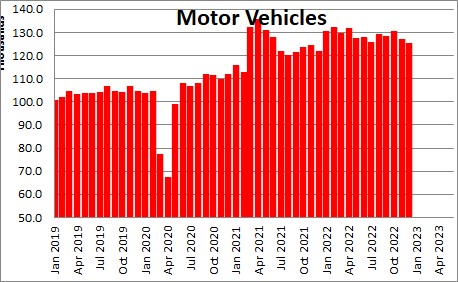 Retail sales ex autos and gas, which eliminates the two most volatile components and is a better gauge of the trend pace of sales, fell 0.7% in December after declining 0.5% in November.  The consumers' pace of spending has slowed slightly in recent months. In the past year this series has risen 7.7% but in the past three  months it has risen at a 2.7% pace.  It is not clear that this slower pace of spending in November and December is the beginning of a new, slower pace of spending.  Thus far, consumer spending continues at a respectable pace. The object for the Fed is to reduce the pace of economic activity so that the unemployment rate actually rises slightly from its current level of 3.5% at least to the 4.0% mark (which is widely regarded as the full employment threshold) but preferably somewhat higher to about 4.5%.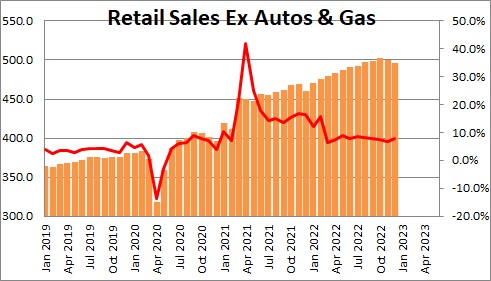 Restaurant sales fell 0.9% in December after declining 0.1% in November.   In the past year restaurant sales have risen 13.9%.  Consumers seem perfectly willing to go out to a restaurant.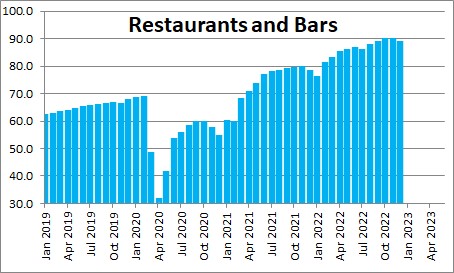 Sales at nonstore retailers fell 1.1% in December after having risen 0.1% in November.  In the past year nonstore sales have risen 14.0%.  Once again, the consumer seems quite willing to keep spending.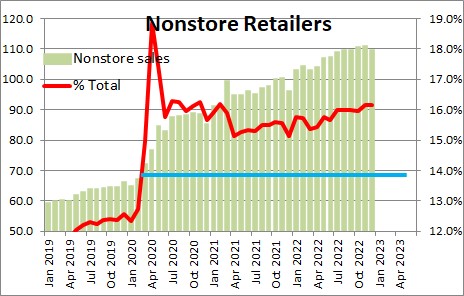 The problem is that inflation has been rising as quickly as sales and, as a result, real retail sales — sales adjusted for the increase in inflation — have risen  0.2%  in the past year although they declined 1.1% in both November and December  Our income has been rising and we keep spending, but the amount of goods and services we are able to purchase with our fatter paycheck has been relatively unchanged compared to what it was a year ago.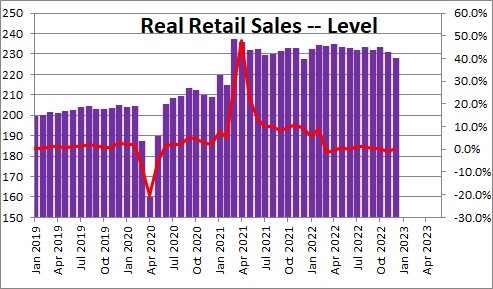 Also, keep in mind that retail sales tells us something about consumer spending on goods — which has been essentially flat for more than a year.  But the place where consumers have been spending money has been on services like traveling which has boosted air travel and hotel spending, dining out, and the like.  In the past year real spending on goods has declined 0.1% .  Real spending on services has risen 2.8%.   The economy is slowing, but thus far the slowdown has been gradual.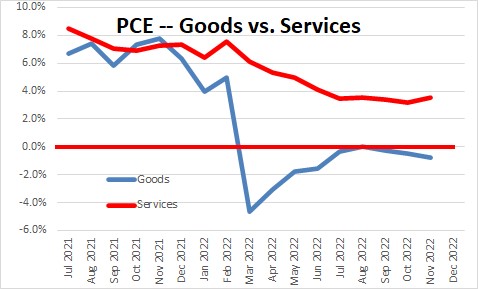 GDP seems on track to increase 2.0% in the fourth quarter.  We also anticipate GDP growth of 1.0% in 2023 as real interest rates remain negative until mid-year and as supply chain difficulties continue to heal.
Stephen Slifer
NumberNomics
Charleston, SC