July 16, 2020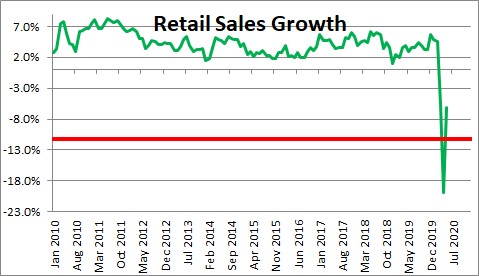 Retail sales climbed by 7.5% in June after having surged by 18.2% in May after having plunged 14.7% in April and 8.2% in March.  What is truly amazing is that the June level is back where it was in February — prior to the recession and it is almost certain to rise further in July and August.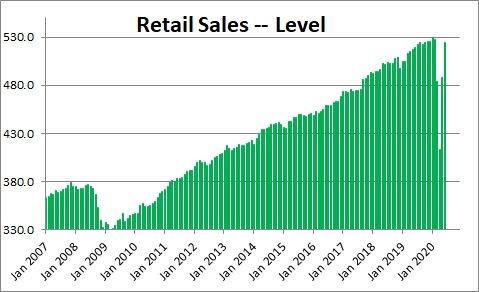 Sometimes sales can be distorted by changes in autos and gasoline both of which can be quite volatile.  In this particular instance car sales. rose 8.2% while gasoline sales rose 15.3%.   This means that retail sales ex autos and gas, sometimes known as "core retail sales" rose 6.7% in June after having jumped 12.1% in May after having declined 14.4% in April and 2.4% in March.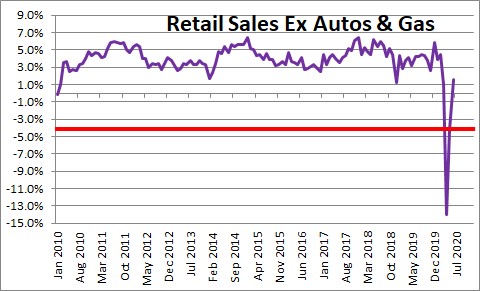 In addition to the the 8.2%% increase  in motor vehicle sales, furniture and home furnishings rose 32.5%, electronics 37.4%, gasoline stations 15.3%, clothing stores jumped 105.1%, restaurant and bar sales rose 20.0%, department store sales rose 3619.8, miscellaneous store retailers rose 17.7%.
At the end of last year non-store retailers were 12.8% of the total retail sales.  They surged to 19.2% in April when most other stores were shut by the virus, but have backed down to 15.8% in June as other stores began to re-open.  Still non-store retailers have captured a lot of market share since the end of the year.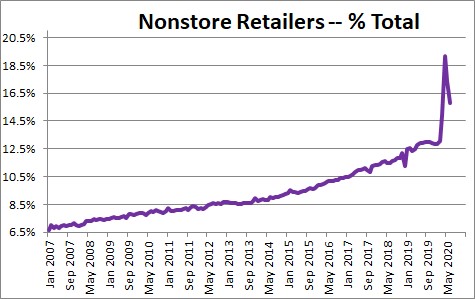 As as a result of all this we expect Q2 GDP to decline 50%.  However, workers are gradually returning to work and GDP begin to climb again in May. Checks for the $2.5 trillion stimulus plan have dramatically boosted disposable consumer income.  At the same time the Fed is doing its part to make sure that the credit markets are able to access whatever funds they may require to get the economy back on track.  For this reason, we expect GDP to rebound by 45% in the third quarter.  Despite the sharp contraction, the economy that emerges from recession will not look at all like the economy that went into it.  Nevertheless, with the help of fiscal stimulus and technology, we expect GDP to rise 5.4% in 2021.
Stephen Slifer
NumberNomics
Charleston, SC