May 15, 2020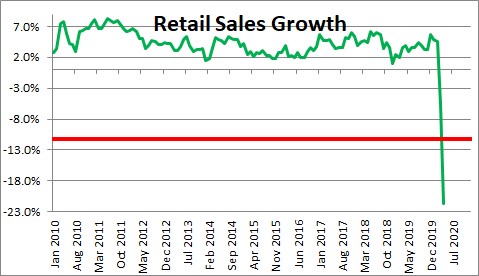 Retail sales plunged 16.4% in April after having fallen 8.3% in March.  The April drop was the largest decline on record for this series.  In the 2008-2009 recession from top to bottom retail sales fell by $46 billion.  In March and April it declined by $123 billion which is 2.5 times the size of the decline that occurred in "The Great Recession" in 2008-09.
Sometimes sales can be distorted by changes in autos and gasoline both of which can be quite volatile.  In this particular instance car sales dropped by 12.4% in April after having fallen 25.7% in March.  Gasoline sales fell 28.8% in April after having declined 16.5%.   This means that retail sales ex autos and gas, sometimes known as "core retail sales" were unchanged in April after having 5.3% in March.y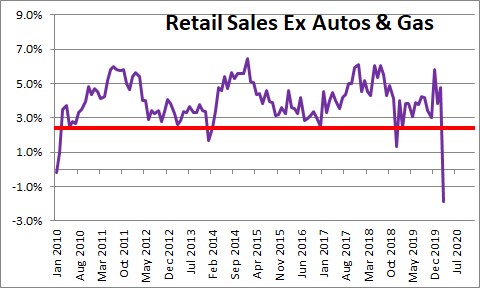 In addition to the the 12.4% drop in motor vehicle sales, furniture and home furnishings fell 58.7%, electronics -60.0%, gasoline stations -28.8%, restaurant and bar sales fell 29.5%, department store sales fell 28.9%, miscellaneous store retailers declined 24.7%.  Grocery store sales fell 13.2%.  Health and personal care store sales declined 15.2%. Also of note is that non-store retailers — think Amazon in particular — jumped 8,4% after having risen 4.9% in March as we chose to buy whatever we needed on-line and have somebody deliver it to our door.  Indeed, Amazon has indicated that in this rather bleak employment environment it has hired 100,000 workers to help it get the goods we ordered to us faster.
As noted above non-store retailers saw sales rise 8.4% at a time when overall sales fell 16.4%.  This means what non store retailers share of the market jumped fem 12.5% in .February to 19.4% in April.  Look for that rising trend to continue in the months ahead.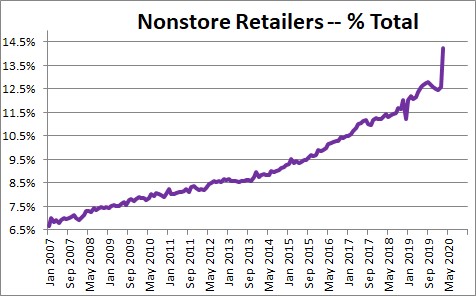 It is obvious that our response to the corona virus was, basically, to stop the economy dead in its tracks.  We have never before chosen that particular route to go.  As a result, look for every economic indicator to fall in March and April by multiples of its previous record decline.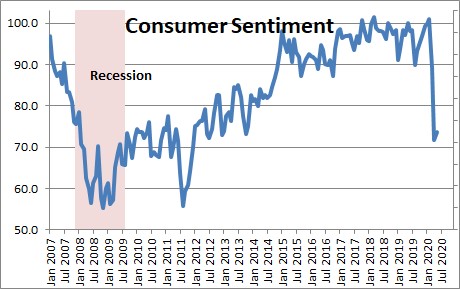 As as a result of all this we expect Q2 GDP to decline 60%.  However, workers are gradually returning to work and GDP will probably begin to climb again by June.  In addition, checks for the $2.0 trillion stimulus plan will continue to be disbursed through May.  At the same time the Fed is providing $2.3 trillion of credit to make sure that the credit markets are able to access whatever funds they may require to get the economy back on track.  For this reason, we expect GDP to rebound by 60% in the third quarter.  Despite the sharp contraction, the economy that emerges from recession will not look at all like the economy that went into it.  Nevertheless, with the help of fiscal stimulus and technology, we expect GDP to rise 5.3% in 2021.
Stephen Slifer
NumberNomics
Charleston, SC