June 8, 2020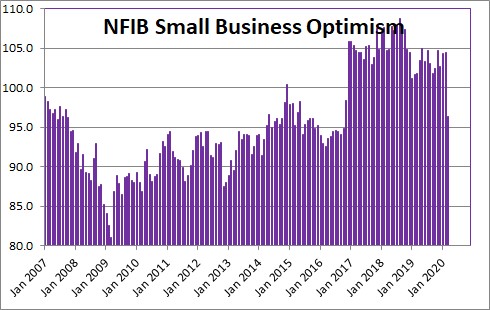 Small business optimism rose 3.5 points in May to 94.4 after having fallen 5.5 points in April and 8.1 points in March which was the biggest monthly decline in the survey's history.  .Nine of the 10 index components declined which is evidence that the economic disruptions re escalating as small businesses struggle to keep their doors open.
Chief Economist William Dunkelberg said, "As states begin to reopen, small businesses continue to navigate the economic landscape rocked by COVID-19 and new government policies.  It's still uncertain when consumers will feel comfortable returning to small businesses and begin spending again, but owners are taking the necessary precautions to reopen safely."
Amongst the main takeaways from the survey are:
The Uncertainty index rose 18 points in May to -24% after having fallen 17 points in April
Retail sales expectations for the next three months increased 18 points to -24%.
For what it is worth we now expect Q2 GDP to decline 60% — the biggest drop in history.  But we also believe there is tentative evidence that   the virus is slowing down the speed of its spread  At the same time fiscal stimulus funds has been flowing into consumer and business hands by early May.  While the economy almost undoubtedly fell into a recession beginning in March, it is possible with the massive flow of funds from the government that it will turn upwards in June.  In that case, it would be just a 3-month recession, which is less than one-half the duration of an average recession.  We expect Q3 GDP growth to be 61% and growth in the fourth quarter of 7.0%.
Stephen Slifer
NumberNomics
Charleston, SC