March 14, 2023
.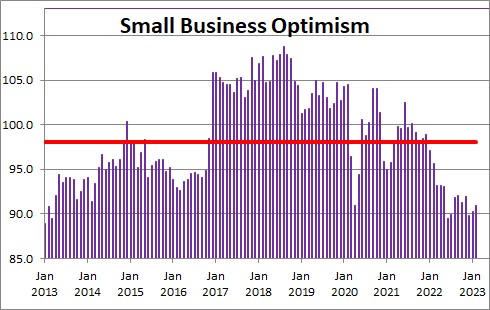 Small business optimism rose 0.6 point in February to 90.9 after gaining 0.5 point in January. It has been bouncing around at about this same level since June.  These levels are roughly in line with the low point in the March/April 2020 recession which seems excessively low to us.  They are well below the 40-year average for this series which is 48.0.
NFIB Chief Economist William Dunkelberg said, "Small business owners remain doubtful that business conditions will get better in the coming months.  They continue to struggle with historic inflation and labor shortages that are holding back growth. Despite their economic challenges, owners are working hard to create new jobs to strengthen the economy and their firms."
The NFIB noted that 47% of owners reported job openings that could not be filled in February (versus 43% in January).   48% raised prices (versus 42%).
Certainly the demand side of the economy slowed in the final couple of months of last year, but the January data appear to have rebounded sharply as evidenced by the big jump in payroll employment and retail sales.  The real funds rate will remain negative through midyear.  Business people are still hiring quickly..  Consumers continue to spend at a moderate pace. Home prices are falling which should cause home sales to bottom within the next month or two.
We expect to see 2.0% GDP growth in first quarter of this year and 1.5% GDP growth in 2023.
The core CPI rose 5.7% in 2022 and is expected to slow somewhat to 4.8% in 2023 but that is still double the Fed's 2.0% target pace.
Stephen Slifer
NumberNomics
Charleston, SC