August 13, 2019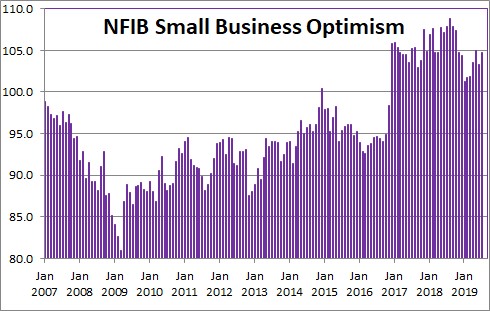 .Small business optimism rose 1.4 points in July to 104.7 after having declined 1.7 points in June.  The August 2018  level of 108.8  broke the previous record high level of 108.0 set 35 years ago back in July 1983.  The current level of confidence remains within a couple of points of its recent record high level.
NFIB President and CEO Juanita Duggan said, "While many are talking about a slowing economy and possible signs of a recession, the 3rd largest economy in the world continues to defy expectations, generating output, creating value, and expanding the economy,  Small business owners want to grow their operations, and the only thing stopping them is finding qualified workers.
Chief Economist William Dunkelberg said, "Contrary to the narrative about impending economic doom, the small business sector remains exceptional. This month's index is a confirmation that small business owners remain very optimistic about the economy but are being hamstrung by not finding the workers they need."
In our opinion the economy is expected to expand at a reasonably robust 2.7% pace this year.  Specifically, we believe that the cut in the corporate income tax rate, legislation that will allow firms to repatriate corporate earnings currently locked overseas back to the U.S. at a favorable 15.5% rate, and the steady elimination of unnecessary, confusing and overlapping federal regulations will boost investment.  That, in turn, should boost our economic speed limit should from 1.8% or so today to 2.8% within a few years.
The stock market has set a series of record high levels in the past few months and is currently only about 4% below its peak..   Jobs are being created at a brisk pace.  The unemployment rate is well below the full employment threshold.  Mortgage rates have fallen in the past couple of months from 4.9% to 3.6%.  And investment spending remains solid.  We expect GDP growth to be 2.7% this year after having risen 3.1% in 2018.  The core inflation should edge upwards to 2.4% in 2019 after rising 2.2% in 2018.  The Fed recently cut rates by 0.25% and seems on course for another 0.25% rate cut in September.  Moderate GDP growth, low inflation, and low interest rates should continue to bolster the stock market in the months ahead.
Stephen Slifer
NumberNomics
Charleston, SC