March 10, 2020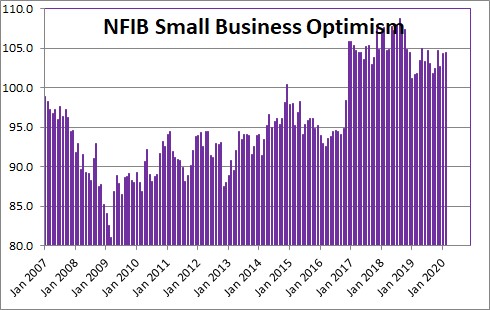 Small business optimism climbed 0.2 point in February to 104.5 after rising 1.6 points in January.  The August 2018  level of 108.8  broke the previous record high level of 108.0 set 35 years ago back in July 1983.  The current level of confidence is below that record but remains at a lofty level..
Chief Economist William Dunkelberg said, "The small business economic expansion continued its historic run in February, as owners remained focused on growing their businesses in this supportive tax and regulatory environment.  February was another historically strong month for the small business economy, but it's worth noting that nearly all of the survey's responses were collected prior to the recent escalation of the corona virus outbreak and the Federal Reserve rate cut. Business is good, but the corona virus outbreak remains the big unknown."
In our opinion the economy is expected to have a  setback in GDP growth in the second quarter, but will rebound sharply in the second half of the year.  For the year we expect GDP growth to expand at an acceptable 2.2% pace  in 2020.  .
It is important to remember that the economy was performing quite well prior to the corona virus setback.   Jobs are being created at a brisk pace.  The unemployment rate is well below the full employment threshold.  Mortgage rates have fallen this year to a record low level of 3.2%.  .We expect GDP growth to be 2.3% in 2020.  The core inflation should remain steady in 2020.  The Fed  has lowered the funds rate to the 1.0-1.25% level..  Moderate GDP growth, low inflation, and low interest rates should allow stock prices to rebound in the months ahead.
Stephen Slifer
NumberNomics
Charleston, SC