April 12, 2022
.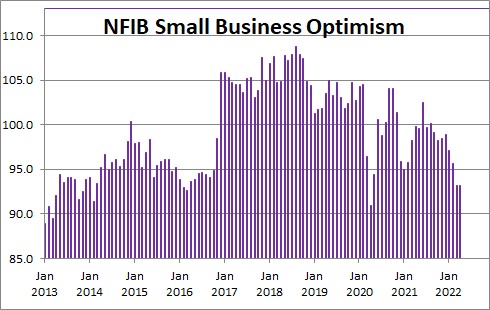 Small business optimism was unchanged in April at 93.2 after having declined 2.4 points in March,1.4 points in February, and 1.8 points in January as inflation concerns dampened the enthusiasm of small business owners.
NFIB Chief Economist William Dunkelberg said, "Small business owners are struggling to deal with inflation pressures.  The labor supply is not responding strongly to small businesses' high wage offers and the impact of inflation has significantly disrupted business operations."
The NFIB noted that 47% of owners reported job openings that could not be filled.    46% of owners raised worker compensation in April — down 4 points from January's 48-year record high reading, and 70% raised prices (close to the 48-year high of 72%).  The price hikes were  most prevalent in retail and wholesale trade, construction, agriculture and retail sales.  Labor costs and labor quality were significant problems for the group.
Certainly the demand side of the economy is humming.  COVID cases have fallen 95% since reaching a peak in mid-January.  Consumers are spending freely and are much more interested in getting back to their lives.  Business people are hiring as quickly as they can..  Consumers are also awash with available cash.  In the housing sector demand far exceeds supply.  Ditto for the manufacturing sector which cannot keep pace with the inflow of orders.  As we progress through the first few months of the year the economic data will remain solid.
The war in Ukraine is boosting prices significantly and generating impressive increases in prices on a widespread variety of commodities — both energy-related and non-energy.  It will retard GDP growth to some extent later this year but, thus far, it does not appear to have significantly impeded consumers willingness to spend.  The point is that, going into this crisis, both consumers and businesses are healthy and the biggest problem is what it has been — a shortage of labor and supplies
The shortage of chips has hindered the pace of car sales and caused used car prices to surge.  Transportation delays at ports, and amongst truckers and warehouse workers is delaying delivery of almost everything.  Labor constraints are forcing businesses' to scramble to find enough workers.  That is particularly true in low paying industries like restaurants and bars and retail  where some of the workers laid off last year may be reviewing their options and seeking employment elsewhere.  To counter that employers have been raising wages, offering sign-on bonuses and being creative in finding necessary workers.  But dissatisfaction with the pay and/or working conditions in their previous employment, a far of catching COVID and spreading it to family members, and generous child care benefits, are encouraging workers to remain on the sidelines.
However, judging by the supplier delivery component of the purchasing managers report the situation may be improving slightly.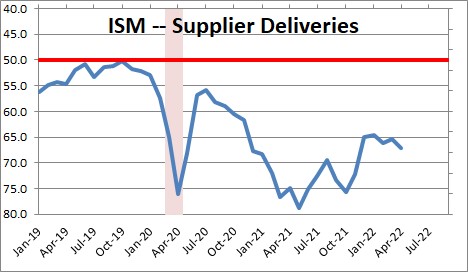 We expect to see 2.0% GDP growth in Q2, and 2.0% growth for 2022.
When demand exceeds supply prices rise.  The CPI is expected to rise 8.1% in 2022 while the core CPI (excluding food and energy prices) should increase by 6.4%..
Stephen Slifer
NumberNomics
Charleston, SC