November 9, 2021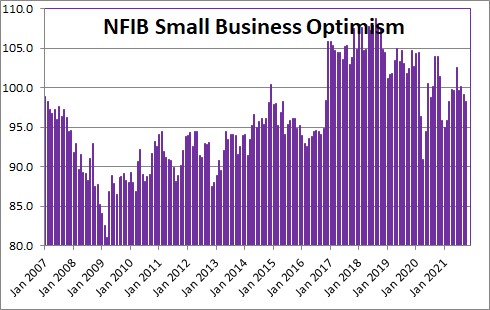 Small business optimism fell 0.9 point in October to 98.2 after declining 1.0 point in September.
NFIB Chief Economist William Dunkelberg said, "Small business owners are attempting to take advantage of current economic growth but remain pessimistic about business conditions in the near future.  One of the biggest problems for small businesses is the lack of workers for unfilled positions and inventory shortages, which will continue to be a problem during the holiday season."
The NFIB noted that 49% of owners reported job openings that could not be filled (2% below the 48-year high level in September), 44% reported raising compensation (a 48-year high record), and 32% plan to raise prices in the next 3 months.
Certainly the demand side of the economy is humming.  The  Delta variant clearly took a toll on the economy in August and September.    However, the Delta variant is showing clear signs of easing its grip.  Consumers are spending freely and are much more interested in getting back to their lives.  Business people are hiring as quickly as they can..  Consumers are also awash with available cash.  In the housing sector demand far exceeds supply.  Ditto for the manufacturing sector which cannot keep pace with the inflow of orders.  As we progress through the final three  months of the year the economic data will remain solid.
However, supply constraints are becoming more evident.  The shortage of chips has hindered the pace of car sales and caused used car prices to surge.  Transportation delays at ports, and amongst truckers and warehouse workers is delaying delivery of almost everything.  Labor constraints are forcing businesses' to scramble to find enough workers.  That is particularly true in low paying industries like restaurants and bars and retail  where some of those workers laid off last year may be reviewing their options and are seeking employment elsewhere.  To counter that employers have been raising wages, offering sign-on bonuses and being creative in finding necessary workers.  But generous child care benefits are encouraging workers to remain on the sidelines.
We expect to see 8.0% GDP growth in Q4 and 5.0% growth in 2022.
When demand exceeds supply prices rise and that is becoming increasingly evident as home prices have climbed 19.7% in the past year.  The CPI continues to climb.  For the year we now expect the CPI to rise 5.8% this year as energy prices have rebounded.  The more important core CPI is expect to rise 4.8% this year and 3.7% in 2022 compared to a 1.6% runup in 2020.
Stephen Slifer
NumberNomics
Charleston, SC