October 13, 2020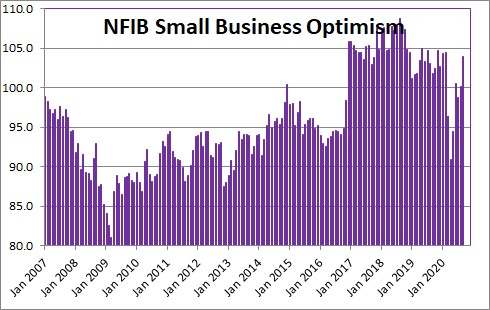 Small business optimism rose jumped 3.8 points in September to 104.0 after rising1.4 points in August.  But this series fell a total of 13.6 points in March and April to a low of 90.9 but it has come roaring back and is now at the same level it was in January and February.  Nin of the 10 index components improved in September, 1 declined.
Chief Economist William Dunkelberg said, "As parts of the country continue to open, small businesses are seeing some improvements in foot traffic and sales,  However, some small businesses are still struggling financially to operate at full capacity while navigating state and local regulations and are uncertain about what will happen in the future."
We saw GDP decline 31.7% in the second quarter, the biggest drop in history.  But fiscal stimulus funds have flowed into consumer and business hands and the economy is on the mend.  While the economy fell into a recession  in March, it turned upwards in May.  In that case, it would be just a 2-month recession, which is less than one-half the duration of an average recession.  We expect Q3 GDP growth to be 28% and growth in the fourth quarter of 7.0%.
Stephen Slifer
NumberNomics
Charleston, SC