January 12, 2021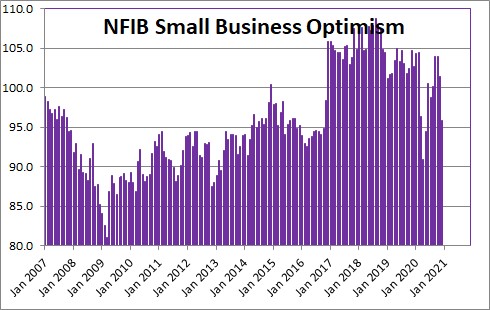 Small business optimism fell 5.5 points in December to 95.9 which is about where it was during the brief March/April recession last year.
Chief Economist William Dunkelberg said, "This month's drop in small business optimism is historically very large and most of the decline was due to the outlook of sales and business conditions in 2021.  Small businesses are concerned about potential new economic policy in the new administration and the increased spread of COVID-19 that is causing renewed government-mandated business closures across the nation."
We see things a bit differently.  Clearly, the virus is spreading anew and there will be some heightened restrictions which will retard growth for the next month or two.  However, the Fed has pledged to keep rates unchanged for the foreseeable future.  For the first time in a year the end of the pandemic is in sight as the available vaccines get distributed in the first  half of this year.  Meanwhile, the government just passed a $900 billion corona virus relief package which includes checks for $600 being mailed to almost every taxpayer.  President-elect Biden has promised yet another stimulus package once he takes office on January 20.  The housing sector is on fire as demand far exceeds supply.  Ditto for the manufacturing sector which cannot keep pace with the inflow of orders.  So while we might get a couple of months of soft economic data — which probably will hit small businesses harder than the rest of the economy — by the time we get to the spring the economic data will firm up as COVID begins to show signs of slowing down. At that time, business and consumer confidence will rise, consumer spending will accelerate — particularly so for bars, restaurants, hotels, airlines, etc.  Manufacturing sector will climb as well.
We saw GDP decline 31.7% in the second quarter, the biggest drop in history.  But fiscal stimulus funds created a 33.4% increase in Q3 GDP growth and we expect GDP growth in the fourth quarter of 7.0% followed by 5.5% growth in 2021.
Stephen Slifer
NumberNomics
Charleston, SC