August 9, 2022
.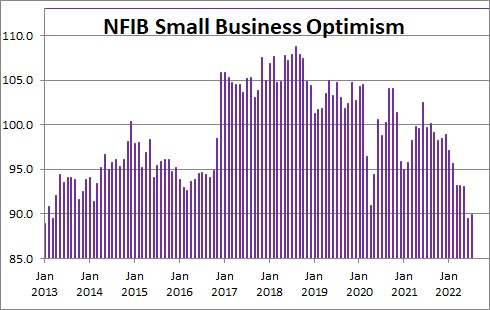 Small business optimism rose 0.4 point in July to 89.9 after have fallen 3.6 points in June.
NFIB Chief Economist William Dunkelberg said, "The uncertainty in the small business sector is climbing again as owners continue to manage historic inflation, labor shortages, and supply chain disruptions.  As we move into the second half of 2022, owners will continue to manage their businesses into a very uncertain future.
The NFIB noted that 49% of owners reported job openings that could not be filled.    48% of owners raised worker compensation in July — down from January's 48-year record high reading, and 56% raised prices (close to the 48-year high of 72%).  Labor costs and labor quality were significant problems for the group.
Certainly the demand side of the economy has slowed in recent months.  However, business people are still hiring as quickly as they can..  Consumers are also awash with available cash.  In the housing sector demand far exceeds supply despite higher mortgage rates and higher home prices and  homes sell in a record short period of time.  Ditto for the manufacturing sector which still cannot keep pace with the inflow of orders.  The economy may slow as the Fed accelerates the pace of rate hikes but real rates will remain negative for the foreseeable future.
For the past couple of years a shortage of chips has hindered the pace of car sales and caused used car prices to surge.  Transportation delays at ports, and amongst truckers and warehouse workers is delaying delivery of almost everything.  That problem created a headwind on GDP growth in 2021 but now the situation seems to be improving slightly.  There are still delays in receiving required materials, but the problem is less acute than it was at this time last year.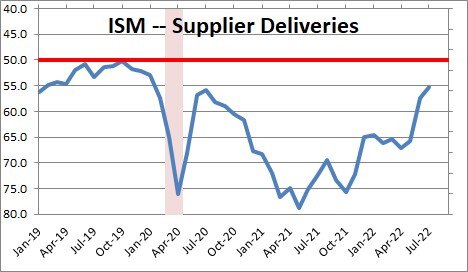 We expect to see 2.0% GDP growth in the final two quarters of this year.
When demand exceeds supply prices rise.  The CPI is expected to rise 8.1% in 2022 while the core CPI (excluding food and energy prices) should increase by 6.0%.
Stephen Slifer
NumberNomics
Charleston, SC