September 12, 2023
.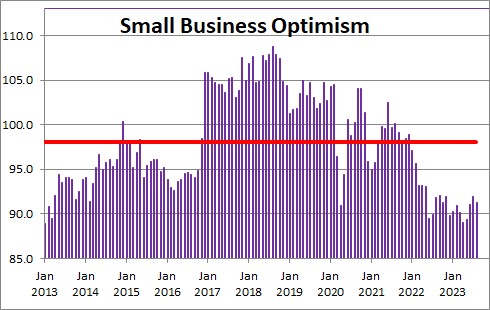 Small business optimism fell 0.6 point in August to 91.3 after having risen 0.9 point in July.   These levels are roughly in line with the low point in the March/April 2020 recession which seems excessively low to us.  They are well below the 40-year average so-called breakeven point for this series which is 98.0.
NFIB Chief Economist William Dunkelberg said, ""With small business owners' views about future sales growth and business conditions discouraging, owners want to hire and make money now from strong consumer spending.  Inflation and the worker shortage continue to be the biggest obstacles for Main Street."
Certainly the demand side of the economy continues to expand at a moderate rate with growth in the first half of the year averaging 2.3%.  However. the real funds rate is still too low. For August the Fed funds rate was 5.5%.  The year over year increase in the core CPI is 4.3%.  Thus, the real funds rate is +1.2%.  Probably not high enough to cause a sharp slowdown in the pace of economic activity.  Business people are still hiring at a reasonably rapid clip.  Consumers continue to spend at a moderate pace. Existing home sales have hit bottom.  New home sales are rebounding.
We expect to see 3.5% GDP growth in third quarter of this year and 1.6% GDP growth in the fourth quarter.
The core CPI has risen 4.3% in the past twelve months and is expected to slow to 4.1% by yearend, but that is still double the Fed's 2.0% target pace.  The Fed does not expect the core rate of inflation to return to 2.0% until 2025.
Stephen Slifer
NumberNomics
Charleston, SC