June 8, 2021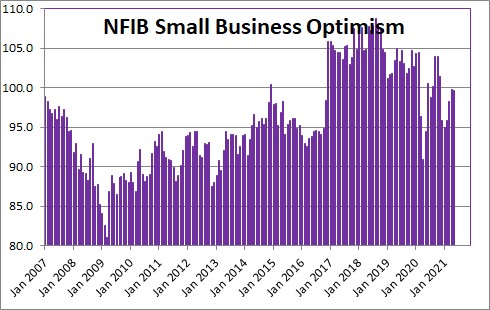 Small business optimism edged lower by 0.2 point in May to 99.6.
Chief Economist William Dunkelberg said, "Small business owners are struggling at record levels trying to get workers back in open positions.  Owners are offering higher wages to try to remedy the labor shortage problem. Ultimately, higher labor costs are being passed on to customers in higher selling prices."
The NFIB noted that 615 of owners reported hiring or trying to hire in May.  A net 34% of owners reported raising compensation.  Small business owners continue to report finding qualified employees a problem with 93% of owners hiring or trying to hire reported few or no qualified applicants.    8% of owners cited labor costs as their top priority; 26% said labor quality was their top business problem.  40% have job openings for skilled labor; 27% have openings for unskilled labor.  In short, their biggest problem is the cost and quality of labor,
Certainly the demand side of the economy is humming.  The end of the pandemic is in sight as the available vaccines get distributed at a respectable pace even though the pace has slowed from what it was earlier.  Consumers are awash with available cash to spend given the $1.9 trillion fiscal stimulus package that was passed in March.  The housing sector is on fire as demand far exceeds supply.  Ditto for the manufacturing sector which cannot keep pace with the inflow of orders.  As we progress through the spring the economic data will firm up as COVID continues to slow down. At that time, business and consumer confidence will rise, consumer spending will accelerate — particularly so for bars, restaurants, hotels, airlines, etc.  Manufacturing sector will climb as well.
However, supply constraints are becoming more evident.  The shortage of chips has hindered the pace of car sales but caused used car prices to surge.  Labor constraints are forcing businesses' to scramble to find enough workers.  That is particularly true in low paying industries like restaurants and bars and retail  where some of those workers laid off last year may be reviewing their options and are seeking employment elsewhere.  Part of the problem is that generous unemployment benefits are encouraging workers to remain on the sidelines until those benefits expire in early September.  That is not halting GDP growth, but it is acting as a brake.
We expect to see 19.0% growth in the second quarter, and 8.0% GDP growth for the year.
When demand exceeds supply prices rise and that is becoming increasingly evident as home prices have climbed 12% in the past year.  The CPI jumped sharply in April.  For the year we now expect the CPI to rise 4.5% this year as energy prices have rebounded.  The more important core CPI is expect to rise 3.4% in both this year and 2022 compared to a 1.5% runup in 2020 and 2.2% in 2019.
Stephen Slifer
NumberNomics
Charleston, SC