November 1, 2019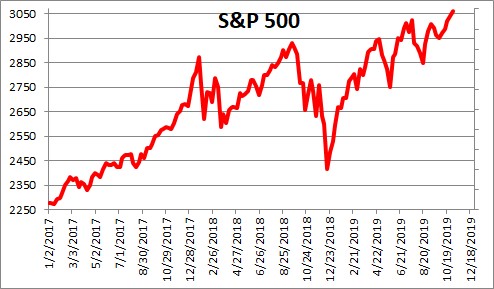 The stock market continues to power its way upwards to a series of record high levels. Given that many economists worry about slower growth overseas particularly in China which is the world's second largest economy,  weakness in the U.S. manufacturing sector caused by a sharp drop in export orders, President Trump's impeachment proceedings, and what might happen if there is a hard exit for the U.K. from the European Union, the stock market performance is truly amazing.
Looking ahead we see the stock market continuing to reach progressive new high levels as we  move throughout  2020.  The Fed has lowered rates by 0.75% since July.  The real funds rate is negative which is something that only happens when there is considerable slack in the economy (like an unemployment rate at 10.0%) and the Fed needs to put the pedal to the metal.  Mortgage rates have fallen 1.3% since the end of last year to a near record low level of 3.6%.  Home prices are rising slowly.  These two factors will re-invigorate the housing sector in the months ahead.  At the same time fiscal policy is stimulative as government spending is on a track to increase 4.0% this year and  perhaps another 3.0% in 2020 largely as the result of a pickup in the pace of defense spending.  With wildly stimulative monetary and fiscal policy there is no way the U.S. economy is going into a recession any time soon.
Given the positive combination of moderate GDP growth, a moderate increase inflation, and very low interest rates we fully expect the stock market to reach a series of record high levels in 2020.
Stephen Slifer
NumberNomics
Charleston, SC