March 15, 2019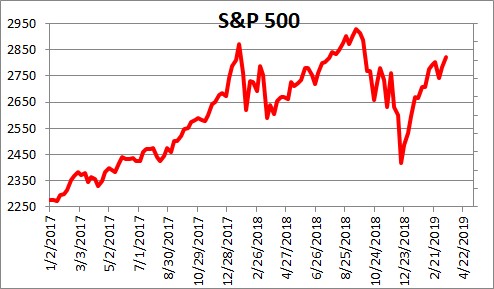 The S&P fell 20% in the fourth quarter of last year.   The market appeared to be concerned about a variety of factors.  The expansion is approaching its tenth anniversary which is geriatric, so some economists fear that,for that reason alone, the end of the expansion must be close.  It was seeing growth weakening overseas, particularly in China which is the world's second largest economy.  It feared a trade war could weaken growth further.  The Fed indicated that intended to raise rates twice in 2019.  And it saw the housing market fall steadily for most of last year.
But heading into 2019 growth the view has changed.  Growth overseas appears to have stabilized.  The Fed has said that it intends to leave rates unchanged for the foreseeable future.  Mortgage rates have fallen 0.5% since the end of last year and  home prices are declining.  These two factors should re-invigorate the housing sector in the months ahead.  Thus, the economic fundamentals in our view remain solid.  That change in outlook has allowed the stock market to rebound and erase nearly all of the fourth quarter drop.  Indeed, it is currently within 3.5% of an all-time record high level.
Given the positive combination of moderate GDP growth, low and still stable inflation, and the likelihood of no further rate hikes, we fully expect the stock market to reach another record high level, probably by midyear.
Stephen Slifer
NumberNomics
Charleston, SC