October 9, 2020
More fiscal stimulus seems inevitable.  Underlying this apparent need for more government spending is an assumption that the economy will soften dramatically in the months ahead.  But is that really true?  Economists have grossly underestimated both the speed and magnitude of the recovery thus far.  What makes them so sure they are right this time?  Could the near-record level of the stock market be suggesting that this pessimistic view of the economy is misplaced?  If so, why the push for more stimulus now?  Wouldn't a vaccine and further opening up by those states that have been slow to lift restrictions be better solutions?
Following a 31.4% decline in GDP in the second quarter, third quarter growth seems poised to climb by about 30% which is double the pace that economists initially expected for that quarter.  Given the extent of the apparent miss in their forecasts of GDP growth in the third quarter, why the  steady drumbeat of pessimism?
Some suggest that the monthly jobs gains are slowing.  But yet the economy cranked out 877 thousand private sector jobs in September.  That jobs gain was sufficient to reduce the unemployment rate by 0.5% to 7.9%.  We expect payroll employment to climb by 800 thousand in October and the unemployment rate to fall another 0.4% to 7.5%.   Slowing down?  Hardly.  What did you expect?  Job gains in excess of 1 million every month and the unemployment rate to fall by 1.0%?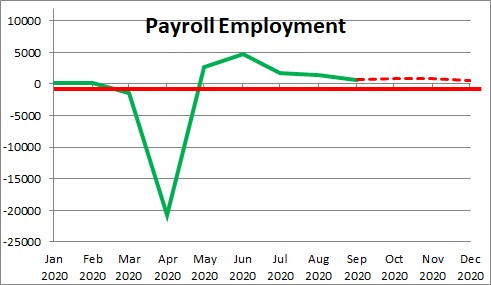 The drop in the unemployment rate in the past five months is already the fastest decline on record.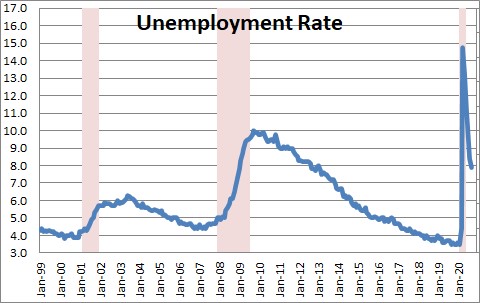 Of the 22 million jobs lost in March and April the burden fell most heavily on workers in the leisure and hospitality industry.  The unemployment rate in that industry peaked in April at 39.3%.  It has declined in the past five months but remains at 19.0%.  Unemployment remains high in every industry, but the hospitality industry stands out.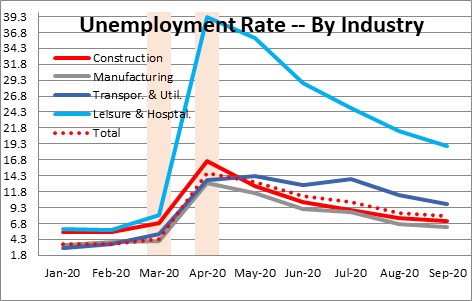 If job gains continue – which we expect — consumer spending will also climb.  One of the major contributors to third quarter GDP growth is retail sales.  Most categories of sales are at or above their year ago levels – amongst them are autos, furniture, electronics, grocery stores, health care stores, and sporting goods.  Sadly, spending in restaurants and bars remains 20% below its year-ago level.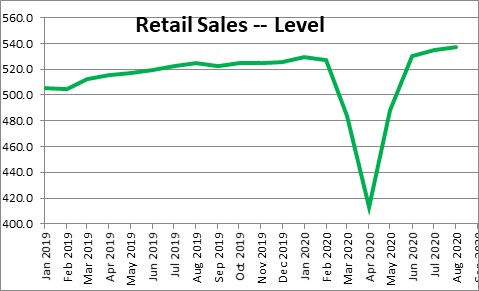 As the result  of reduced spending, jobs in the hospitality industry are equally depressed.  Because restaurants and bars employ large numbers of low-wage workers, many of whom are women and minorities, they too are suffering.  What is the best way to get these people back on the job?
The predominant view in Washington is that the economy needs more fiscal stimulus.  We challenge that view.  Consumers have the income.  They are not frequenting restaurants and bars today because they are concerned about the corona virus.  They are perfectly willing to spend their money on some items – but not others.  Unfortunately, most bars and many restaurants are skirting the social distancing requirements and are reluctant to enforce any sort of mask policy.  Another $1,000 of government money will not entice consumers to go to a restaurant where they feel uncomfortable.
What would help?  Two things.  A vaccine and further opening up by those states that have been slow to lift restrictions.
We understand that there are currently about 45 different vaccines in some stage of testing.  Some will be available by yearend or early next year.  Initial skepticism regarding their effectiveness suggests that the rebound in spending will be gradual.  But even a gradual pickup in spending will boost GDP growth next year and simultaneously bring the unemployment rate in the food and beverage industry back into closer alignment with the rest of the economy.
California and New York, in particular, have been extremely reluctant to re-open their economies.  As a result, their unemployment rates in August were 11.4% and 12.5%, respectively with 3.3 million unemployed workers between them.  But yet other states have been able to re-open successfully.  Getting these two states alone moving in the right direction could quickly lower the unemployment to 5.5-6.0%.
Additional fiscal stimulus is not the answer.  It is unlikely to provide much lift to the economy and, in the process, further increase the budget deficit and debt outstanding.  A vaccine and further re-opening in a couple of states are far preferable and do not require Congressional action to implement.
Stephen D. Slifer
NumberNomics
Charleston, S.C.