November 19, 2022
Most economists expect GDP growth to slow next year in part because the excessive government stimulus provided in the first few months of this year will continue to disappear.  Others are concerned that the steady drumbeat of higher inflation will dampen consumer spirits enough that they opt to cut spending.  Others fret that the recent increase in the number of new COVID cases is a reminder that COVID will be a disruptive factor for some time to come.  We suggest several offsetting factors.  First, most of the slowdown related to the disappearance of economic stimulus measures has already occurred.  Second, there will be a two- or three-month period of renewed spending vigor as consumers catch up for spending deferred from the late summer months as COVID cases surged.   Third, jobs will continue to climb vigorously as workers who have left the labor force choose to seek and find employment.  Fourth, at some point the increasing number of Americans who have been vaccinated and those who have already contracted the disease and have natural immunity, will reduce the number of COVID cases to the point where they cease to be a significant factor in the pace of economic activity.  Finally, the brake on economic activity caused by delivery delays and parts shortages will gradually disappear as the year progresses and provide a tailwind to GDP growth as that occurs.  That is why we expect GDP growth of 8.0% in the fourth quarter followed by 4.9% GDP growth in 2022. Not too shabby.
The economy received considerable stimulus in the first half of this year as the government fattened our wallets with multiple rounds of stimulus checks whether we needed them or not.  As that occurred government transfer payments skyrocketed.  Prior to the recession transfer payments were $3.2 trillion.  The biggest surges occurred in April 2020 and again in March 2021 (when they peaked at $8.1 trillion).  But as of September these government income subsidies had shrunk to $3.9 trillion.  Given that they climb at about a 6.0% pace annually, these payments are unlikely to fall below the $3.5 trillion mark.  If so, this factor will only subtract about 0.25% from GDP growth next year.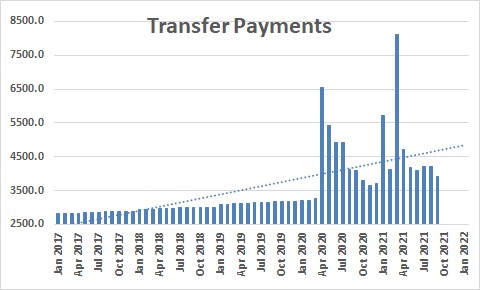 As inflation climbs workers real wages are declining.  In October average hourly earnings rose 4.9% in the past year, but inflation rose even more quickly and, as a result, real or inflation-adjusted earnings fell 1.2%.  This means that the purchasing power of consumers' paychecks fell 1.2% from what it was in October 2020.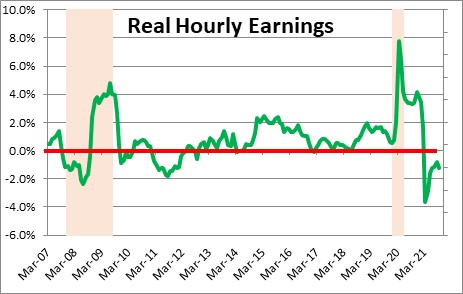 Consumers have noticed that their real wages are falling.  The University of Michigan's series on consumer sentiment has shed almost 20 points since June.  When consumers get nervous there is a clear tendency to close their wallets and curtail spending.  The Chief Economist for these surveys, Richard Curtin, said, that there is, "A growing belief among consumers that no effective policies have yet been developed to reduce the damage from surging inflation. One-in-four consumers cited inflationary reductions in their living standards in November, with lower income and older consumers voicing the greatest impact."  This bears watching but, after four months of falling confidence, there is no hint of consumers cutting their pace of spending.  Retail sales jumped 1.7% in October and retailers expect sales to remain robust through the important holiday season.  With jobs climbing, nominal wages rising, and the Fed indicating clearly that it is not going to intervene vigorously any time soon, their willingness to spend is understandable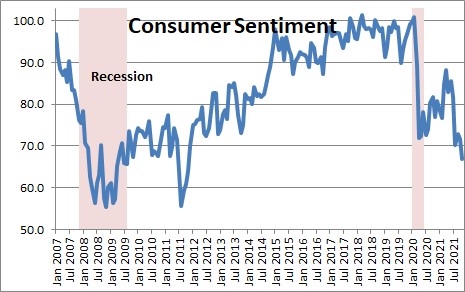 COVID cases have picked up slightly in the past several weeks.  Thus far the rise is modest but previous surges started out slow and subsequently gathered momentum.   But this time, in contrast to the previous two surges, immunologists are not sounding alarm bells.  Currently, 228 million Americans have had at least one vaccination.  Furthermore, 48 million Americans have already had COVID and presumably now have natural immunity. This means that 276 million people have immunity and that only about 54 million Americans remain unvaccinated.  That is still a lot of people, but it is only about 15% of our population.  The pool of people through which the disease can spread rapidly has shrink dramatically.  By summer our expectation is that those cases shrink to a pace roughly consistent with the flu and that, at long last, COVID is no longer a major news story.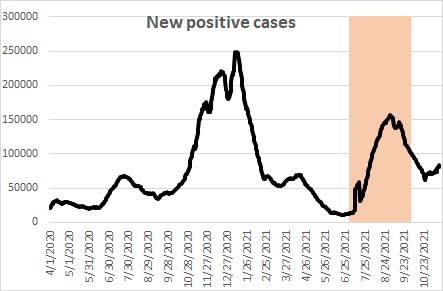 The labor force remains 3.0 million below where it was prior to the recession.  The reasons vary from dissatisfaction with both working conditions and pay in their previous job.  Retirements and even early retirements from older Americans add to the total.  And there is a group of individuals who seem content with the current level of government provided benefits.  This is a wild card.  We have not experienced this type of behavioral change regarding employment ever in our history.  Only time will give us an accurate answer.  However, we take comfort with the steady decline in initial unemployment claims (a measure of layoffs), and by the rapid drop in the number of people receiving unemployment insurance benefits. Our guess is that 700 thousand jobs will be created in November and if the labor force increases by 500 thousand the unemployment rate will decline another 0.2% in that month to 4.4%.  The labor force should register additional significant gains in December and the first few months of next year.  A bigger labor force will presumably lead to sizable job gains and further boost both consumer income and spending.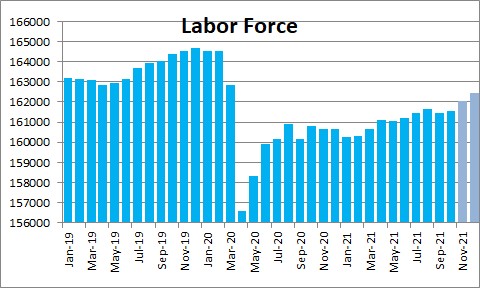 Finally, we are all familiar with the supply chain disruptions which have severely curtailed firms' ability to produce their goods.  As a result, businesses have had to dip into inventory levels to fill as many orders as they can.  In fact, inventory levels have declined $275 billion in the first three quarters of this year and subtracted 1.8% from GDP growth during that period of time.  Eventually those supply issues will be resolved and firms will want to rebuild inventory levels and get them realigned with sales.  At that point GDP growth will get a boost from an inventory tailwind.  That process will probably take place gradually but seems likely to lift growth most sharply in the second half of next year.
We have not incorporated into the laundry list above a likely pickup in the pace of government spending in 2022.  The infrastructure bill has already passed, and today the House passed Biden's economic plan.  It is still not clear whether this latter package will pass the Senate.  But in all likelihood government spending will increase next year which will further stimulate an economy that is already at full employment and, simultaneously, raise the inflation rate.
We recognize that there are reasons to expect GDP growth to slow in 2022, but there are even more reasons to be optimistic.  As we add up the economic tidbits available thus far, it appears that GDP growth will rebound from the anemic 2.0% pace in the third quarter to 8.0% in the fourth quarter.  That would give us GDP growth of 5.7% in 2022 which would be the fastest pace of expansion in 40 years.  That would presumably be followed by another stellar 4.9% growth rate in 2022.  Impressive!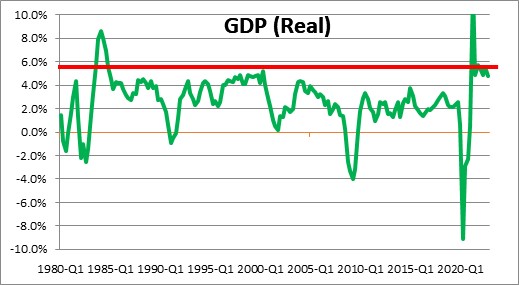 Happy Thanksgiving to all.
Stephen Slifer
NumberNomics
Charleston, S.C.