March 12, 2021
On March 16 of last year President Trump ordered a national lockdown.  As a result, the economy plunged into the deepest recession in its history.  It is safe to say that at the time none of us would have expected the economy to be on a roll one year later and in potential danger of overheating by yearend.  How exactly did that happen?  Answer?  An unprecedented amount of fiscal and monetary stimulus, and considerable help from a public/private sector partnership which condensed a typical 10-year vaccine development cycle into a single year.  As a result, the economy is quickly recovering all lost economic output.  The labor market should once again approach full employment by the end of the year.  And the stock market is at a record high level.  That is a remarkable turnaround and we thought it might be helpful to review how that happened.
At the beginning of last year news about a strange and potentially deadly virus in China began to spread and by early January the first cases arrived in the U.S.  By March 5,000 cases had been discovered and Americans were getting nervous.  Nowhere is that fear factor more evident than in the S&P 500 stock market index which set a record high level on February 19 but then quickly plunged 32%.  While the drop was roughly the same magnitude as in the "Great Recession" of 2008-09, that decline stretched out over 18 months.  This one took just four weeks.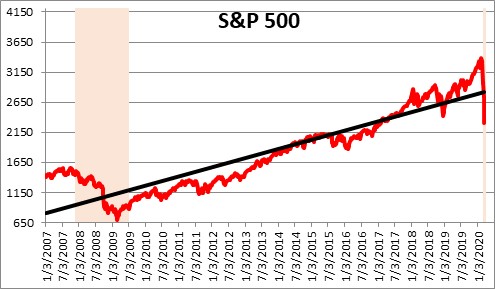 On March 16 President Trump ordered a 15-day national lockdown which was later extended through the end of April.   That lockdown stopped the economy dead in its tracks.  The economy lost 22 million jobs in the March/April period.  In the 2008-09 recession the economy lost 8 million jobs over a rather lengthy 18-month period.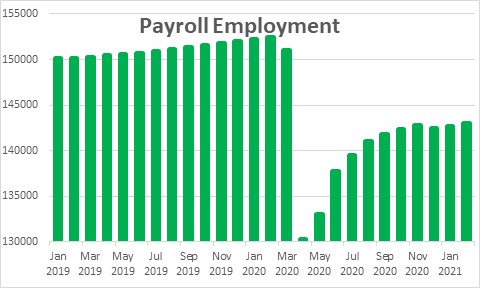 The lockdown would ultimately produce a 31.4% GDP drop in the second quarter.  That eclipsed by a factor of four the biggest single-quarter drop in the 2008-09 recession which was 8.2%.  Given the resulting economic damage, some economists now suggest that the lockdown was a bad idea.  We disagree.  The stock market and the economy were in freefall.  Furthermore, a lockdown had worked well in China and European countries were adopting a similar approach. The American public was demanding a vigorous response.  Our leaders in Washington had no choice.
Fortunately, they responded quickly and in a big way.  Congress passed and Trump signed the so-called CARES package on March 27.  That bill combined with two earlier bills totaled $2.5 trillion.  While there were a lot of moving parts, the highlights were the $1,200 checks sent to most taxpayers, $500 for each additional child, and $600 of supplemental unemployment benefits for up to four months.
At the same time the Federal Reserve did its part by purchasing $2.0 trillion of U.S. government and mortgage backed securities in March and April.  In addition. it established credit facilities for small businesses, medium-sized firms, state and local governments, and money market funds.
This means that between the $2.5 fiscal stimulus package and $2.0 trillion of help from the Fed, the economy received a much-needed lifeline totaling $4.5 trillion.  At that time nobody knew exactly how much money was going to be required, but they knew it had to be impressive in size and had to be enacted quickly.  While a bit clumsy, the eventual package was both big and timely.  It was put together and passed within two weeks.  Everybody loves to jump on politicians but, in this case, they sprang into action in a big way.  Kudos to all involved.
A pandemic was something that nobody had anticipated.  The government chose a quarantine in an effort to corral the virus.  As a result, 22 million people lost their jobs (at least temporarily), businesses throughout the country lost their revenue stream which threatened their survival, and many small business owners saw their life's work vanish.  Government action had created the problem, and the government felt some responsibility to make the affected people and businesses whole.
The recession ultimately caused nominal GDP to decline by $2.2 trillion in the first and second quarters of last year.  Thus, the $4.5 trillion stimulus package was easily large enough to get the economy back on track.  What was missing was a vaccine.
Another tip of the hat goes to "Operation Warp Speed" which condensed what is typically a 10 year period for the development, testing, and distribution of a vaccine to a single year.  That is truly a phenomenal accomplishment.  "Operation Warp Speed" was critical to the process and, thus far, has received little praise.  It was a public/private partnership initiated by President Trump and his administration to develop a vaccine for the COVID-19 virus faster than ever before, as well as develop therapeutics and diagnostics.  The goal was to produce and deliver 300 million doses of safe and effective vaccines with initial doses available by January 2021.  It received $10 billion in funding from the CARES Act.  On the government side it included research efforts from the Department of Health and Human Services, the CDC, FDA, NIH, and the Biomedical Advanced Research and Development Authority.  Eight pharmaceutical companies were chosen to divvy up the $10 billion of funding to develop and prepare for manufacture their vaccine candidates.  Thus far three vaccines have been developed, approved, and are being distributed at a rate of 2.0 million doses daily. Many epidemiologists now expect the economy to achieve herd immunity by the end of April.  In a quintessential political move, President Biden transferred "Operation Warp Speed" into the White House COVID-19 Response Team at the end of February, and told his team not to use the name Operation Warp Speed.  Political games never seem to end.
The challenge for our economy and our health care system this past year has been extraordinary but yet the economy is widely expected to expand in 2021 at the fastest rate in almost 40 years (1984) and the health crisis is quickly ending.  That did not happen by accident.  While much maligned, our leaders in Washington quickly produced the biggest stimulus package in our history, and the government and private sector worked together to develop at lightning speed a vaccine that was the critical piece to permanently end the crisis.  Let's give praise where praise is due.
As we have indicated on numerous occasions, we firmly believe that the subsequent $0.9 trillion COVID-relief package passed in late December and the recently passed $1.9 trillion package are gross overkill, but that is a story for another day.
Stephen Slifer
NumberNomics
Charleston, S.C.