December 13, 2019
First, the employment report for November was shockingly strong and immediately took off the table any fear of a near-term recession.  Then, Congress and the White House agree on a new trade deal with Mexico and Canada which is likely to be ratified by Congress early next year.  Then, the U.S. and China strike a limited trade deal which cancels the tariffs that were scheduled to take effect on Sunday, roll back tariff rates on many Chinese imports and, in exchange, the Chinese agree to boost purchases of U.S. farm goods.   Then, the Fed says it plans to leave rates unchanged for the foreseeable future.  Then, Democratic and Republican leaders in Congress reach a tentative agreement on federal government spending which will likely avert an end-of-year shutdown.  And then, Boris Johnson is re-elected in a landslide victory in the U.K. which almost guarantees that the U.K. will have an orderly exit from the European Union by the end of next month.  Whew!  And that is just this week!  The theme in 2019 was concern about a steadily escalating trade spat between the U.S. and China, slow growth overseas, and weakness in manufacturing.  As we see it, all of those negative factors will disappear in 2020 which sets the stage for potentially faster-than-expected GDP growth this year.  Three percent perhaps?
This combination of events has caused stock markets around the globe to soar – the S&P 500 index and the Dow Jones Industrial average in the U.S., the Hang Seng, the Shanghai Composite, the Nikkei 225, the Euro Stoxx 50, the Emerging Markets Index.  The nagging uncertainty prevalent throughout last year has disappeared and is quickly being replaced by optimism.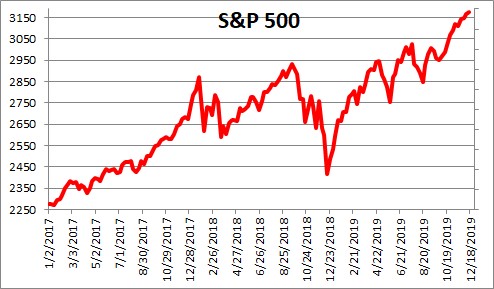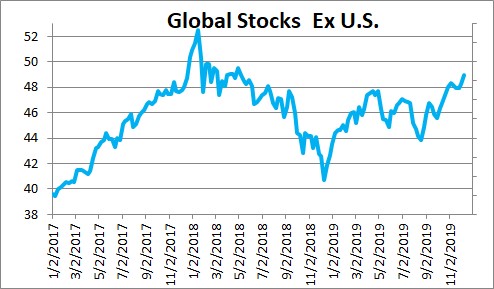 In the U.S. consumer confidence, which is already high, is soon likely to climb to its highest level thus far in the business cycle.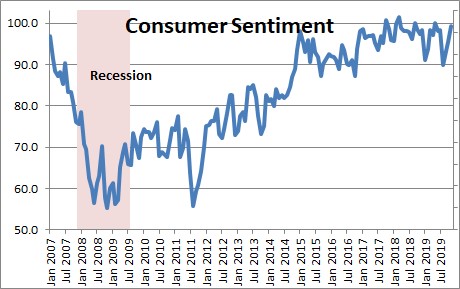 The same thing should be true in the business community.  Following release of the small business confidence index for November, NFIB Chief Economist William Dunkelberg said, "This historic run may defy the expectations of many, but it comes as no surprise to small business owners who understand what a supportive tax and regulatory environment can do for their companies. Owners are aggressively moving forward with their business plans, proving that when they're given relief from the government, they put their money where their mouth is, and they invest, hire, and increase wages." That was in November.  Confidence amongst small business owners seems likely to be even higher in the months ahead.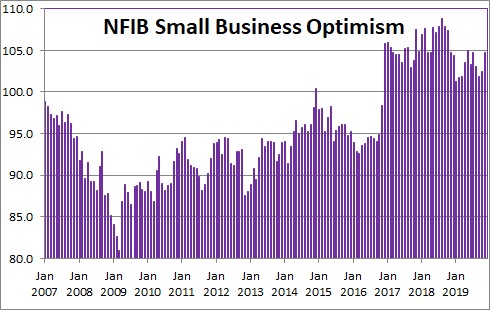 The outlook for the manufacturing sector is almost certain to improve in the months ahead.  U.S. factories have been particularly hard hit by trade disputes between the U.S. and China as well as elsewhere.  Even more alarming was the fear that the situation could worsen at any moment depending upon the whim of the president.  But this past week Trump scrapped the tariff increases that were set to go live on Sunday and slashed existing tariffs on roughly $360 billion of Chinese-made goods.  At the same time the Chinese agreed to purchase $50 billion worth of agricultural products next year.  Final agreement on the revised version of NAFTA will further improve prospects in the manufacturing sector in 2020.  Following a year-long slump, the prospects for the manufacturing sector seem far brighter today than they did at this time last week and we fully expect the ISM index to turn upward upwards in the first few months of next year.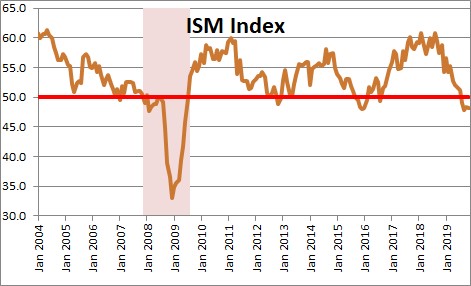 With consumer spending continuing at a relatively robust 2.5% pace next year, and a turnaround in the beleaguered manufacturing sector, investment spending should once again turn upwards.  We currently expect investment spending of 3.0% in 2020, but it could turn out to be significantly more robust.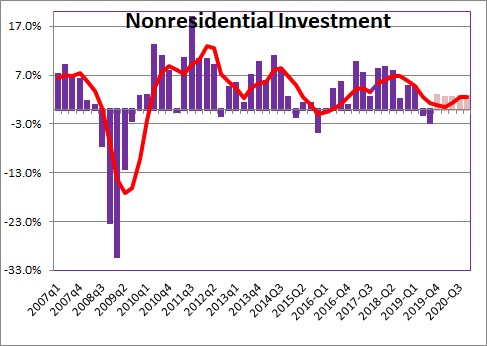 If investment quickens it is an almost sure bet that productivity growth will accelerate as well.  We anticipate productivity continuing to climb at a 1.7% pace next year.  It could be even faster.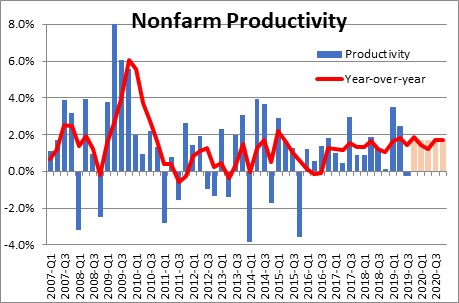 Given all of the above, why couldn't GDP growth next year be 3.0%?  Labor force growth has recently edged upwards to 1.0% as, presumably, the tight labor market has encouraged at least a few workers who were previously on the sidelines to look for (and find) a job.  And if productivity growth inches upwards from the 1.7% we currently anticipate to 2.0%, GDP growth of 3.0% in 2020 is not out of the question.  All of the events noted are obviously new and we would like to see how consumers and businesses respond.  We are not yet prepared to boost our 2020 GDP growth forecast from 2.4% to something higher, but we are thinking about it.
We are fully aware there will be hiccoughs along the way.  The impeachment proceedings will continue, but actual removal from office seems increasingly unlikely.  The U.K. and Europe will have years of trade negotiations ahead.   And tensions between the U.S. and North Korea, Russia, and China will remain strained.   However, there can be no doubt that this past week's events are unambiguously positive.
Stephen Slifer
NumberNomics
Charleston, S.C.