January 8, 2021
Payroll employment declined 140 thousand in December as states imposed restrictions in an effort to contain the spread of the corona virus.  This softness in employment may continue for another month or two, but it is important to remember that two vaccines are already being distributed with more on the way which will curtail the spread of the virus by spring.  At the same time tax refund checks from the recently-enacted $900 billion corona virus relief bill should be received in January which should bolster consumer spending and business hiring in February and March.  Furthermore, President-Elect Biden, the leaders of the House and the Senate, and Fed Chair Powell all support yet another fiscal stimulus package once Biden takes office later this month.  Thus, any weakness in employment in the next couple of months should be viewed as temporary.  As the vaccine becomes more widely available in the spring,  shuttered business are permitted to re-open, and government stimulus money gets spent, employment and GDP growth will surge.
While state governors are under pressure to "do something" to halt the spread of the virus, it is not clear that closing restaurants and bars is the best solution.  The drop in employment in December was largely confined to the leisure and hospitality industry where employment fell 498 thousand –372 thousand in restaurants and bars, 24 thousand in the hotel industry, and another 103 thousand in the arts and entertainment.  Workers in these industries typically earn low wages and can ill afford to be laid off.
We learned in the spring that the impact of business closures fall hardest on those who are most vulnerable. That seems to be happening again.  For example, in December the overall unemployment rate was unchanged at 6.7% but amongst Latinos it jumped 0.8%, it rose 0.4% for women, and 0.6% for those with less than a high school degree.  Those increases are in contrast to a decline of 0.2% for men, and a drop of 0.4% for those with a college education.  Rather than supporting those low income wage earnings, restrictions are making their situation worse.  To us, this policy is misguided.
Worse yet, the business closings do not slow the rate of spread of the virus.  The number of patients hospitalized is higher now than it was in the spring.  The same is true for the number of people in ICU's, the number of people on ventilators, and the daily number of deaths.  Perhaps these business closures temporarily slow the rate of spread of the virus, but as soon as the businesses re-open the virus spreads anew.  The solution is not more restrictions, but rather a program to distribute the available vaccines quickly.  Hopefully, President Biden can expedite that process.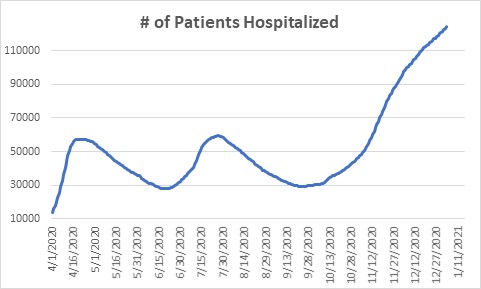 So what should we do until the vaccines become more widely available?  Rather than imposing additional business restrictions, we would encourage state and local government officials to stringently enforce mask wearing and social distancing.  At the same time step up the production and distribution of whatever protection equipment hospital workers and first responders might require.  Unfortunately, none of these measures are completely satisfactory.
With respect to the economy we expect fourth quarter GDP growth of 7.0%.  The consensus appears to be for an increase of about 3.5%.  It is important to remember that job creation was surprisingly strong in October and November with increases in private sector employment of 925 thousand and 417 thousand, respectively, before falling 95 thousand in December.  This should produce a relatively rapid GDP growth rate for the quarter.
First quarter GDP growth is a bit more challenging.  We continue to expect 4.7% growth in that quarter.  However, there are a lot of crosscurrents.  The virus is still not showing any signs of slowing which could trigger even more restrictions which would reduce growth.  But, on the flip side, fiscal stimulus money is on the way which should boost consumer spending in February and March.
And for the second quarter we continue to expect 6.0% GDP growth with the idea that the virus begins to slow in response to more people receiving the vaccine, and proceeds of the previously enacted $900 billion fiscal stimulus package along with the proceeds from yet another bill which has not yet been introduced will undoubtedly boost growth.
While there may be some near-term fluctuation in employment during the next few months growth for the year should be solid.  We have been and continue to expect GDP growth of 5.5% in 2021.  Why?  The Fed has pledged to keep the funds rate at 0% for the foreseeable future.  The housing sector is on fire as potential home owners take advantage of record-low mortgage rates.  Demand for houses continues to far outstrip supply.  The same is true in the manufacturing sector as orders flow in at the fastest pace in years but production is being curtailed by COVID-induced supply constraints.  As a result, manufacturers have depleted inventories in an effort to satisfy demand.  That means that they need to step up the pace of production significantly once the virus-related supply constraints begin to abate.  And, on top of everything else, the government is going to keep priming the pump with round after round of stimulus spending.  Apparently, the stock market has figured all this out as the various stock market indexes have reached record high levels.
While the data flow in the near term may look a bit anemic, that will not continue for long.
Stephen Slifer
NumberNomics
Charleston, S.C.