September 4, 2020
The economy continues to recover far more quickly than most economists had expected.  Previously, we expected a GDP rebound in the third quarter of 28%.  The consensus was for an increase of about 15.0%.  We remain at 28% but the Atlanta Fed just lifted its estimate of third quarter growth to 29.6%.  The consensus will probably also increase.  The Federal Reserve seems to have one of the most pessimistic forecasts.  In June it expected the unemployment rate to be 9.3% at yearend.  But yet, the unemployment rate for August has already fallen to 8.4%.  It will be interesting to see its revised forecast which will be released on September 16.  For what it is worth, we now expect the unemployment rate to be 6.6% at yearend.  All of this matters because our policy makers in Washington are pushing hard for more fiscal stimulus — $1.0 trillion if you are a Republican; $3.0 trillion if you are a Democrat.  This makes no sense.  The economy does not need help.
Payroll employment climbed by 1,371 thousand in August.  After having lost 22 million jobs in March and April, employment has risen by 10.6 million workers in the past four months.  The economy has recovered roughly one-half the number of jobs lost previously.  We have a long ways to go, but every month the jobs report has been consistently stronger than expected.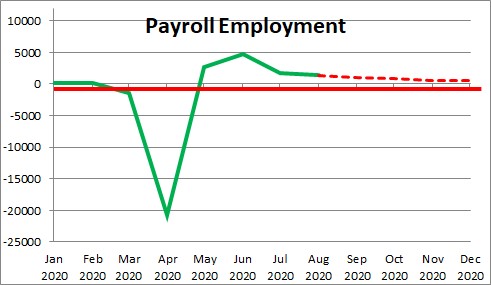 It is important to keep in mind our labor market includes a large number self-employed workers who are not captured in the payroll employment data.  Instead, those workers are included in the so-called "household survey" which is the one used to calculate the unemployment report.  In August, this measure of employment rose by 3,756 thousand workers versus 1,371 for payroll employment.  Presumably, this reflects some self-employed workers re-opening for business in the wake of the earlier shutdown.  As a result, unemployment declined by 2,788 thousand in August and the unemployment rate plunged to 8.4%.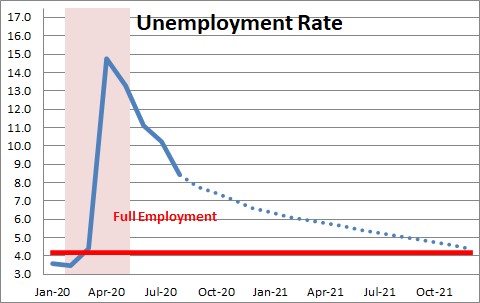 Most economists expect the economy to slow down in the months ahead as the impact of the fiscal stimulus wears off. And every month they find that has not happened so they simply push the anticipated slowdown forward for another month.  We agree that the economy is going to slow down in the months ahead – but from what to what?  After having contracted by 31.7% in the second quarter we expect 28% GDP growth rate in the third quarter followed by 7.0% growth in the final quarter of the year.  While slower, that still represents a continuation of robust economic activity which should be sufficient to allow the unemployment rate to decline to 6.6% by yearend.  The economy is doing fine.  It will not completely heal by the end of this year, but it is moving quickly in the right direction.
While everybody keeps looking for the slowdown, nothing in the data available thus far suggests that it is imminent.  Weekly initial unemployment claims, a measure of layoffs, dropped 130 thousand in the most recent week to 881 thousand – its lowest level since the recession.  That suggests that hiring is continuing at a rapid pace in early September.  Expect another sizable payroll jobs gain of 1,000 thousand in that month.  The number of people receiving unemployment benefits dropped 1,238 thousand in late August.  Hence, it seems likely that the unemployment rate will continue to decline in 7.8% September.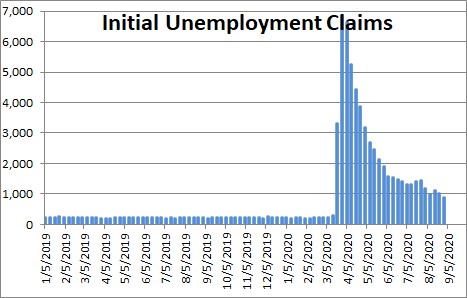 The housing market is surging.  Both new and existing home sales power ahead and are faster now than they were going into the recession.   Presumably, a record low 3.0%, 30-year mortgage rate is luring potential home buyers into the market.  Homes put on the market sell in less than a month.  With an extreme shortage of homes available for sale, bidding wars are erupting for some properties.  It does not seem like potential home buyers are even remotely close to pulling back from the market.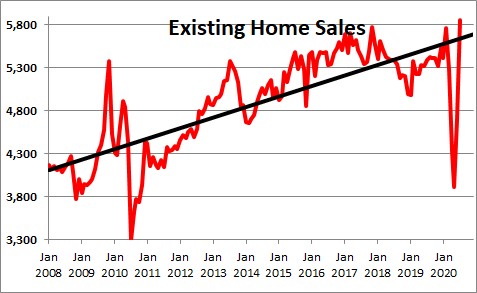 Retail sales, like most economic indicators, plunged in March and April but have come roaring back in the past three months and are already faster than they were going into the recession.  Given the big increase in jobs in August it is a sure bet that consumer income continued to climb in that month.    If that is true, retail sales almost surely did the same.  The only tidbit of information we have at this point is unit car sales which rose 4.5% in August to a 15.2 million pace.  As a result, we expect that retail sales probably registered a healthy gain of 4.0% in that month.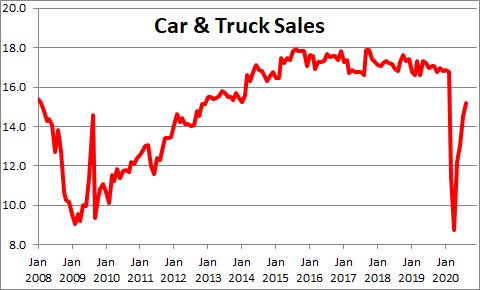 In the manufacturing sector, the Institute for supply Management's purchasing managers index climbed further in August with the increase powered by big gains in the two most forward-looking components – orders and production.  In the employment report for August, we learned that factory employment climbed by 29 thousand, the factory workweek increased by 0.3 hour to 40.0 hours, overtime increased by 0.1 hour to 3.0 hours.  As a result, industrial production almost certainly registered an increase of 4.0% in August.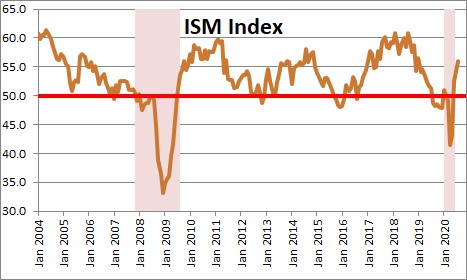 We fully recognize that some sectors of the economy are struggling – restaurants, hotels, and airlines in particular.  If a vaccine becomes available and is widely accepted early next year, these sectors will begin to recover more quickly.  We believe that the consensus is far too low in its assessment of economic activity in the final two quarters of this year and their assessment for growth in 2021.  As always, we will see, but there is no evidence that a slowdown began in August or September.
Stephen Slifer
NumberNomics
Charleston, S.C.