October 6, 2020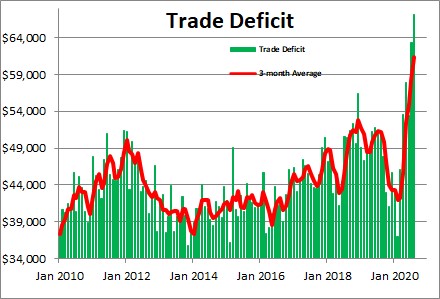 The trade deficit for August widened by $3.7 billion to a record $67.1 billion after having widened by $10.0 billion in July.  But what is important to us that both exports and imports rose in August which is a sign that both the U.S. economy as well as the global economy are in the process of recovering.  The deficit widened because imports rose more sharply than imports.  Specifically, exports rose 2.2% in August which is the third consecutive increase and reflects the pickup in growth overseas.  Imports climbed by 3.2% in August for its third consecutive increase which is an indication of the pickup in economic activity in the U.S..
The best gauge of global trade lows is the change in the total of both exports and imports.  Both categories have turned upwards in each of the past three months.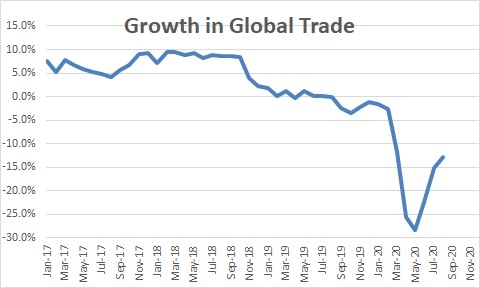 The trade deficit in real terms widened by $1.3 billion in August to $92.3 billion after jumping by $10.7 billion in July.  The deficit in real terms is important because that is what goes into the GDP calculation.  As we see it, real net exports widened dramatically in the third quarter and probably subtracted  2.3% from GDP growth.  Even with that widening trade gap we still estimate GDP growth of 28.0% in the third quarter.
.Stephen Slifer
NumberNomics
Charleston, SC