May 31, 2023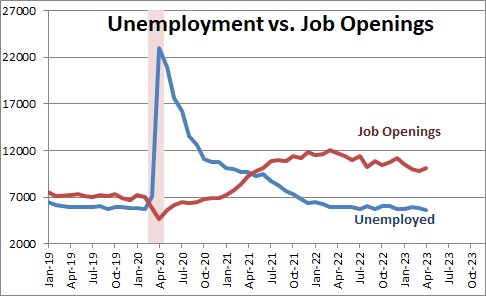 The  Labor Department reported that job openings rise 358 thousand in April to 10,103 thousand after having fallen 229 thousand in March.  The pace of economic activity has been slowing a bit, but the labor market keeps hanging in there.
As shown in the chart below, there are currently more job openings than there are unemployed workers.  Specifically, there are 1.8 jobs available for every unemployed worker.  Prior to the recession this rate was steady at about  1.2.  Thus, the demand for labor still far exceeds the supply.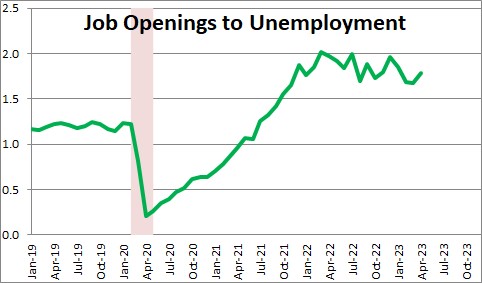 The Labor Department also provides information on hires each month.  Hires riose 49 thousand in April to 6,115 thousand after having declined 84 thousand in March.  Despite the prospect of slower growth ahead, the pace of hiring has not slowed much..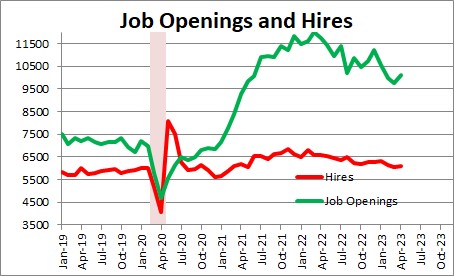 The rate of hiring was unchanged in April at 3.9.  The rate of job openings rose 0.2 to 6.1  Thus, job openings were 56.4% higher than hires which suggests that employment should continue to climb in the months ahead.  Prior to the recession job openings were  15% higher than hires.  Unemployed workers today do not seem to have the skills required by employers, have chosen to become gig workers and go into business for themselves, are afraid to work for fear of catching COVID and bringing it home to their families, are unable to find affordable day care, and/or are willing to live off generous government benefits for as long as they can.  Thus, job openings continue to outpace hiring.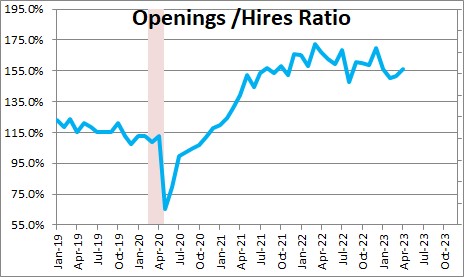 The quit rate fell 0.1 in April to 2.4.   It has steadily fallen in the past several months.  The willingness to quit one's job has declined in recent months as workers concern about a recession occurring in the not-too-far-distant future makes them slightly less willing to quit the job that they have.  Prior to the recessiion the quit rate was 2.3.  It is still slightly on the high side but is getting closer to where it was prior to the recession.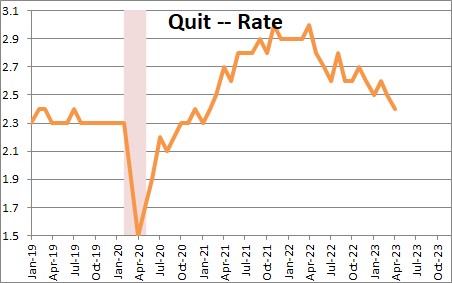 Stephen Slifer
NumberNomics
Charleston, SC