April 6, 2021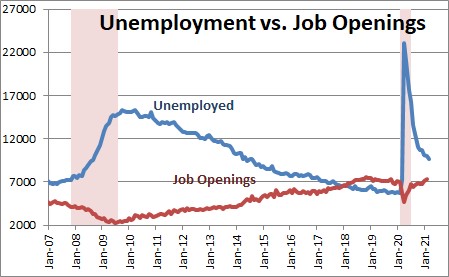 The  Labor Department reported that job openings rose 3.8% in February to 7,367 thousand after rising 5.1% in January  The record high level for job openings was 7,574 thousand back in November 2018.  With as many job openings as their are, it is surprising that more workers are not being hired.  It could be that the available workers do not have the skills required for the jobs that are available.  Or, perhaps, between their state and federal unemployment benefits, some of those unemployed workers are choosing not to work until their benefits run out.  Having said that, as more and more businesses reopen and the corona virus gets under better control from the vaccines,  the economic expansion will gather momentum, the number of job openings will continue to climb, and the unemployment rate will steadily decline.
As shown in the chart below, there are currently 1.4 unemployed workers for every available job.  Prior to the recession this rate was steady at about  0.8.  Thus, the labor market continues to improve, but it still not back to its pre-recession degree of tightness.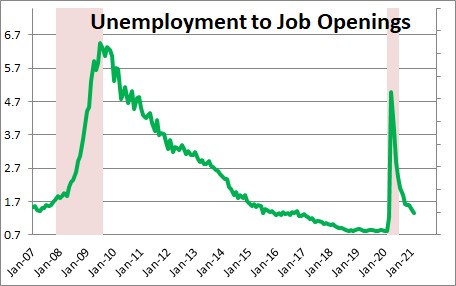 The Labor Department also provides information on hires each month.  Hires rose 5.0% in February to 5,738 thousand after having risen 1.0% in January to 5,302 thousand.  The pace of hiring is going to accelerate quickly in the months ahead as COVID increasingly gets under control and the economy continues to open up..
Thus, the rate of hiring rose from 3.8 to 4.0  The rate of job openings was 4.6.  Thus, job openings were 22.5% higher than hires which suggests that employment should continue to climb in the months ahead.  Prior to the recession job openings were  15-20% higher than hires which was a reflection of the very tight labor market that existed at that time.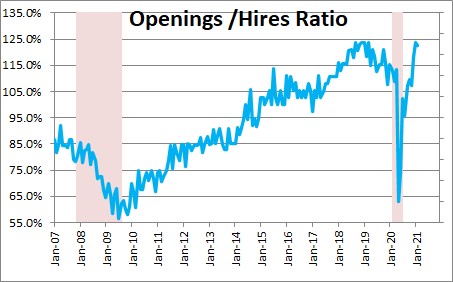 Stephen Slifer
NumberNomics
Charleston, SC