December 17, 2019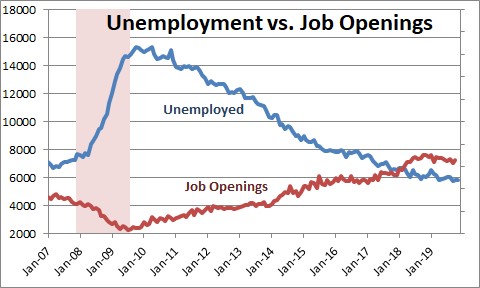 .The  Labor Department reported that job openings rose 3.3% in October to 7,267 thousand after having declined 3.7% in September.  Job openings remain at a very elevated level.  Indeed, there are far more job openings today than there were prior to the recession (4,123 thousand in December 2007).   There were 5.8 million people unemployed in October.
As shown in the chart below, there are currently 0.8 unemployed workers for every available job.   Think of that — there are more job openings today than there are unemployed workers.  Prior to the recession this ratio stood at 1.7,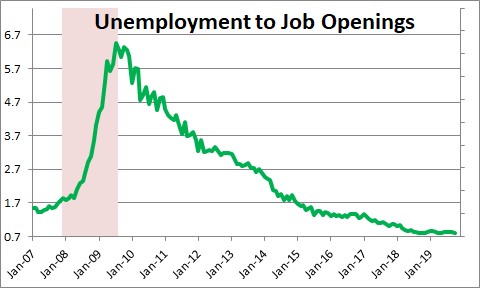 In  this same report the Labor Department indicated that the quit rate in October was 2.3 which is essentially the highest level since April 2001.   This is a measure of the number of people that voluntarily quit their jobs in that  month.  During the height of the recession very few people were voluntarily quitting because jobs were scarce.  So the more this series rises, the more comfortable workers are in leaving their current job to seek another one.  The quit rate today is 2.3.  At the beginning of the recession it was at 2.0 and the record high level for this series was 2.6 back in January 2001.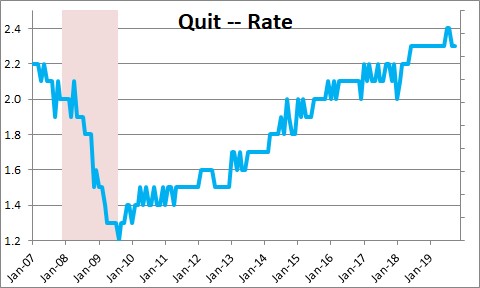 There is one other point that should be made about this report.  Several years ago Janet Yellen used to  claim that there were a large number of unemployed workers just waiting for jobs if only the economy were to grow fast enough.  She is assuming that these people have the skills and are qualified for employment.  But they aren't..  There are plenty of job openings out there.  What is not happening as quickly is hiring.  Take a look at the chart below.  Job openings (the green line) have been rising rapidly (and are far higher now than they were prior to the recession); hires (the red line) have been rising less rapidly.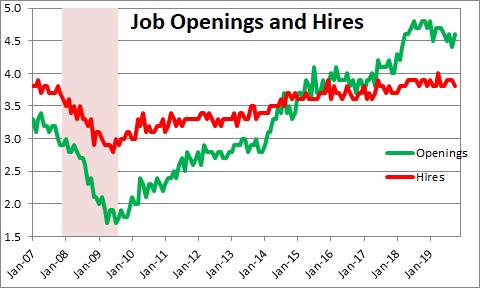 Indeed, if one looks at the ratio of openings to hires the reality is that this ratio  is close to its highest level since this series began in 2000.  There are plenty of jobs out there, but employers are having a hard time filling them.  Why is that?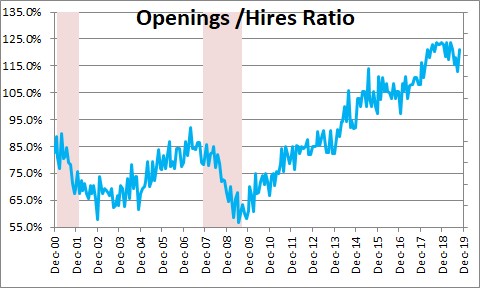 A couple of thoughts come to mind.  First and foremost, many unemployed workers simply do not have the skills required for the jobs available.  If they did, why aren't they being hired?  Why aren't some current part time workers stepping into the void for those full time positions? Why haven't discouraged workers begun to seek employment with so many jobs available?  Why haven't long-term unemployed workers bothered to go back to school and acquire the skills that are necessary to land a  job?
Or perhaps many of these people flunk the drug tests.  They might not be qualified for employment for a variety of possible reasons.
Perhaps also some people in this group find the combination of unemployment benefits and/or welfare benefits sufficiently attractive that there is little incentive to take a full time job when you can sit at home do nothing and make almost as much.
Jobs are plentiful and the only reason the unemployment rate is not falling faster is because the remaining unemployed/discouraged/part time workers do not have the skills required by employers today, flunk the drug tests, or are unwilling to take the jobs that are available.
Stephen Slifer
NumberNomics
Charleston, SC