February 11, 2011
 With each new economic indicator the economic outlook gets stronger and more widespread.  But housing continues to languish.  Why?  When might we expect it to accelerate? 
 It is no great surprise that the housing market has been the worst since the depression.  New home sales have tumbled from 1,400 thousand or so prior to the recession to 300 thousand.  To put that number in perspective, take a look at the chart below which goes back to 1963.  While it is a depressing chart, housing is not going to stay that way.  It will soon pick up significantly.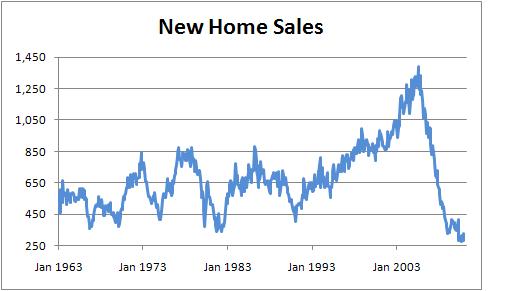 All the pieces that an economist looks at to provide glimpses of the future line up on the side of significantly more rapid GDP growth in 2011.  We have talked about these factors on numerous occasions – a significantly lower debt burden, more jobs, rapid growth in income, and increased wealth (associated with the increase in stock prices).  For all of these reasons we anticipate 5.0% GDP growth in the first quarter and 4.3% GDP growth for the year as a whole.  But let's talk about the pieces that seem most relevant to the outlook for housing.
 Let's start with income.  If you don't have it, you are obviously not going to be able to afford a house.  Income growth has surged in recent quarters.  In the early stages of this expansion firms were working people longer hours rather than hiring new bodies.  When they choose this option, they still have to pay people for those hours.  That provides income.  As we go forward firms may still boost hours somewhat, but the driver for income growth throughout 2011 will be new jobs.  Either way, income will continue to grow rapidly.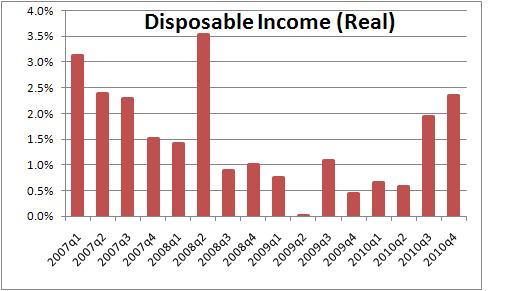 Then there is the 30-year mortgage rate.  The chart below indicates how low current mortgage really are.  At 4.75% they are at record low levels.  If a potential homeowner buys a median-priced home for $220 thousand with a 20% down payment, the mortgage payment on a $176 thousand loan at 4.25% would be $866.  Compare that to the $1,171 mortgage payment for the same loan at 7.0%.  Not surprisingly many more families can afford a house at the 4.25% rate.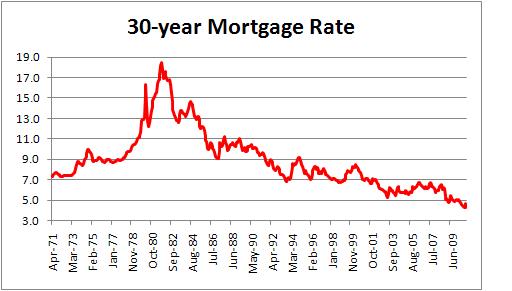 The final piece in determining whether you can afford a home is its price.  New home prices have fallen by about 20% from the peak reached in the early part of 2007.  As home prices decline, more families are able to afford them.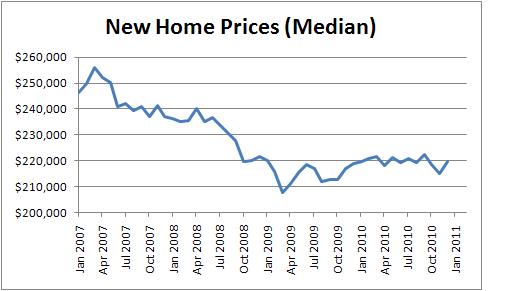 Thus, whether a family can afford a new home is determined by the combination of income, price, and the mortgage rate.  If your income is going up, the price of the new home is going down, and mortgage rates are at near record low levels, an increasing number of people can afford to buy.  The combination of those factors is reflected clearly in the housing affordability index published by the National Association of Realtors.   The December level for this index reached 185, which means that a family making the median income of $62,423 has 185% of the income necessary to qualify for a median priced home.  That index was 115 prior to the recession.  In today's world potential homeowner's can afford to buy.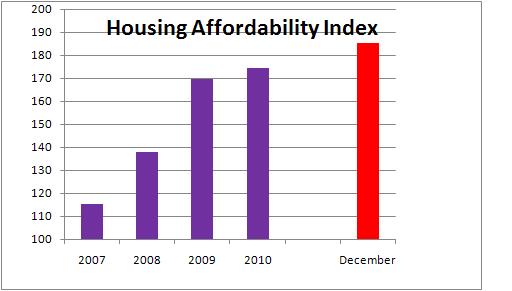 Everybody talks about lower prices and low mortgage rates as reasons why the housing sector is not going to be depressed much longer.  The one factor not often discussed is demographics which point towards home sales rebounding to about 900 thousand, not the 300 thousand pace we are currently experiencing.   According to the Census Bureau, over the last decade the average pace of household formation is about 1.3 million annually.  If two–thirds of those households buy houses, the economy needs 900 thousand new homes every year.  Eventually home sales will accelerate dramatically.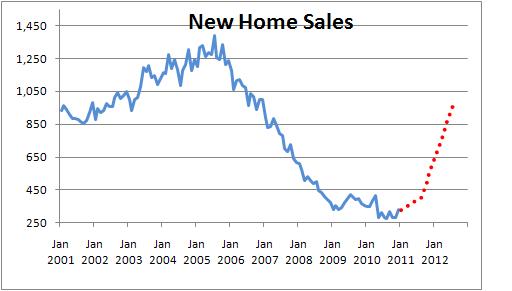 So why aren't people buying now?  They may be concerned that the sale of bank-owned property and additional foreclosures could push house prices lower and they might get an even better deal later.    Or perhaps with the unemployment rate at 9.0% they might be concerned that they could still lose their job.  Or perhaps they want to replenish their cash reserves before springing for such a large investment.  But these are temporary factors that may keep home sales in check for a while longer. 
However, the underlying fundamentals for housing are very positive.  Once the wave of foreclosures has worked its way through the system, the income growth generated by rapid job creation, the continuing rise in the stock market, the reduced level of consumer debt, sharply lower house prices, and still low mortgage rates should provide the catalyst for a tripling of home sales by the middle of next year.
 Stephen Slifer
NumberNomics
Charleston, SC