October 22, 2021
The demand for workers is the strongest it has been in decades.  But despite ample job opportunities workers have been slow to seek out employment.  There are probably a variety of reasons ranging from generous unemployment benefits, fear of catching COVID and spreading it to their families, an objection to any employer-imposed vaccine mandate, and an unwillingness (by some) to return to their previous low-paying job.  The shortage of qualified workers is causing business leaders to rapidly boost wages which they, in turn, are easily able to pass along to their customers.  At the same time they are turning to labor-saving productivity boosting opportunities provided by advanced technology.  They had to.  Even though virtually every employer is looking for additional workers, they have managed to adapt well to this rapidly-changing world.  How else to explain a record level of corporate earnings and stock indexes that have confounded analysts and soared to a series of record high levels?
When the economy collapsed in the March and April recession last year the labor force and jobs plunged.  As the economy rebounded many workers were anxious to return to their jobs quickly.  But then the pace slowed.  Today there are still 3.1 million fewer people in the labor force than there were prior to the recession.  For whatever reason, workers are not in a rush to go back to their jobs.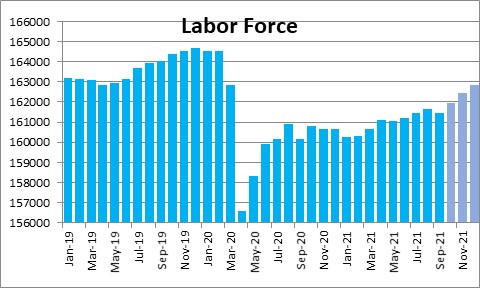 We have long argued that the combination of generous federal and state unemployment benefits was providing a strong incentive not to work, and once federal unemployment benefits expired after Labor Day the remaining missing workers would once again begin to seek employment.  However, the September employment report showed a moderate decline in the labor force.  It could be that the employment survey was taken too soon after the expiration of the federal benefits to gauge the impact of this change.  A more accurate reading should be reflected in the October employment report that will be released on November 5.  We are looking for an increase in the labor force of 500 thousand.
Some workers suggest that they are reluctant to return to their jobs because of a fear of catching COVID and spreading it to their families.  That is a legitimate excuse for some high-risk individuals.   But the number of new cases has declined steadily since September 1.  Furthermore, hospital officials tell us that 90% of the new COVID cases are amongst unvaccinated people.  The CDC reports that two-thirds of Americans have had at least one dose of the vaccine — 79% of adults –and those numbers are rising each week.  This suggests to us that the risk of a healthy adult returning to work and catching COVID is quite small.  Nevertheless, many Americans continue to fear the virus, and the vaccine, and may remain unwilling to return to work for some period of time.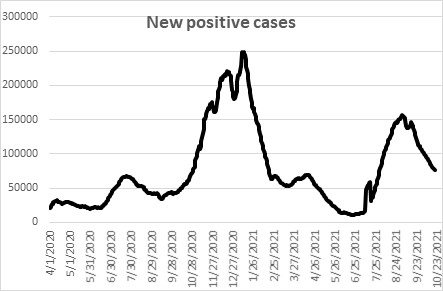 One reason that the remaining workers are not looking for a job is that they have ample cash.  Following three rounds of stimulus checks, consumers have received more cash than they have been able to spend.  As a result, at 9.4% the savings rate is far higher than its 7.0% average over the past decade.  In dollar terms that is about $0.5 trillion which means that consumers have enough ammo to spend at a reasonable pace for another year even without a job.  No wonder many low-paid workers are reluctant to return to work.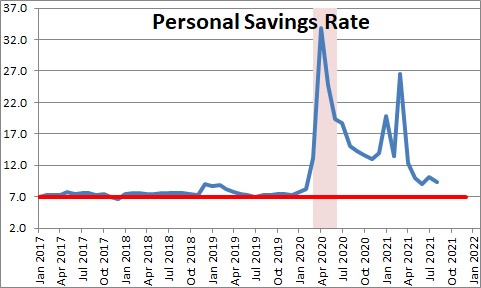 If they choose to look they will find that their old jobs pay a lot more now than what they were earning previously.  Average hourly earnings have risen 4.6% in the past year.  But for restaurant workers pay his climbed by 11.8%.  Prior to the recession they were earning $16.77 per hour.  Today that has climbed to $18.79 which may lure some line cooks and dishwashers back to the job.
Today there are 10.5 million job openings.  To get the workers that they need, employers are aggressively bidding against each other which is driving up wages and, in turn, inflation.  Even if all 3.1 million missing workers return to work and the unemployment rate has fallen to (or below) its full employment threshold of 4.0%, there will still be a substantial scarcity of labor.  Firms will continue to aggressively boost wages to get the workers they need, but something else is also going to happen.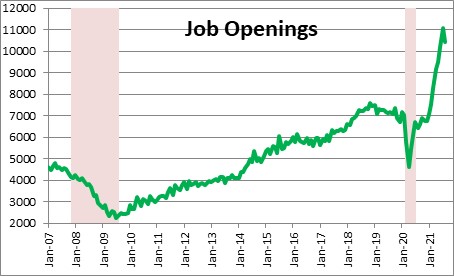 Firms will increasingly turn to technology and invest in labor-saving devices that will enable them to boost productivity.  Indeed, that reliance on technology allowed them to keep their doors open during the pandemic.  In the five quarters since the recession, productivity has risen at a 3.7% pace compared to an average of 1.0% in the previous ten years.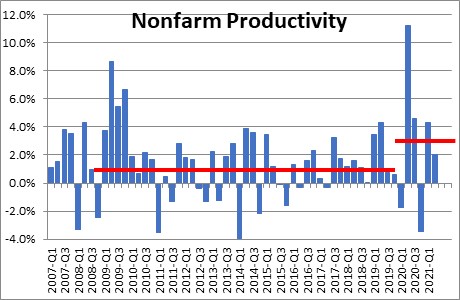 As a result of gains in productivity and still very low interest rates, corporate earnings have skyrocketed.  They have climbed at a 22.1% annual rate in the six quarters since the recession began.  That compares to a 7.0% average rate of growth in the prior decade.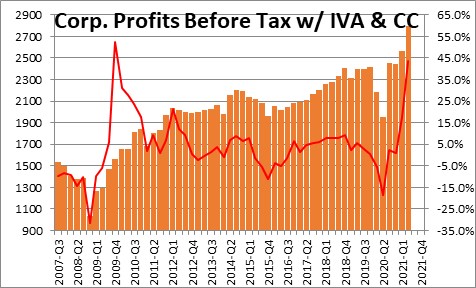 Against that background it is not surprising that the S&P 500 has climbed to a series of record high levels and continues to defy the wall of worry espoused by a long string of economists.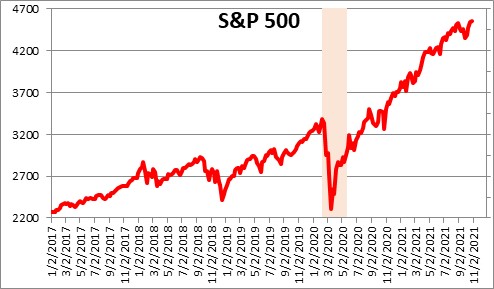 Do firms want to hire additional bodies?  Yes.  Do they need to hire more workers to provide steady growth in earnings?  Perhaps not.  If those labor-market holdouts do not soon return to work, they may be hastening the day when that job no longer exists.
Stephen Slifer
NumberNomics
Charleston, S.C.